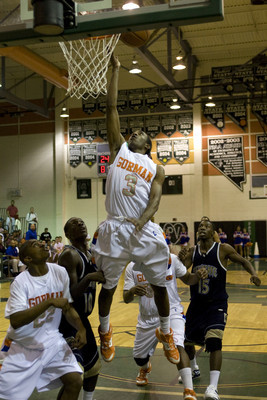 Someone was going to face harsh reality Thursday. Either top-ranked Bishop Gorman or defending Sunset Region champion Cheyenne would suffer the end of its season without reaching the boys basketball state tournament.
Johnathan Loyd made sure Gorman will continue playing.
Loyd hit a floater in the lane over three defenders with 4.2 seconds to play, giving the Gaels a thrilling 70-68 victory over Cheyenne in the Sunset semifinals at Palo Verde.
"This is a big win for us," said Loyd, a junior guard. "We lost to them last year in the regional (final). To beat one of the best teams in the state gives us confidence going to the next game knowing we can do something."
The Gaels (25-5), the top seed from the Southwest League, will meet host Palo Verde (22-4), the Northwest's top seed, for the championship at 7 p.m. today. The winner advances to the state semifinals while the loser plays the Sunrise Region runner-up Monday for the last state semifinal berth.
"It's almost a shame someone had to lose," Gorman coach Grant Rice said. "This was an elimination game. This is as important as it gets."
Senior Kylel Coleman led the Gaels with 21 points. Loyd, Czar Robotham and Anson Winder supplied 12 apiece.
The Desert Shields (22-5) led 68-63 with 4:44 left, but didn't score again. Coleman had a steal and layup with 3:05 left to make it 68-all, and Gorman regained possession with 1:12 to play after two missed free throws by Cheyenne.
Gorman held the ball for the last shot, and Loyd drove the lane for his only basket of the second half. Cheyenne had one final chance after a timeout, but the Gaels knocked the ball away from Demetric Williams near halfcourt and ran out the clock.
Desert Shields coach Teral Fair declined comment other than to express disappointment with the officiating.
"They wouldn't let the kids decide the game," Fair said.
Williams scored 21 points for Cheyenne and Chris McCall supplied 18.
The Gaels used a 10-0 run to take a 21-12 lead early in the second quarter before Cheyenne answered. The Desert Shields closed the half with an 11-4 run to lead, 36-34.
Cheyenne led by as many as five points in the third quarter, but trailed 56-54 heading into the fourth.
A 10-0 run sparked by J'Quon Wroten's seven points gave the Desert Shields a 66-61 lead with 5:16 left before Cheyenne went cold.
• Palo Verde 88, Durango 62 — Senior D.J. Stennis scored 27 points against his former school and junior Moses Morgan added 24 as the Panthers gained revenge from 2008 by beating the Trailblazers.
Stennis and Durango knocked off Palo Verde 91-86 in last year's quarterfinals.
"We wanted payback for that," Stennis said. "I wanted to show people there's a difference between me and the other team's best player, that not only can I get it done individually, but I can lead my team."
Marcus Falley, Stennis' best friend since elementary school, led Durango (20-8) with 23 points.
"D.J. was really excited about this game," Palo Verde coach Jermone Riley said. "D.J. plays off enthusiasm, and that's different than emotion."
Stennis scored seven of the Panthers' first 15 points and Palo Verde bolted to a 24-12 lead. The Panthers led by 15 twice in the second quarter and were up 51-31 after Morgan's 3-pointer midway through the third quarter.
The Trailblazers got as close as 51-37 on a three-point play by Falley, but Palo Verde closed with a 12-3 run and was up by as many as 28 late.
In-depth high school sports coverage
Video
Slideshow