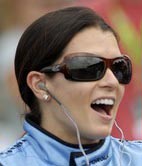 President Bush hosted U.S. Olympians at a White House pep rally Monday before the athletes head off to Beijing for the Aug. 8-24 Summer Games.
About two dozen athletes were feted in the Rose Garden and later feasted on lunch of pea soup with duck pastrami, cheese puffs, crispy black sea bass, butter beans, salad and a dessert called the "Olympic Torch," a dark chocolate tart with raspberries and a blown-sugar Olympic flame.
It was somewhat of a "last meal" before they settle on training-table fare.
Bush and his wife, Laura, later held a White House dinner to honor current and previous U.S. Olympians, including track and field gold medalist Jackie Joyner-Kersee.
• DEAR MR. PRESIDENT — One former U.S. track star unable to attend the White House get-together was Marion Jones, who is serving six months in a Fort Worth, Texas, prison for lying to federal agents about her use of performance-enhancing drugs and her role in a check-fraud scam.
Jones was not invited, but has sent a note to the president anyway by way of the Justice Department. She is one of many convicted felons who have applied for presidential pardons or sentence commutations.
Jones, who won three gold and two bronze medals at the 2000 Sydney Olympics, entered prison on March 7.
• "FOOTBALL" VIOLENCE — A brawl broke out among 100 fans at a sports contest in Columbus, Ohio, and it had nothing to do with an Ohio State-Michigan game.
Fans of the host Columbus Crew of Major League Soccer and supporters of West Ham United of the English Premier League got together in typical European soccer fashion Sunday, and it wasn't for a spot of tea.
Crew supporters began directing chants toward the rival fans, and fights quickly broke out between more than 100 Crew fans and at least 30 West Ham fans. Columbus police officers and members of the Crew Stadium security staff eventually separated the groups.
West Ham won 3-1 and felt right at home.
• CAT FIGHT — Danica Patrick got into another row with a fellow IndyCar driver.
The poster girl for the IndyCar Series was not pleased with fellow female driver Milka Duno during Saturday's practice. Duno was running slower and reluctant to move out of Patrick's way.
Shortly thereafter, Patrick went to Duno's pit area to discuss the incident. Fortunately, the pit wall separated them.
Twice Duno tossed a towel at Patrick, who retorted with some vulgarity. It seemed at least one F-bomb was bleeped.
Patrick finally walked away.
Patrick has confronted fellow drivers Dan Wheldon and Ryan Briscoe this year, and at least Duno is female and about Patrick's height. Patrick finished 12th and Duno 22nd Sunday in Lexington, Ohio, in the 26-car field.
The IRL brass must have liked the drama, considering they broke away from live, televised racing Sunday to show taped footage of the incident.
COMPILED BY JEFF WOLF REVIEW-JOURNAL