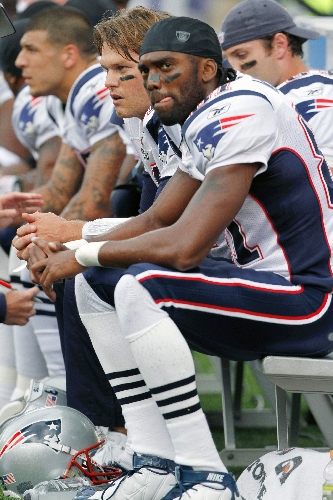 The trades this week involving Randy Moss and Marshawn Lynch will have ripple effects — of a positive nature — for many fantasy owners.
The Bills sending Lynch to Seattle and the Patriots shipping Moss to Minnesota is a win-win for everyone involved. The only doubters of the claim might be the owners of Justin Forsett and Bernard Berrian. However, over the first four weeks of play, it's apparent neither of those players was going to make much of an impact, which is why the teams made the trades.
The effect Lynch's trade will have goes much further than the impact he'll have on Seattle. Most owners picked up Lynch after the Bills showcased him as the feature back for prospective teams, and Seattle finally made the deal after speculation had him going to Green Bay. The deal opens things up in a crowded Bills backfield for C.J. Spiller and Fred Jackson.
Jackson is expected to get the bulk of Buffalo's carries, with Spiller taking on a larger role than seen so far. This is exceptional news for those who drafted Spiller early thinking his great preseason and speed would make him this year's breakthrough rookie running back. With Lynch gone, Spiller could still live up to some of those expectations. The trade also allows Jackson to be a quality No. 3 fantasy back on a weekly basis.
As for Lynch in Seattle, he is teamed with Forsett, his college teammate at California. He's got a better offensive line in Seattle than in Buffalo, and his hard running between the tackles is sure to win over coach Pete Carroll, who wasn't happy with his 27th-ranked rushing attack. Forsett will go back to his role as a relief back and see action in passing situations.
Fantasy owners of Moss and all the Vikings can rejoice because a happy Moss makes Brett Favre, Adrian Peterson and Percy Harvin better. Favre becomes a viable fantasy starter now that he has the option of throwing downfield, something Berrian couldn't provide as a fill-in for injured Sidney Rice. Harvin also doesn't have the pressure of being a No. 1 receiver who gets double-teamed. For Peterson, opposing teams can no longer stack the line because they have to respect Moss deep with two defenders.
Moss owners have to be ecstatic because Moss should be happy, which makes him play at the highest level ever seen at his position. It's apparent that Moss' contract situation and his feeling disrespected by Patriots management was affecting his play. Moss has never been one to run hard on every play, but this year more than ever he routinely gave away plays to opposing defenses through a body language that said the ball wasn't coming his way. Through four games, Moss had only nine receptions for 139 yards and three touchdowns. On Monday night against the Dolphins, he didn't catch any passes and dropped one sure touchdown reception.
Moss' departure from New England opens the door for more fantasy options who will fill pass-catching roles with the Patriots. Players such as Brandon Tate, Aaron Hernandez and Julian Edelman become players to take note of because Tom Brady is going to continue slinging the ball.
Look for Tate to be the main beneficiary of the Moss deal, making him a must-pickup in all leagues. This is the type of move that can elevate any fantasy team over the next 12 weeks. Tate is Brady's new deep-route guy, and he's widely available. Go get him.
■ OTHER MUST-PICKUPS — Ryan Torain, RB, Redskins: Clinton Portis will miss up to six weeks, and Torain will become Washington's full-time back. He's already made an impact as a part-timer and should reach close to 100 yards weekly while Portis is out.
Michael Bush, RB, Raiders: Darren McFadden is out this week and possibly beyond with hamstring issues, leaving all the carries for Bush. He's a bruising, downhill runner who should fare well against a Chargers squad that struggled in its first two road games this year.
■ FANTASY GAME OF THE WEEK — If waiting for the right time to use Eli Manning and Brandon Jacobs, this week at Houston should be it. Expect a high-tempo game with lots of scoring and big plays. Texans wide receiver Andre Johnson is still questionable, but Jacoby Jones and Kevin Walter should pick up the void if he misses another game.
■ PROCEED WITH CAUTION — The Bears-Panthers game without QB Jay Cutler and WR Steve Smith could be one of the week's ugliest matchups, sure to be filled with more errors than touchdowns. … The Broncos probably won't have RB Knowshon Moreno again, and against a tough Ravens defense, don't look for his backups to do much. … QB Max Hall starting in Arizona can't make WR Larry Fitzgerald owners happy, and the Saints will be fine with Chris Ivory running the ball should Pierre Thomas miss another game.
■ BYE WEEKS – Miami, New England, Pittsburgh, Seattle.
Micah Roberts is a former Las Vegas sports book director who covers all sports for multiple publications. He can be reached at MM.Roberts7@gmail.com.