Maddux brothers share wisdom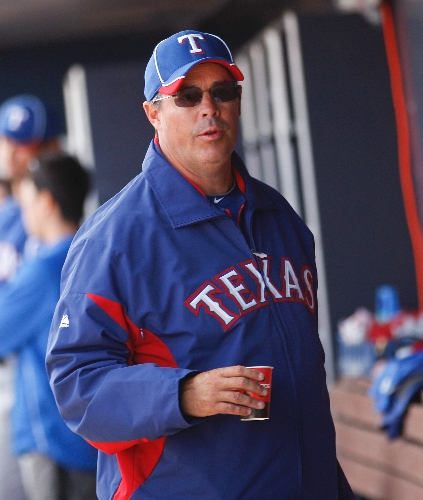 The year before Mike Maddux became Rangers pitching coach, Texas finished last in the majors with an ERA of 5.37.
But with the longtime Las Vegan overseeing the staff, the Rangers have lowered their ERA each of the past three seasons and won two straight American League pennants.
"They're changing that organization from a hitting organization to a pitching and defense organization — and they still hit — and he's played a huge part of that," four-time Cy Young Award winner Greg Maddux said of his older brother.
Greg Maddux, 45, has joined forces with his brother in the big leagues for the first time this spring, working as a special assistant for Texas, which plays the Chicago Cubs at 1:05 p.m. today and Sunday in a pair of exhibition games at Cashman Field.
"It's been awesome. We have a lot of fun," Mike Maddux, 50, said of working with his younger brother. "Everybody is learning from everybody, but when he speaks, it's kind of like E.F. Hutton — everybody's ears are open."
Rangers owner Nolan Ryan also is expected to attend Big League Weekend. Mike Maddux said the Hall of Fame pitcher sets the tone for the entire organization.
"He's another person who holds records no one else has matched," he said. "He's very open and his passion for the game filters down through everybody, so it keeps it fresh."
While Ryan relied on power and Greg Maddux control during their illustrious careers, Mike Maddux said their pitching principles were similar.
"It's kind of funny. We do sit there and share notes and we all preach the same things — if you throw strikes and change speeds, you're going to win," he said. "It's that simple."
A former Rancho High star, Mike Maddux went 39-37 with a 4.05 ERA for nine teams in 15 big league seasons from 1986 to 2000.
He was the pitching coach for Double-A Round Rock for parts of three seasons (2000-02) before becoming the Brewers' pitching coach in 2003. Maddux guided Milwaukee to its lowest ERA (3.85) in 17 seasons in 2008.
He has been with the Rangers since 2009, when he helped slice nearly a full run off the team's ERA to 4.38. In 2010, it dwindled to 3.93 and last season to 3.79, the team's lowest in 29 years.
Texas lost its second straight World Series in heartbreaking fashion, coming within a strike of winning in the ninth and 10th innings of Game 6 before succumbing in seven games to the St. Louis Cardinals.
"Oftentimes in this game you'd rather get beat 20-0 than you would 1-0, because in the 1-0 game you had a chance but didn't get it done," Mike Maddux said. "But it's nothing to be ashamed of."
Mike Maddux has high hopes for this season's starting rotation, which is expected to consist of Colby Lewis, Derek Holland, Matt Harrison, Neftali Feliz and Yu Darvish.
"One thing I like about our staff and our makeup is we don't have a No. 1 (starter) … but what we do have is a bunch of No. 2s and 3s," he said. "We don't have any drop-off between (No.) 5 and 1. That's what keeps guys motivated. They're all No. 1s."
Darvish, a former Japanese star who signed a $60 million, six-year contract, is struggling to adjust to life in the United States.
"So far it's been a little rough sailing for him, but he's trying to learn," Mike Maddux said. "It's a big cultural adjustment, language adjustment and climate adjustment, and the ball is different."
Greg Maddux said Darvish has the stuff to succeed in the majors, but still needs time to get comfortable.
It also could be a while before the Greg Maddux pursues a full-time coaching or managing job.
"Right now I'm enjoying the part-time thing and watching my kids grow up," he said. "I've got a son (14-year-old Chase) just starting high school ball (at Bishop Gorman) and I love being around that atmosphere, watching him doing his thing."
A managerial candidate for the Red Sox and Cubs in the offseason, Mike Maddux appears content to be arguably baseball's best pitching coach. But he hasn't ruled out managing in the future.
"If the timing is right, it's something I'll listen to," he said. "It's flattering to know your name's in the mix, but I really enjoy doing what I'm doing now. I'm in a pretty good spot. I'm happy."
■ NOTES — The scheduled starters for Sunday are Cubs right-hander Chris Volstad and Harrison, a left-hander. … The split-squad games also will feature Texas outfielders Josh Hamilton and Nelson Cruz and infielders Adrian Beltre and Elvis Andrus, along with Chicago outfielders Alfonso Soriano and Reed Johnson and infielder Bryan LaHair. … Cubs general manager Theo Epstein isn't expected to attend.
Contact reporter Todd Dewey at tdewey@reviewjournal.com or 702-383-0354.
CHICAGO VS. TEXAS
WHEN: 1:05 p.m. today
WHERE: Cashman Field
STARTING PITCHERS: Cubs (RHP Jeff Samardzija) vs. Rangers (LHP Derek Holland)