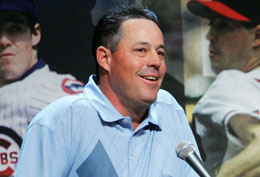 One year away from baseball was enough for Greg Maddux. The four-time Cy Young Award winner and future Hall of Famer from Las Vegas is returning with the Chicago Cubs as an assistant to general manager Jim Hendry.
"I always liked the organization, I thought Wrigley Field was the best place in the league to work in, and I wanted to do something where I could get back into baseball but yet not do it full time," Maddux said Monday.
Maddux, 43, spent the first seven seasons of his 23-year career with the Cubs before signing as a free agent with the Atlanta Braves. He rejoined Chicago from 2004 to 2006.
The 355-game winner also pitched for the Los Angeles Dodgers and San Diego Padres before announcing his retirement in December 2008 at baseball's winter meetings at Bellagio.
Maddux's duties with the Cubs will include assisting the coaching staffs at major league and minor league spring training, evaluating talent and developing minor-league players.
"It's kind of a learn-as-you-go process," he said. "I'll try to help in areas I feel like I can help in and do what I can do to hopefully make the players better."
Long known as one of the most cerebral players in the game, Maddux said at this time he isn't interested in becoming a pitching coach or manager, but he wouldn't rule it out.
"No, I don't think so," he said. "I'm doing just what I want to do for now and I'll worry about next year when it comes."
Hendry said he approached Maddux about a possible position a couple of months ago.
"When Greg Maddux walks in your front door, your organization became a lot better that day," he said.
A 1984 graduate of Valley High School, Maddux said he missed baseball in his first year away, but he also enjoyed spending time at home in Las Vegas with his family, which includes his wife Kathy, son Chase and daughter Paige.
"This job's going to allow me to do both," he said. "I'm not going to be working full time, 70 or 80 hours a week, like most people in baseball."
Maddux said he "probably will be" with the Cubs at Cashman Field on March 12 and 13, when they'll play a pair of games against their crosstown rival Chicago White Sox during the city's annual Big League Weekend.
Contact reporter Todd Dewey at tdewey@reviewjournal.com or 702-383-0354.