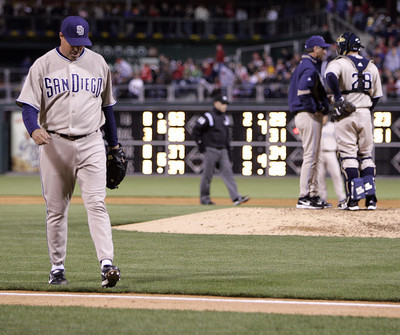 PHILADELPHIA — Greg Maddux stomped off the mound, took his glove off and nearly slammed it to the ground. He was agitated that a pitcher got a hit off him.
Cole Hamels frustrated the San Diego Padres even more with his arm.
Hamels pitched 7 1/3 impressive innings and the Philadelphia Phillies beat the Padres 7-4 Tuesday, denying Maddux his 350th career victory.
"It's nice because he's a guy I grew up (watching) and idolized," Hamels said. "And to get a hit off him is pretty special."
Hamels (3-3) allowed five hits, two runs and struck out six. Tom Gordon worked out of a bases-loaded jam in the eighth, and the Phillies scored four insurance runs in the bottom half.
Maddux (2-2) gave up three runs and eight hits in 6 1/3 innings. The four-time Cy Young Award winner was trying for the third start to become the ninth pitcher in major league history to reach 350 wins.
The Valley High School graduate was two outs away from getting the milestone victory against San Francisco last week, but Bengie Molina hit a tying homer off Trevor Hoffman in the ninth.
"It doesn't weigh," Maddux said. "It's not a milestone. It really isn't. Trust me, I've been on extra credit for five or six years now. I've stopped pitching for results. I'm just going out there to see how long I can do it."
Added Maddux, "I pitched just good enough to lose."
The Phillies broke it open in the eighth against Glendon Rusch and Kevin Cameron. Carlos Ruiz had a two-run double and pinch hitter Greg Dobbs added an RBI double.
Scott Hairston hit a pair of homers for San Diego.
Hamels was sharp from the start. Mixing in a change-up and a crisp fastball, the left-hander retired 11 of the first 12 batters before Adrian Gonzalez singled to right in the fourth for San Diego's first hit. Gonzalez was thrown out by Geoff Jenkins trying to stretch it into a double.
"He mixed his pitches and was aggressive with his fastball," Philadelphia manager Charlie Manuel said. "Cole didn't make too many mistakes."
PHILADELPHIA — 7 SAN DIEGO — 4
KEY: Cole Hamels gave up five hits and two runs in 7 1/3 innings, and the Phillies added four insurance runs in the eighth to take a 7-2 lead.