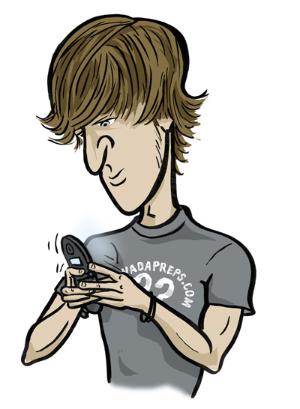 I'm still going through withdrawal from not having any more high school football games to watch.
It's painful, but I still have the memories of a great year.
And, as we wait for the Review-Journal's sports staff to unveil this year's all-state team, I'll give out some awards of my own.
These aren't your typical Most Valuable Player and the like, and everyone's eligible for the first-ever Fieldie's.
Best postgame celebration by a coach: Bishop Gorman's Bob Altshuler's flexing routine.
The Gorman coach, after a couple of wins, took off his shirt and displayed the pythons. Even his players laughed at him and called him crazy.
Worst postgame celebration by a coach: Um, this one goes to Coach Altshuler, too, for giving new meaning to the phrase "keep your shirt on."
Most impressive 400-yard rushing game by a guy who never carried the ball in Week 1: Del Sol's Derek Eamon.
Eamon didn't carry the ball the first two weeks of the season and didn't become his team's top back until Week 8, but hung a 410-yard, five-touchdown effort on Basic in the playoffs.
Rubber arm award: Rancho's James Cammack.
Cammack led Southern Nevada in pass attempts with 376 in 11 games.
Consider this, though. In his final eight games, Cammack attempted 313 passes. That equates to more than 39 per game. And he had a season high of 53 against Las Vegas.
By comparison, Cimarron-Memorial, which played 12 games, threw 58 passes all year.
Most misleading name: There can't be a more misleading name than Mojave's "Little" Omar Sanchez.
Little Omar stands 6 feet 2 inches and weighs 270 pounds, so why is he called "Little?"
That's easy. He was the smaller of the two Omar Sanchez's on Mojave's roster. For the record, "Big" Omar is 6-5, 385.
All-name offense: I like cool names. You know, like Muckers.
Picking players from all around Southern Nevada, I'd take these guys because their names are cool and because some of them will give announcers fits.
Pahrump Valley's Sveinlung Loefaldi handling the kicking.
Del Sol's Saei Huihui at quarterback.
Faith Lutheran's Croix Nikodemus, Foothill's Algernon Sewell and Desert Pines' Schaquawn Williams at running back.
Green Valley's Dallas Halasz at wide receiver.
Cimarron's Triton Manumaleuna at tight end.
And on the offensive line: both Omars, Tonopah's Roberto Miremontes, Rancho's Rod Tuisavalalo and Legacy's Mr. Griggs.
Yep, Mr. That may be the coolest name ever.
If I could take one guy to be on my team, I would take: Palo Verde's Torin Harris.
The game he had against Gorman in the playoffs was beyond impressive. To back it up the next week against Las Vegas was phenomenal.
He's a weapon at quarterback, running back, receiver, defensive back and could probably even kick if the Panthers needed him to.
I don't know how much he'll play at Southern California, but if he continues to improve, look out.
Sore finger award: This one goes to the person who ran the scoreboard for the Pahranagat Valley-Coleville (Calif.) playoff game in Class 1A.
Any poor soul that has to hit the "points" button 202 times in three hours for a football game deserves something.
Smartest guy in the world: Pahranagat coach Ken Higbee for realizing his team couldn't stop Coleville, so the best way to keep the Wolves from scoring was to not let them have the ball.
And the best way to do that was to onside kick. When's the last time you saw a team onside kick multiple times in a game, score 128 points and win by 54?
The funniest part is Pahranagat scored just 22 points the next week — and won the state title.
Best cheerleaders: All of them. Like I'm going to leave any of them out when I'm still dateless.
Best fans: Everyone who put up with me all season long.
Thanks for reading and be sure to check out my blogs this winter and spring on Nevadapreps.com.
Peace out.
NevadaPreps.comIn-depth high school sports coverage