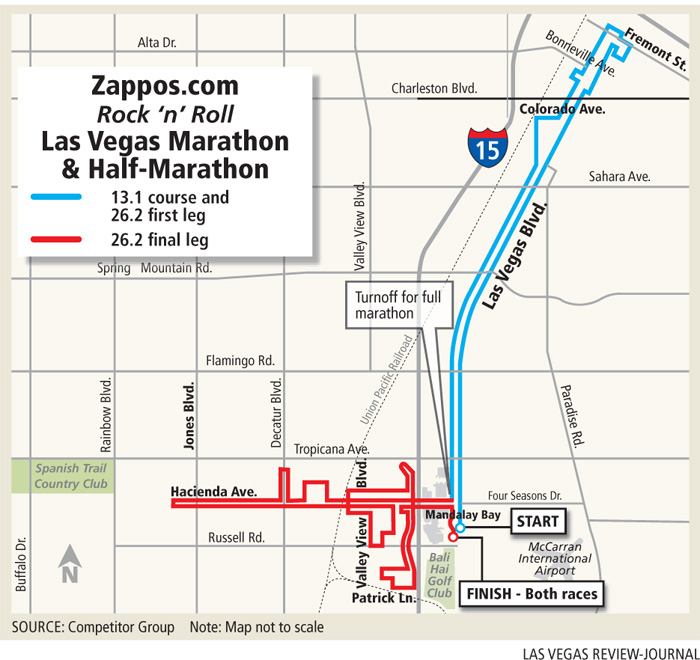 The Rock 'n' Roll Las Vegas Marathon almost certainly will have more participants this year.
And those participants will get to run on even more of Las Vegas Boulevard than last year. In fact, the half-marathon will be contested almost entirely on the city's most famous stretch of road, along with about half of the 26.2-mile main event.
The Dec. 5 marathon will again take over the northbound and southbound lanes, starting on the Strip near Mandalay Bay, going north for the first six miles to Fremont Street before jogging onto a couple of sidestreets for miles 7 and 8. Then runners will hit the boulevard again, with half-marathoners taking it all the way to the finish in the parking lot at Mandalay Bay's convention center.
Marathoners will go almost to the finish area, then head west on Hacienda on a loop that ultimately brings them back to the Strip to contest the final few hundred yards.
"Essentially what we've made, I wouldn't call it an overhaul, but some changes that I'm really happy with, especially with the half-marathon," race executive director Adam Zocks said. "We're trying to make changes to accommodate a bigger crowd. The biggest plus is that the marathon runners will actually enter the finish area from Las Vegas Boulevard.
"The marathon has two more miles on the Strip than it did last year, and both races finish at the front of Mandalay Bay, rather than runners coming around the back."
That takes Frank Sinatra Boulevard out of the equation, which Zocks said makes it not only a better experience for runners, but more accommodating for traffic and for employees of hotels on the west side of the Strip.
The event, which drew 28,500 entrants last year, has approximately 19,000 registered so far, with 13,000 in the half-marathon and 6,000 in the full.
"We're right on pace with last year at this time," Zocks said. "We're hoping to get 30,000. We sold out last year, and we expect it to be a sellout by late November this year."
The popular run-thru wedding will also return, though it will move. Last year, it was held in front of the Paris; this year, it will be in front of the Venetian.
To enter or for more information, go to www.las-vegas.competitor.com.
■ EXPO — The race's expo, seeking more room, has moved from Mandalay Bay to the Sands Expo convention center.
"It's a much larger space, and we're filling that space," Zocks said. "We've got a lot more exhibitors and sponsors that want to be part of that event."
■ KIDS ROCK RACE — ING, a financial services company, is now the title sponsor for all of the Rock 'n' Roll events' Kids Rock races. In the program, children from kindergarten through sixth grade complete 25.2 miles on their own in the weeks leading up to marathon weekend. All entrants then come together to run the final mile.
Kids Rock Las Vegas will take place Dec. 4 at Sunset Park.
To sign up or for more information, go to www.las-vegas.competitor.com/lv-kids.
Contact reporter Patrick Everson at peverson@reviewjournal.com or 702-383-0353.