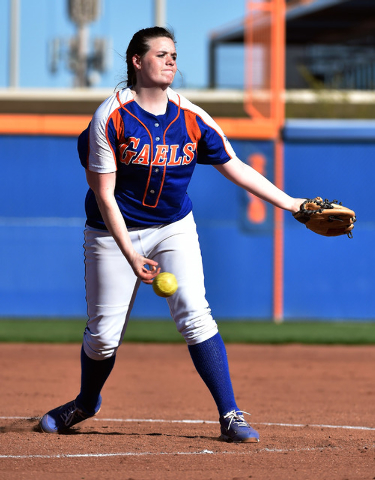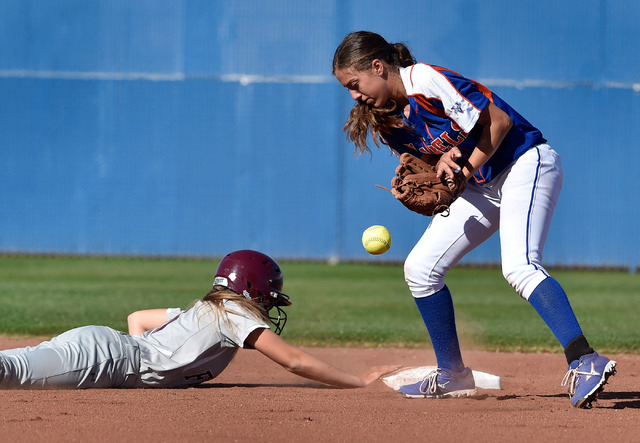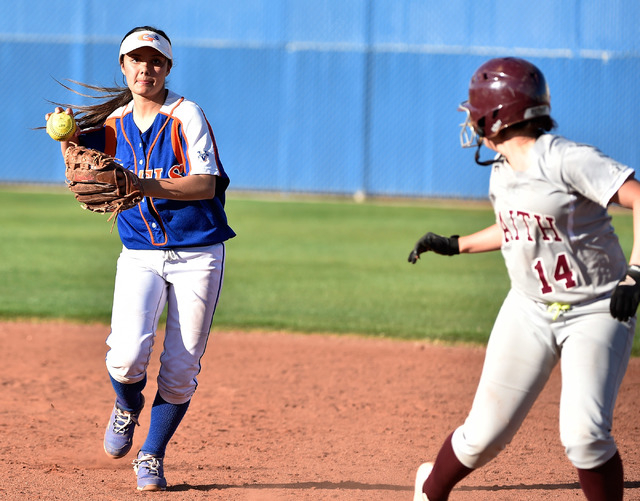 Faith Lutheran's softball team didn't expect to have to rely on freshman pitcher Makena Martin early in the season.
But when No. 1 starter Mosie Foley suffered a concussion in the last practice before the team's first game, Martin was thrust into a starting role.
On Monday, Martin was up to the task.
Working around trouble in almost every inning, Martin stranded eight runners in scoring position and helped the Crusaders to a 4-3 win at Bishop Gorman.
Foley, a junior who went 13-7 with a 3.10 ERA and 107 strikeouts in 101 2/3 innings last year, was hit in the helmet with a ball during practice Thursday. Faith Lutheran coach John Chilman said she still had headaches Monday, and he's uncertain when she will return.
Martin allowed 12 hits and three walks Monday and only one 1-2-3 inning. She was at her best with runners in scoring position, finishing the game with consecutive strikesouts after Gorman had put the potential tying and winning runs on base with one out in the seventh.
Gorman (0-2) was 4-for-16 with runners in scoring position, including two bunts and an infield single. Two of the Gaels' runs were unearned — the result of three errors by Faith Lutheran (1-1) in a two-batter span in the fourth inning.
"Our catcher, Claire Peck, has done a great job with helping Makena stay calm," Chilman said. "Makena just listened to Claire today and picked her spots. It was a pretty big strike zone, but she didn't just give them hittable balls.
Still, it looked like Martin would be tagged with the loss until the Crusaders scored four runs in the sixth.
Martin singled and later scored on a throwing error. Erin Gilchrist's ground out to third plated Cheyenne Kidd with the second run. Then, two-out singles by Samantha Jack and Ryleigh Gilchrist set the table for Breanna Hemphill, who ripped a two-run double to left.
"With so many young players, we knew early in the season that our mettle was going to be tested," said Chilman, whose team gave up three runs in the bottom of the seventh inning in a 5-4 loss to Boulder City on Friday. "This was really big, especially after Friday. If that would have happened again, it could have led to who knows how many losses. Now the girls know we're only going to get better when Mosie gets back."
Martin was 3-for-4, and Hemphill and Kidd each had two of Faith Lutheran's 11 hits. Ashley Witucki and Sierra Dias each went 3-for-3 for Gorman.
Contact reporter Bartt Davis at bdavis@reviewjournal.com or 702-387-5230.