Mataele, Horsey grow into key roles for UNLV
December 17, 2013 - 10:30 pm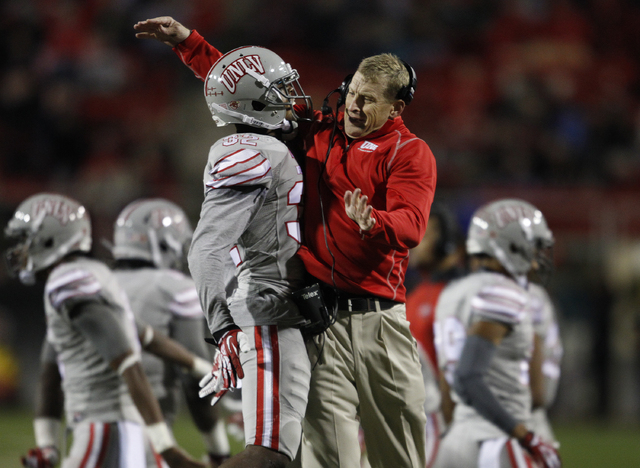 The top recruits are the ones who attract most of the early attention, the ones expected to help make or break a football program.
But the players who go unsigned, those who walk on and fight their way into a scholarship far from the spotlight, are the ones who sometimes make an even bigger difference.
Such is the case for senior wide receiver Maika Mataele and junior defensive back Mike Horsey, players who don't garner headlines but have helped put UNLV in the Heart of Dallas Bowl. The Rebels play North Texas in the New Year's Day game at the Cotton Bowl.
Mataele has 35 receptions — many of them on diving catches — for 403 yards and three touchdowns. Horsey spent most of the season at nickelback, and then was called on to become the starting free safety in the final two regular-season games, and has 4½ tackles for loss, three pass breakups and an interception.
"We tell guys that come in the door if they're good enough and they can be major contributors that they're going to have a chance to earn a scholarship," coach Bobby Hauck said. "To me, it's tangible evidence that guys that keep their mouths shut and stick with it and work hard have a chance to earn a scholarship. These guys are great examples. We've had a lot of them."
Mataele (5 feet 11 inches, 180 pounds) made his first stop at Oregon State in 2010 but didn't play football. He left for UNLV a year later and remained a full-time student.
But Mataele, a standout high school player in Hawaii, missed the sport and walked on in 2012. That summer, at training camp in Ely, he began to show what he could do, catching passes all over the practice field.
That production didn't transfer over to the season, however, and Mataele caught just two passes for 7 yards in a pro-style offense.
Back in Ely this past August, Mataele played much like he did the year before, catching pass after pass.
This time the production, in the new spread offense under first-year offensive coordinator Timm Rosenbach, translated over into the season.
"We've got more receivers on the field," Mataele said. "I showed them what I've got and left it on the field. I'm glad we switched it this year to this offensive style because it played more into my hands if anything, and it gives everybody more of a chance to play."
Quarterback Caleb Herring has gone to Mataele, often in key spots, and the receiver has responded. Sometimes he has responded while stretched out all the way, somehow making the catch he shouldn't make.
"He does things right, and he does them full speed all the time," Herring said. "We make a joke about it now that Maika will dive and lay out for a ball on routes on air if he has to. Going hard in (repetitions) like that in practice translates to games. He's in the right spot, he knows the playbook in and out, he's able to play multiple positions and find openings."
UNLV awarded Mataele a scholarship this summer.
"It meant the world to me," he said. "I was on my own and trying to survive. The love of the game and the people supporting me kept me in it."
Horsey (6-0, 180) was given his scholarship last year, but his path to the full ride was different from Mataele's. He wasn't an everyday student who missed football.
Former UNLV defensive line coach Andre Patterson liked Horsey when he visited him at Baltimore's Dunbar High School, but it was Horsey's teammate, wide receiver Courtney Bridget, who was offered a scholarship.
Bridget came and left and now is at Hampton. Horsey came and stayed.
"I met Coach Hauck, and I remember him saying you've got to be all in," Horsey said. "This was a struggling program during the time, and I said, 'I'm going to be in and fight it out till we change this thing around.' Look at us now. We're on our way to a bowl game."
Like most players, Horsey worked his way up through special teams, and in 2011 he was named the Rebels' co-Most Valuable Player of the Year of that unit.
He was back on special teams last season and this year broke his way into the defensive lineup at nickelback, even starting three games at that position. Then when a leg injury sidelined starting free safety Frank Crawford for the final two games, Horsey was moved to that spot.
"Each individual growing up as a kid, you dream about starting one day for a college football team or maybe a pro team one day," Horsey said. "That was the main goal from Day One."
He was part of a UNLV defensive effort that held Air Force to 298 yards of offense and San Diego State to 327.
"At some point when you get down in numbers, it's next man up," Hauck said. "He was next, so he had to do it. It wasn't really a choice, but we felt pretty good about that heading into the Air Force and San Diego State games that he'd be able to hold up."
Contact reporter Mark Anderson at manderson@reviewjournal.com or 702-387-2914. Follow him on Twitter: @markanderson65.

Heart of Dallas Bowl
WHERE: Cotton Bowl, Dallas
WHEN: January 1
TV: ESPNU