Mayweather-Maidana fight set for MGM Grand Garden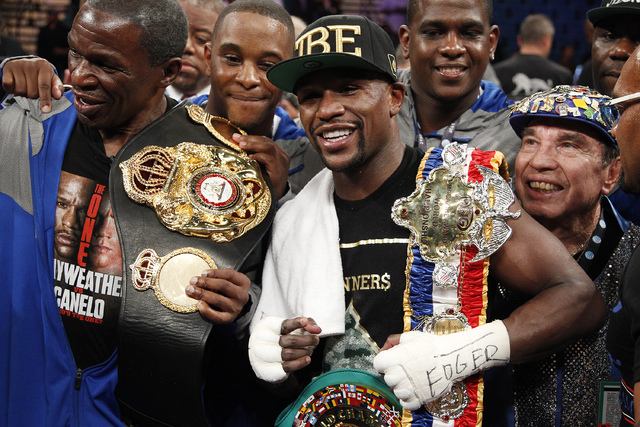 Floyd Mayweather Jr. has decided to stay home for his May 3 welterweight title fight with Marcos Maidana.
Mayweather (45-0, 26 knockouts) announced Wednesday via Twitter that he will fight Maidana (35-3, 31 KOs) at the MGM Grand Garden.
"I will be fighting at the best place on Earth on May 3rd … the MGM Grand," Mayweather's tweet read in part.
The Barclays Center in Brooklyn, N.Y., made a strong push to take the fight from Las Vegas. The offer was substantial, even with Mayweather paying New York state and New York City taxes, according to Golden Boy Promotions CEO Richard Schaefer.
But Mayweather will stay in Las Vegas, meaning the city again will profit from the millions of dollars in revenue that his fights generate.
"We have a fiduciary responsibility to look at everything," said Leonard Ellerbe, Mayweather's co-manager. "Floyd generates ridiculous amounts of money, and everyone wants to be in the Floyd Mayweather business.
"We considered everything that was on the table, and Floyd made the decision that he wanted to fight in his adopted hometown. He generates a ton of revenue in Las Vegas and wants to keep that revenue in the city. He likes to help so many people, and when he fights in Las Vegas, everyone benefits, from the cab drivers to the cocktail waitresses to the salons and the restaurants. Even the strippers do well."
Mayweather's last fight, against Canelo Alvarez on Sept. 14 at the Grand Garden, set a record for a live boxing gate at $20.03 million, and the pay-per-view telecast also did a record $150 million in revenue.
The Mayweather-Maidana fight will be televised on Showtime Pay Per View. Stephen Espinoza, vice president and general manager of Showtime Sports, said Las Vegas has a proven track record of generating large PPV numbers, particularly when Mayweather fights. This will be the third of his six-fight deal with Showtime.
"Vegas is still the king of big events and big fights," Espinoza said.
MGM officials were quietly optimistic that they would land the fight.
Tickets, priced from $350 to $1,500, will go on sale at 10 a.m. Saturday at Ticketmaster or ticketmaster.com.
Contact Reporter Steve Carp at 702-387-2913 or scarp@reviewjournal.com. Follow him on twitter @stevecarprj.