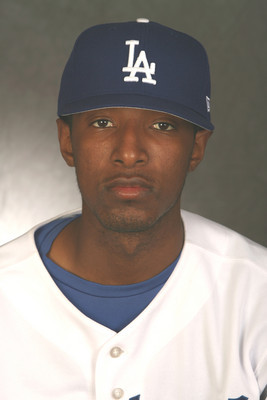 If a pitcher can make it in the hitter-friendly Pacific Coast League, he can make it anywhere.
That theory, espoused Monday by 51s manager Lorenzo Bundy, bodes well for Las Vegas right-hander James McDonald, who has pitched well in the PCL since getting promoted Aug. 4 from Double-A Jacksonville.
The Los Angeles Dodgers' minor league pitcher of the year last season — when he went a combined 13-9 with a 3.07 ERA and 168 strikeouts in 134 2/3 innings in Class A and Double A — McDonald won his first start for the 51s, allowing a run on two hits in six innings at New Orleans, with a season-high 10 strikeouts.
Armed with three above-average pitches, the 6-foot-5-inch, 195-pounder also whiffed 10 in his second start and is 1-1 with a 4.15 ERA in four games, including three starts.
McDonald and his 51s teammates got the day off Monday, when Las Vegas' game against Fresno at Cashman Field was canceled because of wet field conditions. The game, the 51s' first rainout since Aug. 29, 2000, won't be made up.
Already on Los Angeles' 40-man roster, McDonald threw out of the bullpen in his last outing, allowing one hit in two innings Friday at Colorado Springs.
"Considering we cut his innings back, I think (the Dodgers) are covering all their bases right now to keep him fresh and keep him healthy in case they need him in September," Bundy said. "He hasn't faced a lot of experienced hitters and that's why he's here right now. If you can throw up numbers in the PCL, you can throw up numbers anywhere."
Born and raised in Long Beach, Calif., McDonald, 23, grew up dreaming of playing for the Dodgers, who drafted him in the 11th round in 2002.
After missing most of 2004 and 2005 with injuries, McDonald took a big step forward last year, when he went 7-2 with a 1.71 ERA for Jacksonville, where he said he learned how to set up hitters.
"They made pitching a lot easier for me," he said of the Suns' coaches.
Rated the Dodgers' seventh-best prospect entering this season, McDonald went 5-3 with a 3.19 ERA in 22 starts for Jacksonville, where he had 46 walks and 113 strikeouts in 118 2/3 innings.
McDonald's fastball ranges between 88 and 92 mph, and he also possesses a "good change-up and big curveball," Bundy said.
"When you have three above-average pitches, that puts you in position to start. Most guys have two and are working on their third one," Bundy said. "His biggest thing is (improving) location, but for the most part at this level he's shown command of those three pitches. He can throw all three for strikes."
Whether McDonald will be called upon by the Dodgers down the stretch is "going to depend exactly where they are and what they need," Bundy said.
If he does get the call, though, McDonald said he'll be ready.
"I believe I can pitch up there right now and help the team," he said.
• NOTE — 51s players Terry Tiffee and Mike Koplove returned to Las Vegas on Monday from China, where they helped lead the U.S. Olympic baseball team to a bronze medal. Tiffee finished second on the squad in hitting with a .324 batting average (12-for-37) and Koplove didn't allow a run or a hit in 5 1/3 innings. Tiffee also was named Monday to the 2008 All-PCL team.