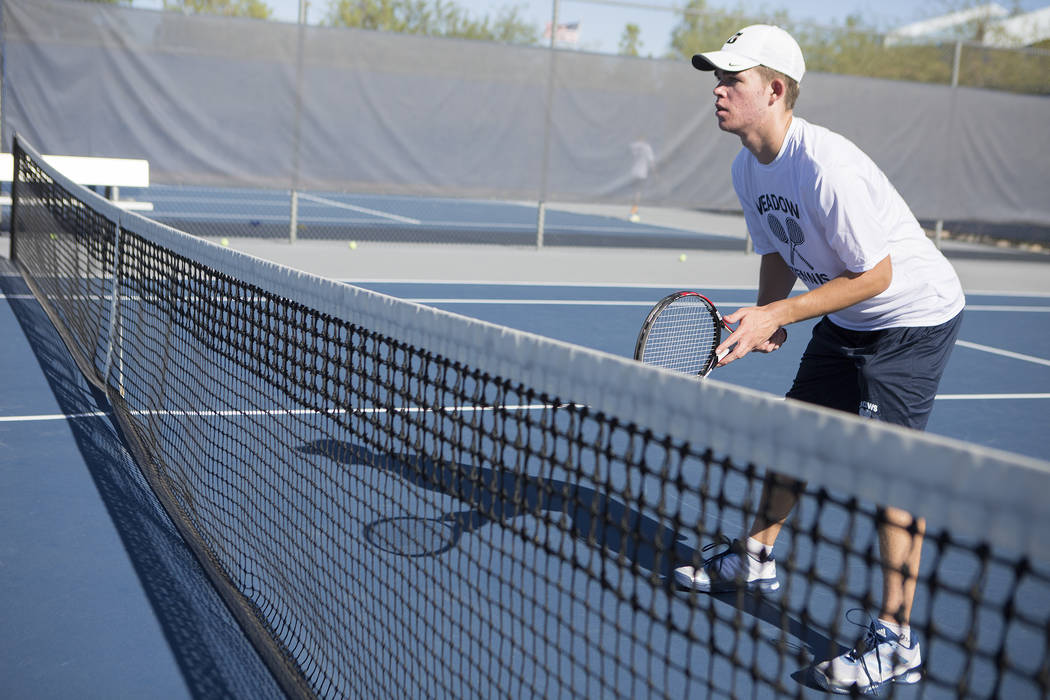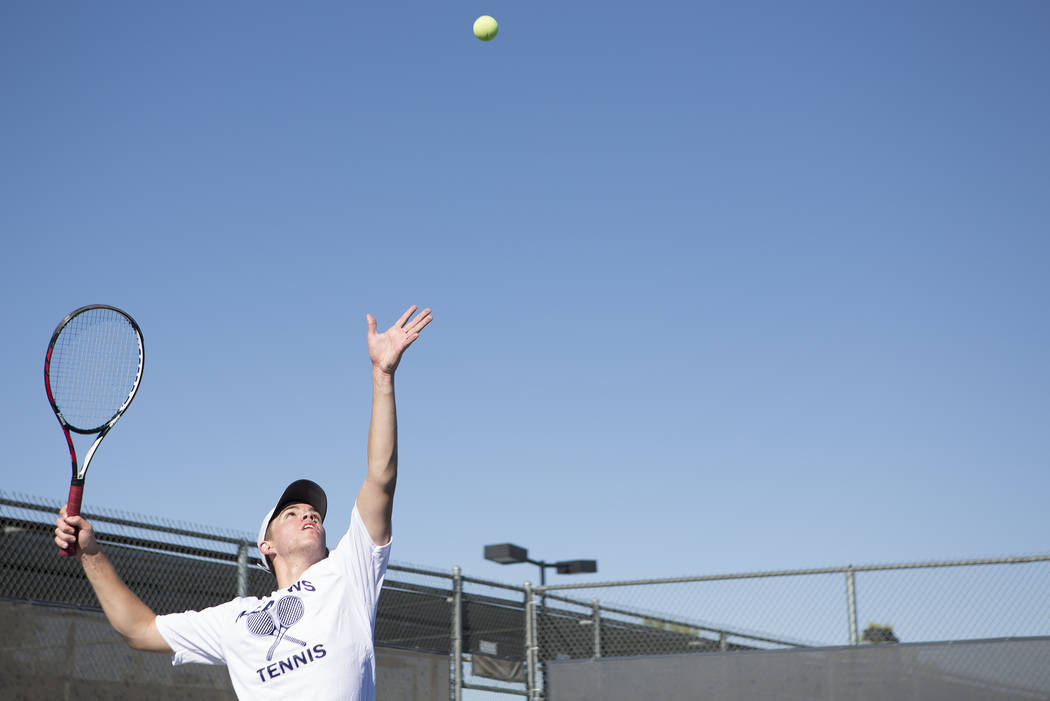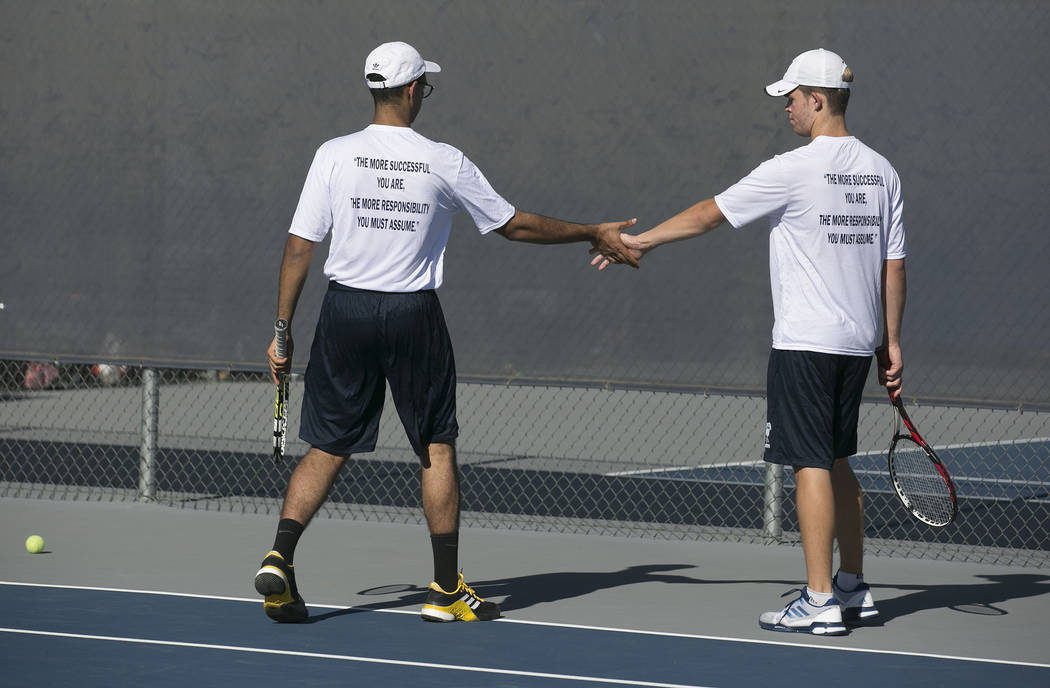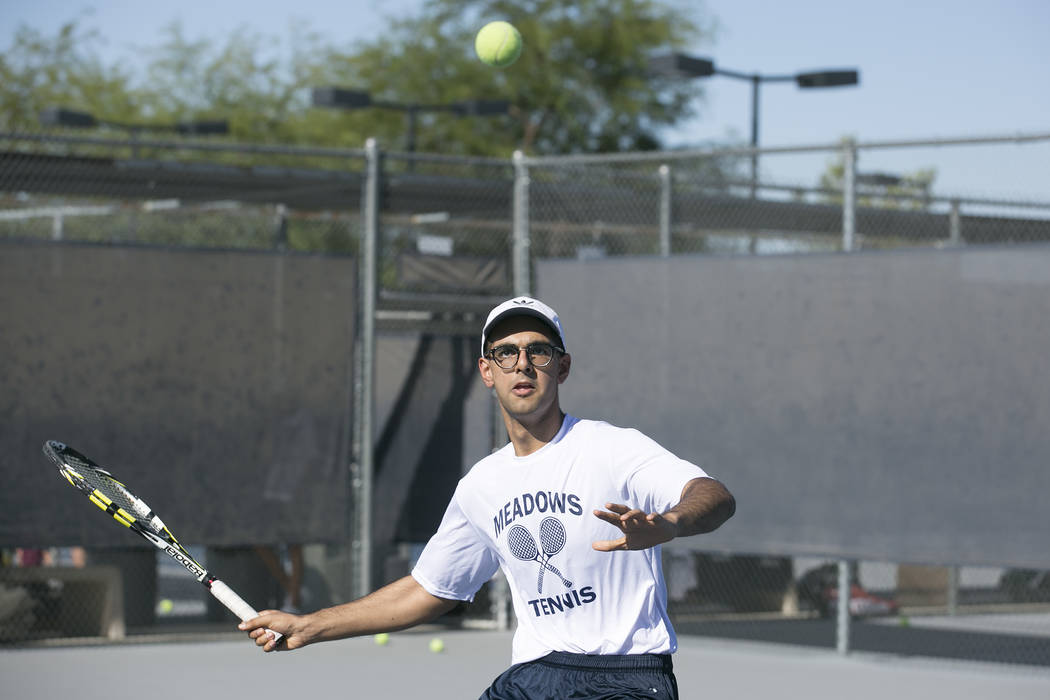 The Meadows doubles partners Peyton Sachs and Ahmed Nadeem-Tariq still lament their loss in the middle-school state championship in 2013, and were a little perturbed when Mustangs coach Frideric Prandecki mentioned it at practice last Thursday.
"Thanks for bringing that up," Sachs sarcastically muttered to Prandecki.
"I don't remember that, actually," Nadeem-Tariq joked seconds later.
Sachs and Nadeem-Tariq are seniors now, and they're still playing together with their sights set on something they couldn't accomplish as eighth-graders.
"No. 1 in state," Sachs said. "We're going No. 1."
The duo helped the Meadows beat Boulder City to clinch the program's first team state championship last season, but it stumbled in the Class 3A state doubles tournament and settled for a third-place finish.
Sachs and Nadeem-Tariq both predicted an undefeated senior season, though, and both players believe they form the best doubles pairing in Nevada.
"Were working on it right now," Nadeem-Tariq said. "We have a lot of practice to do, but we're definitely going to get there."
Sachs and Nadeem-Tariq met in the third grade and started playing tennis together in sixth grade because "we were tall … we both had good serves," Nadeem-Tariq said.
The two dominated the middle-school doubles scene until Sachs quit tennis to play football as a freshman and sophomore.
But after breaking his right shoulder twice, he returned to the tennis courts last season to partner again with Nadeem-Tariq, and they jelled quickly to emerge as the Meadows' top doubles pairing.
"A good doubles team is a team that has been together for years, practicing," Prandecki said, "so they know where to be, where to stand."
Serving is Nadeem-Tariq's forte, and Sachs said his partner has a first serve that "barely anybody can return." Sachs, meanwhile, is surgical at the net, and Nadeem-Tariq said his teammate "puts almost every ball away that is there."
They synchronize their movements, communicate with nonverbal cues and compensate for their weaknesses by knowing each other's strengths.
Prandecki said the tandem has a fantastic work ethic and demands excellence from its teammates. He also said the two have harnessed their emotions and have developed into leaders on and off the court.
"Individually how these guys are going to do? I'm hoping they go all the way," Prandecki said. "That would be nice."
Sachs doesn't know if he'll play tennis in college, and Nadeem-Tariq won't play competitively beyond this season, meaning their partnership will finally conclude this fall.
Nadeem-Tariq said they haven't reflected on their high-school careers much to this point, and didn't expect to play as long or have the success they've had.
"In sixth grade, we were just playing together," Sachs said. "We didn't plan on it (still being doubles partners). It just happened. … We're both good. It works."
More preps: Follow all of our Nevada Preps coverage online at nevadapreps.com and @NevadaPreps on Twitter.
Contact reporter Sam Gordon at sgordon@reviewjournal.com. Follow @BySamGordon on Twitter.