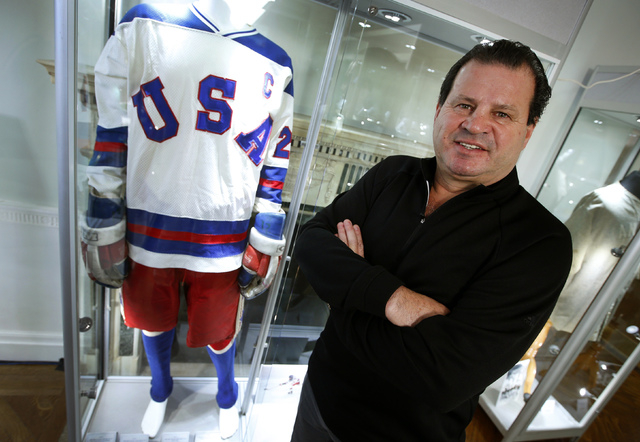 TEN MEMORABLE UPSETS
What Buster Douglas did to Mike Tyson on Feb. 11, 1990, in Tokyo is considered one of the greatest upsets in sports history. Here are 10 other memorable upsets:
1. Miracle on Ice (1980) — A team of American college hockey players rallied to defeat the mighty Soviet Union in the semifinals of the Winter Olympics in Lake Placid, N.Y. The United States won the gold medal two days later against Finland.
2. Guaranteed (1969) — The New York Jets, 17-point underdogs to the Baltimore Colts, won Super Bowl III at the Orange Bowl in Miami after Jets quarterback Joe Namath had guaranteed a victory.
3. Almost Perfect (1985) — Villanova, a No. 8 seed coached by Rollie Massimino, shot an incredible 79 percent from the field and defeated top-seeded Georgetown 66-64 to win the NCAA basketball championship at Rupp Arena in Lexington, Ky.
4. Unheralded (1955) — Jack Fleck, borrowing a set of golf clubs from Ben Hogan, used them to catch Hogan and beat him in an 18-hole playoff in the U.S. Open at Olympic Club in San Francisco.
5. Never Give Up (1983) — North Carolina State, coached by Jim Valvano, capped an improbable run through the NCAA Tournament and beat Houston's star-laden Phi Slama Jama 54-52 on Lorenzo Charles' put-back dunk of Dereck Whittenburg's last-second desperation 30-foot heave at The Pit in Albuquerque, N.M.
6. The (Blue) Devils' Revenge (1991) — A year after getting blown out by UNLV 103-73 in the NCAA Tournament championship in Denver, Duke spoiled the Rebels' dream of winning back-to-back titles with a 79-77 upset in the Final Four semifinals at Indianapolis. UNLV entered ranked No. 1 with a 34-0 record.
7. Golden (2000) — Unheralded U.S. heavyweight wrestler Rulon Gardner outdueled Russia's Alexander Karelin, who had not lost in 13 years and not allowed a point in a match in six years, 1-0 to win the Greco-Roman heavyweight gold medal at the Summer Olympics in Sydney.
8. Sweet Chaminade (1982) — The Chaminade Silverswords, an NAIA school located in Honolulu, overcame a huge size discrepancy to defeat Virginia 77-72. The Cavaliers, led by 7-foot-4-inch center Ralph Sampson, were ranked No. 1 in the nation.
9. Real-life Hoosiers (1954) — Tiny Milan High School (enrollment 161) defeated Muncie Central 32-30 to win the Indiana state boys basketball title and cap a 28-2 season. Back then, all Indiana high schools competed for one title. The improbable run was chronicled in the 1986 film "Hoosiers."
10. Upset Indeed (1919) — Upset, a 100-1 long shot, defeated the great thoroughbred racehorse Man o' War in the Sanford Stakes at Saratoga, handing Man o' War his only defeat in 21 races.
STEVE CARP/LAS VEGAS REVIEW-JOURNAL