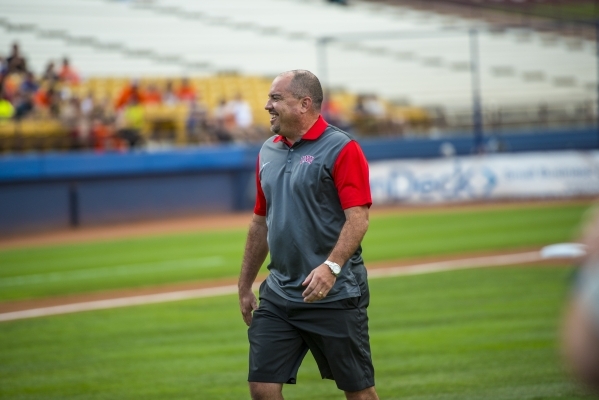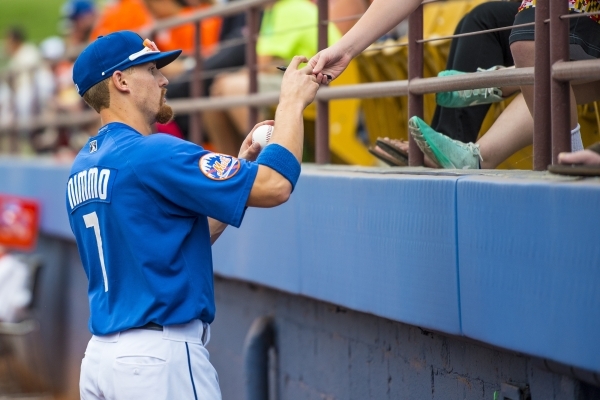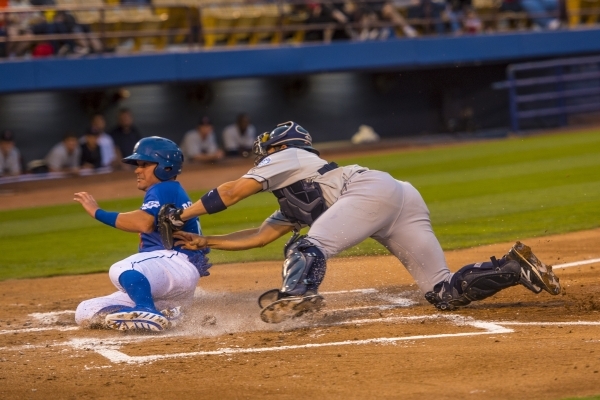 Brandon Nimmo never played an inning of high school or college baseball.
It didn't stop the Cheyenne, Wyo., native from being a first-round draft pick, and it certainly hasn't hindered his rise through the New York Mets' organization.
Nimmo, the No. 13 overall pick in the 2011 Major League Baseball draft and currently ranked the No. 3 prospect in the Mets' organization and the No. 84 prospect in baseball by MLB.com, was promoted to Triple A on Tuesday.
The 22-year-old didn't play Saturday night in the 51s' 8-4 victory over the Tacoma Rainiers in the opener of a four-game series at Cashman Field. He is hitting .143 (2-for-14) since being called up.
Nimmo, a center fielder, is trying to become the 15th person born in Wyoming to play in the big leagues, despite not having the chance to play high school ball.
"It's not a high school-sanctioned sport (in Wyoming), but we play baseball from the middle of April until around the middle of August," Nimmo said. "We would play around 80 games with my American Legion team. It's about the same as most people get with their high school season being about 30 games and then they go play about 50 games of summer ball. I was fortunate to be on a good team, so we normally played pretty prestigious competition."
During February and March, when most high school baseball teams are conditioning, practicing and playing, Nimmo ran indoor track.
"Everybody just thought I was just throwing an ice fishing pole or throwing a line out there, and they'd say that guy has pretty good wrist action, so maybe he'll be a good hitter," Nimmo said with a laugh. "It's not like that. I was lucky enough to have good coaches and be exposed to a little more of the nation, talentwise.
"I did different sports. I just tried to be an athlete, and running indoor track really helped me with my speed."
But Nimmo also put in extra work during the winter in a batting cage inside a 60-by-40 foot barn his father built.
"We had some leftover turf from the field that was built in Cheyenne when I was 14 or 15," Nimmo said. "A couple years later, we put a heater in there, and it turned into a nice, comfortable place to work on the swing. When I had 30 minutes here or there, I'd go out there and hit off the tee. My dad was a tax accountant, so from January to April 15, you didn't see him much. I just got work in when I could."
Nimmo, whose brother Bryce was the first person from Wyoming to earn a Division I baseball scholarship and was a member of the 2005 Nebraska team that played in the College World Series, was the Most Valuable Player of the Under Armour All-American game in 2010 and rocketed up prospect lists.
"(My brother) showed that just because you're from Wyoming doesn't mean you can't play baseball, and I really fed off of that," Nimmo said.
Nimmo started his professional career in 2011 at age 18 and has shined at almost every level, being named an All-Star in the South Atlantic League in 2013, the Florida State League in 2014 and the Eastern League this year. He hit .279 with 12 doubles and 16 RBIs in 68 games with Binghamton of the Eastern League before getting called up.
His best minor league season was last year, when he hit. 278 with 21 doubles, nine triples, 10 home runs and 51 RBIs in 127 games between Binghamton and St. Lucie.
"I'm just going to go out there and try to outwork everybody and try to play hard," Nimmo said. "By doing that, hopefully I can stick around the game for a long time. I think I do a lot of things well. I think I have good at-bats. I think I'm a pretty good defender. There's still a lot of room for improvement in every area. There's always more room for consistency."
And he's hoping to continue to improve in Las Vegas while achieving his dream of playing in the majors and showing the Mets they made the right choice with their top pick four years ago.
"Ever since I can remember, I wanted to be a major league baseball player," Nimmo said. "And that's a very instrumental and big step in it. I don't think my life has really slowed down since then. It's a path I wanted to take and one that I'm very blessed to be a part of."
Contact reporter Bartt Davis at bdavis@reviewjournal.com or 702-387-5230.