Mets recall hot-hitting 51s second baseman Herrera
April 30, 2015 - 11:57 pm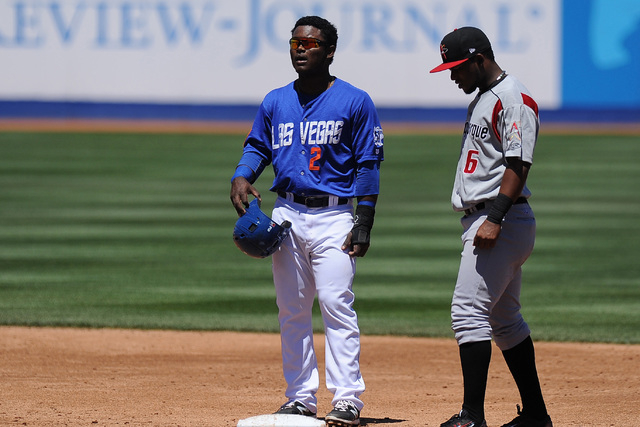 Talking about fast-rising 51s second baseman Dilson Herrera before Thursday's game against Reno at Cashman Field, Las Vegas manager Wally Backman said it wouldn't surprise him one bit if he was the New York Mets' starting second baseman next season.
"He's going to be a really good player," Backman said. "For me, the kid has All-Star qualities to be in the major leagues."
It turns out Herrera won't have to wait until next season to play for the Mets, who recalled him Thursday night. The 21-year-old Colombian grounded out to lead off the game for the 51s but was replaced by a pinch hitter in the third inning after he was summoned to New York, which will make a corresponding roster move today.
Herrera was batting .370 (30-for-81) — good for fifth-best in the Pacific Coast League — with 18 runs, one home run, 11 RBIs and three steals in 20 games for Las Vegas in his first Triple-A season.
This will be Herrera's second stint in the big leagues. Last year, he became the first position player in Mets' history to start the season in Single A in a nonrehabilitation assignment and finish it in the majors.
Herrera, who at age 20 finished last season as the youngest player in the big leagues, was called up from Double-A Binghamton, skipping Triple A.
"It was a surprise for me and my family, but you never know what can happen," he said of his first call-up. "It was the best experience of my life."
The 5-foot-10-inch, 150-pounder hit .220 (13-for-59) with three homers and 11 RBIs in 18 games for the Mets. Herrera, who turned 21 in March, made his big-league debut Aug. 29 against the Philadelphia Phillies and homered and tripled in a Sept. 1 game against the Miami Marlins.
"My first three or four innings, I was tight, but after that I was confident and relaxed," he said. "It was the same baseball as everywhere."
One of 15 natives of Colombia to reach the majors, Herrera's boyhood heroes were countrymen Orlando Cabrera and Edgar Renteria, shortstops who won World Series titles.
Scouted by the Pirates since he was 13, Herrera — whose father and grandfather played high school baseball in Colombia — signed with Pittsburgh at 16 as an international free agent.
In 2013, when Herrera became the second-youngest player to appear in the All-Star Futures Game, he was traded in August to the Mets — with New York reliever Vic Black — for outfielder Marlon Byrd and catcher John Buck.
"I'd say that's a pretty damn good trade for the Mets," Backman said.
Herrera has enjoyed a rapid rise through New York's farm system since the trade. After failing to ascend above Single A with the Pirates, Herrera hit .323 with 13 homers, 71 RBIs, 98 runs and 23 steals between Binghamton — where he was the youngest player in Double A — and Single-A St. Lucie last season before getting the call to the bigs.
"I was always positive, I sacrificed, and I was thinking to be ready for my opportunity," Herrera said.
He has continued to tear up the minors this season, with at least two hits in 12 of his past 15 PCL games.
"The pitchers, I think, in Double A were a little more hard than here. I don't know what other players think," Herrera said. "I'm working hard, and I'm 100 percent positive for every game. I think I'm doing a good job here.
"I want to go to the big leagues soon. I'm just waiting for my opportunity."
Little did Herrera know that his wait would soon be over.
"Dilson brings tons of energy to the game. He plays the game hard," Backman said. "He's very young and still needs to learn a few things, but he's constantly working on making his game better.
"He's got speed, he hits for average and he's got a little bit of power, too. The more he plays, the better he's going to become."
■ NOTES — Steven Matz scattered five hits and had 12 strikeouts in seven innings, and Johnny Monell hit a three-run homer to help the 51s (13-8) to their seventh straight win, 7-2 over Reno before a crowd of 6,656. … The Mets optioned infielder Danny Muno to Las Vegas. … ESPN "SportsCenter" anchors Max Bretos and Robert Flores, who are in Las Vegas for Saturday's title fight between Floyd Mayweather Jr. and Manny Pacquiao, threw out ceremonial first pitches.
Contact reporter Todd Dewey at tdewey@reviewjournal.com or 702-383-0354. Follow him on Twitter: @tdewey33.