Miami can exploit Pack's injury mess
October 16, 2010 - 11:00 pm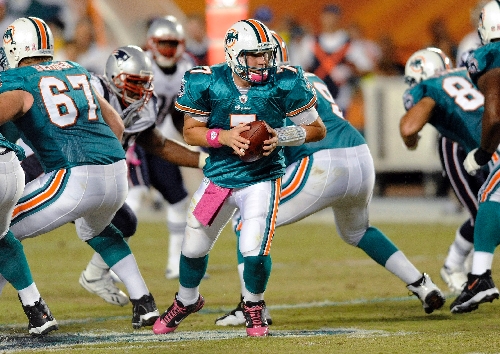 No team in the NFL has been compromised more by injuries than the Green Bay Packers. On the positive side, quarterback Aaron Rodgers appears ready to return from a concussion.
Rodgers is expected to start today when Green Bay hosts the Miami Dolphins. But Las Vegas handicapper Kelso Sturgeon said he doubts Rodgers and the Packers are ready to pass the test.
"At the beginning of each football season, a team's projected performance profile is based primarily on two things — talent and how it has performed in recent seasons," Sturgeon said. "That changes in two or three weeks as attrition sets in and teams begin to decline in direct proportion to the number of players on their injury lists. The decline happens much faster if those injuries take down skill-position players.
"Welcome to the world of circumstances, where what has happened in the opening weeks of the season takes over and becomes the foundation of NFL handicapping."
The circumstances that have struck the Packers lead Sturgeon (Kelsosportshandicapping.com) to deliver his "best bet of the week," which is Miami as a 3-point underdog.
"You can take it to the bank Rodgers should not be playing and this is a move of desperation, since the season is fast slipping away from the Packers," Sturgeon said.
Green Bay lost running back Ryan Grant in Week 1 and definitely will be without linebacker Nick Barnett and tight end Jermichael Finley. Linebacker Clay Matthews, the league's sack leader with 8½, is hurting and will be limited if he does play.
On the other side, quarterback Chad Henne and the Dolphins are much healthier plus well rested and better prepared off a bye week.
Sturgeon analyzes the rest of today's Week 6 schedule:
■ San Diego (-8) at St. Louis: The Chargers lead the NFL in total offense (461.8 yards per game), are second in total defense (246.2) and Philip Rivers is first in passing yards (1,759). Rivers passed for 431 at Oakland and the Chargers still lost, 35-27. That left San Diego 0-3 on the road, but it appears to be in a spot to put it all together against a St. Louis team whose brief honeymoon ended in a 44-6 loss at Detroit.
■ Kansas City at Houston (-4½): Despite the hype, the Texans are the same mediocre team they have been, and they're a Kansas City team that is better than advertised. The Chiefs have an excellent ball-control offense that is outrushing opponents by 68.3 yards a game, and a line that protects Matt Cassel, who has been sacked only three times. Kansas City is doing everything right and has become one of the league's most fundamentally sound teams.
■ Baltimore at New England (-3): My figures say the Ravens, Steelers and Jets are locked in a dead heat for being the best team in the NFL. There is every reason to believe the Ravens' lock-down defense, which gives up just 257.8 yards and 14.4 points a game, will get the best of New England's no-longer-high-octane offense. The uniforms are the same, but this Patriots team is not the equal of any of the past several seasons — especially on defense, where it allows 384.5 yards per game.
■ New Orleans (-4½) at Tampa Bay: Forget the Super Bowl jinx; the Saints are struggling largely because they are not on the razor's edge at game time. They also miss running back Reggie Bush. New Orleans' wins have come against Minnesota (1-3), San Francisco (0-5) and Carolina (0-5). The Bucs are 5-2 in their past seven, including a 20-17 victory at New Orleans.
■ Atlanta at Philadelphia (-3): The Falcons might be the best team in the NFC and have already been tested by fire. Atlanta has outstanding skill players in quarterback Matt Ryan, running back Michael Turner and wide receiver Roddy White, and there is every reason to believe they will prevail against a very suspect Eagles team.
■ Detroit at New York Giants (-10): If there is a team that is better than its record, it is the Lions, who are 1-4 but should be 3-2. The Giants might win, but I will be all over Detroit to get the cover, and it will not surprise me if the Lions win straight up.
■ Seattle at Chicago (-6½): The Bears get quarterback Jay Cutler back and have every edge over a Seattle team that has been ripped apart from stem to stern by new coach Pete Carroll. The Seahawks are off a bye but lost both their road games.
■ Cleveland at Pittsburgh (-14): This play is partly ruled by circumstances. There are only two things you need to know: Steelers quarterback Ben Roethlisberger is back from suspension, and Cleveland is starting rookie Colt McCoy because of injuries to Jake Delhomme and Seneca Wallace. McCoy will face a trademark defense that will have him running for his life, forcing the Browns to try to win with their running game. You cannot beat the Steelers with a one-dimensional offense.
■ New York Jets (-3½) at Denver: The only things in the Broncos' favor are the home-field bias and the return of running back Knowshon Moreno. They face a Jets team that is dominating on both sides of the ball. Denver has been destroyed by injuries and is without at least five starters, three in the secondary. Jets quarterback Mark Sanchez, who has not thrown an interception, should shred the Broncos' pass defense.
■ Oakland at San Francisco (-7): Pundits find many reasons the 49ers, the preseason pick to win the NFC West, are 0-5. I have mine. Coach Mike Singletary was a great player, an outstanding assistant coach and a complete bust as a head coach. His teams simply aren't ready at game time. Barring a miracle or an epiphany, the 49ers will again take the field flat as the plains of Kansas.
■ Dallas at Minnesota (-1½): There is no law that says one must bet every game on the board, and I will pass this one. There is just too much drama coming from both teams, and both are finding ways to lose.
■ Indianapolis (-3) at Washington: The Colts are struggling and the Redskins seem to be life-and-death in almost every game. Washington's game plan will be the same as always: play field-position football, keep it close and try to win at the end. There's a reason they've gone to overtime twice. Peyton Manning will try to win it with his arm, because the Colts' running game is nonexistent. Washington's defense, allowing only 18.4 points a game, will keep Manning in check enough to keep this under the total of 44.
Compiled by Review-Journal sports writer Matt Youmans.