Michael Conforto, Kevin Plawecki back Darin Gorski in 51s' win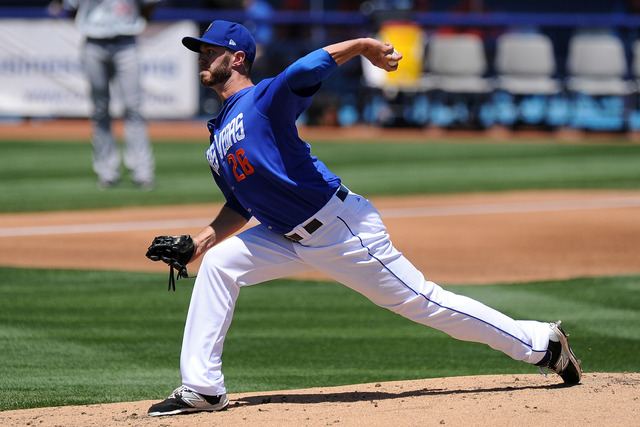 Michael Conforto and Kevin Plawecki started the season with the New York Mets, and clutch hits like they had Thursday night will help a good deal in getting them back to the major league club.
Both 51s blasted two-out, two-run homers to aid a strong outing from left-hander Darin Gorski in a 7-3 victory over the Tacoma Rainiers to start a four-game series at Tacoma, Washington.
"We got big hits when we needed them," Las Vegas manager Wally Backman said. "The home run was big for us tonight."
Down 1-0 in the third, Ty Kelly's speed got the 51s on the board.
With Plawecki on first and one out, Kelly grounded out to the first baseman, but beat the return throw to avoid the double play and extend the inning. He then stole second base shortly and scored on Gavin Cecchini's double.
Conforto followed with a home run to right for a 3-1 lead.
The fourth inning had a similar outcome for the 51s. With Eric Campbell on second, Plawecki matched Conforto with a two-run shot to give Las Vegas a 5-1 lead.
It was all the offense the team would need, but Johnny Monnell saw fit to get in on the home run parade. He hit his 12th of the season in the sixth inning, his third homer in the past five games.
Gorski, making his second start with the 51s since his return from independent ball, was brilliant, dealing seven innings of four-hit ball while allowing one run. He walked one and struck out four on 83 pitches.
The outing was an important one for Gorski, who is hoping to stick in Triple A, and the 51s, who are in desperate need of pitchers who can help save a taxed bullpen.
After allowing a run in the first inning, Gorski settled in, retiring 10 in a row from the first to the fourth. His only issue was in the seventh, when he allowed a single and a walk to start the inning. A quick mound visit from pitching coach Frank Viola followed, and whatever Viola said worked, as Gorski rolled up a double play on the next pitch. Travis Taijeron made a diving catch on the next batter, the last one Gorski would face.
"He gave us a great performance," Backman said.
As a result of Gorski's efficiency, the 51s used only two bullpen arms. One was right-hander Chasen Bradford, who threw a perfect eighth inning, striking out the side. The other was righty Zack Thornton, who allowed two runs in the ninth.
Justin Emerson can be reached at jemerson@reviewjournal.com. Follow on Twitter: @J15Emerson