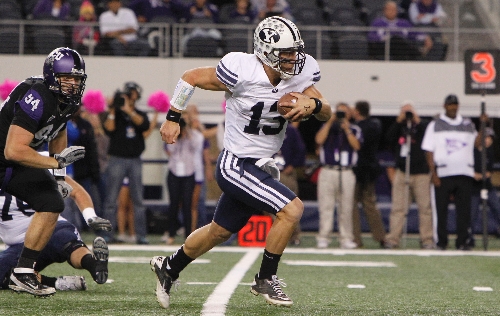 Brigham Young quarterback Riley Nelson has the green light to be himself, even if it proves costly at times.
"I'm promoting Riley to be aggressive," Cougars coach Bronco Mendenhall said. "I think our team responds well to that. Along the way, we do need to be more careful with the ball in some circumstances."
Nelson is a fun-loving, free-thinking, risk-taking player. But his unbridled creativity cost the Cougars in last Friday's 38-28 loss to Texas Christian in Arlington, Texas.
The junior from Logan, Utah, threw two interceptions in the second quarter — one in the end zone — and fumbled late in the game to stall BYU's attempted rally.
"I obviously need to be smarter," Nelson said. "My decision making, my execution, my sharpness will keep getting better. But I have got to be me. If I try to be someone else, my pass play will get very poor, and I'm not going to let that happen."
Riley was very much himself after scoring on a 2-point conversion late in the game. He jumped up and gave the field judge a high-five on his way back to the Cougars sideline.
The moment was captured during ESPN's coverage of the game. Video of the high-five nearly went viral on YouTube.
"It was a bummer," Nelson said. "Right as I was getting up there on (YouTube) hits they took it off for copyright infringement."
Said Mendenhall: "I loved it. When you get an idea of being in the moment, that's pretty much it. I'd like that to be a symbol of BYU football."
■ BYE WEEK — After playing nine straight weeks to open the season, the Cougars (6-3) have a bye this weekend. For linebacker Brandon Ogletree, that means extra time with his wife, Amanda, and their son, Luke.
This is the first of two bye weeks in November for BYU.
"Usually, we have Utah at the end of the schedule that we are gearing up for," Ogletree said. "This is new territory. More than anything we just (need to) focus on us. If we focus on what we need to do, then it doesn't matter who we are playing."
■ NOT SO SPECIAL — Miscues on three punts last week led to 21 points for TCU. The Cougars spent the bye week looking at their options on special teams, including possibly replacing senior punter Riley Stephenson.
"Snapping the ball and catching the ball — it sounds simple," Mendenhall said. "Why we had troubles, I can't tell you. But we did, and it hurt us in the game. We have to get it ironed out through the bye week. We are going to look at other players. That's only fair."
Sophomore Brian Smith is the backup punter. Nelson is the third-string punter.
■ TV TIMES — BYU's deal with ESPN might deliver national TV coverage, but it doesn't guarantee ideal start times. The Cougars' Nov. 12 game against Idaho starts at 6:15 p.m. PST and will be shown on ESPN2 (Cable 31).
BYU's home finale against New Mexico State on Nov. 19 kicks off at 7:15 p.m. PST on ESPNU (Cable 320).
■ NEXT SEASON — The Cougars will open their second season as an independent program at Georgia Tech on Sept. 1, 2012.
They also play pivotal road games at Boise State (Sept. 15), Utah (Sept. 22) and Notre Dame (Oct. 20). BYU will have additional road dates at New Mexico State (TBA) and San Jose State (TBA).
The home schedule consists of Weber State (Sept. 8), Utah State (Oct. 5), Oregon State (Oct. 13), Washington State (TBA), Idaho (TBA) and Hawaii (TBA).
Dave McCann is a morning news anchor on KLAS-TV (Channel 8). He hosts "True Blue" at 5 p.m. Monday on BYUtv, is the play-by-play voice for BYUtv and hosts "Cougar Countdown" at noon Wednesday on KSHP-AM (1400) and Sirius XM 143 BYUradio. He can be reached at dmccann@newsnow.com.