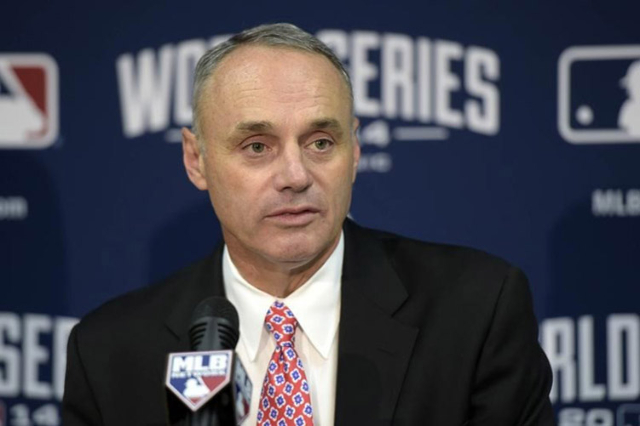 Commissioner Rob Manfred is open to future expansion beyond 30 teams in Major League Baseball.
Speaking at a Baseball Writers Association of America luncheon at the All-Star Game in Cincinnati on Tuesday, Manfred said a list of potential cities has been compiled. MLB has not added teams since 1998 when the Arizona Diamondbacks and the Tampa Bay Rays were brought into the fold.
"Maybe one of the reasons I got this job is, I'm bullish on this game," Manfred said. "I think we are a growth business, broadly defined. And over an extended period of time, growth businesses look to get bigger. So yeah, I'm open to the idea that there will be a point in time where expansion may be possible."
The list of potential cities for expansion or relocation could include Montreal; Charlotte, N.C.; San Antonio; Portland, Ore.; Las Vegas; Oklahoma City; northern New Jersey and Mexico City or Monterrey, Mexico.
Tampa Bay and Oakland have been mentioned as being in danger of losing their teams because of ongoing stadium problems.
Montreal could be one of the leaders to land a franchise. The city has expressed its strong desire to win back a team after the Expos relocated to Washington, D.C., and became in the Nationals after the 2004 season.
Two exhibition games between the Toronto Blue Jays and the Cincinnati Reds in Montreal in March drew 96,000 fans.
"The mayor is an enthusiastic supporter of bringing baseball back to Montreal," Manfred said. "I happen to believe that Montreal has a great baseball history, which is a nice thing. And the market wildly supported two exhibition games in each of the last two years. Having said all that, it's a long ways from two exhibition games to 81 home games in a facility that is consistent with major league standards."
Manfred discussed other topics during the session with reporters. One of those was the All-Star fan balloting and the concerns resulting from eight Kansas City Royals players leading the American League balloting in June before four finally were voted in as starters.
"Everybody started talking about eight Royals starters," Manfred said. "At the time, I said publicly, 'Fans have a way of fixing these things.' I think you saw fans in places like Detroit, with Miguel Cabrera, and Houston, with Jose Altuve, where fans said, 'They had their say, but our guy is better.
"That sort of fan reaction is a really good thing for our game, and it gives you confidence that fan voting is a good mechanism for engagement. Things also have a way of correcting themselves when they get out of whack."
Manfred also said he's satisfied with the new Home Run Derby format. Eight players battled Monday in head-to-head competition under a time limit rather than a pitch count. Hometown hero Todd Frazier of the Cincinnati Reds won the competition.
"The format changes were great, and the clock made a big difference in the event," Manfred said. "Being on the clock causes the players to swing. We had a dramatic increase in the number of home runs that were hit, in a dramatically shorter event. That's a great combination for the Home Run Derby."