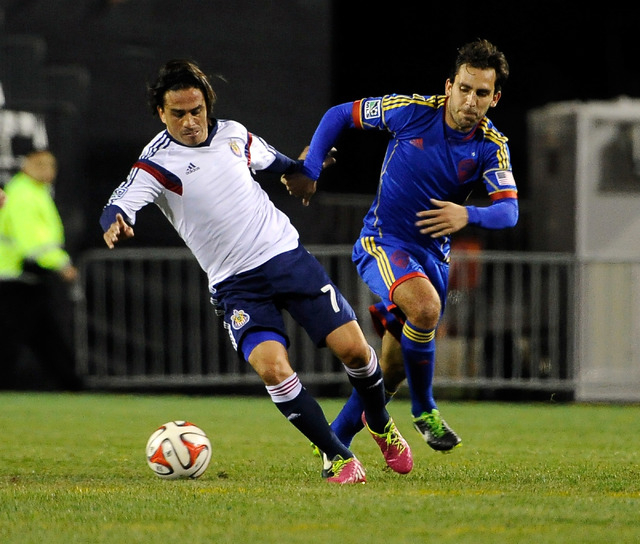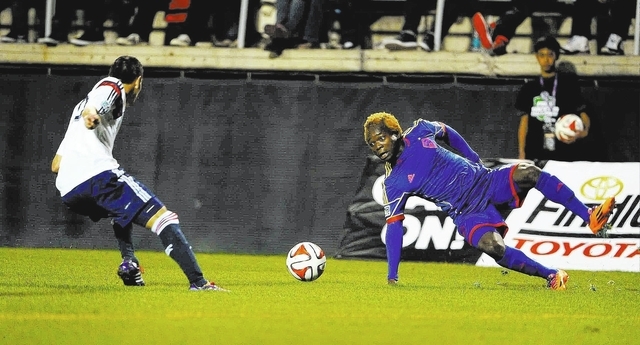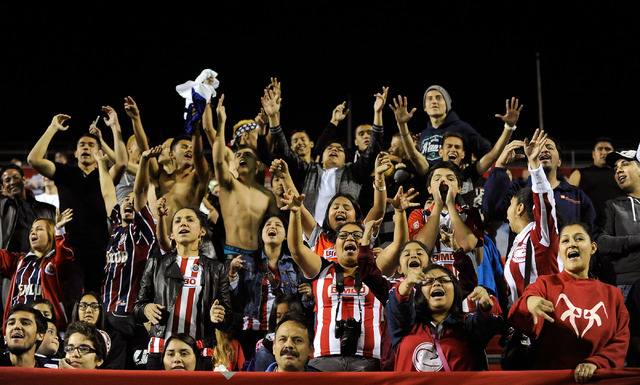 The music was blaring in the Sam Boyd Stadium parking lot late Sunday afternoon. People were tailgating, kicking the ball around and having a good time in the unseasonably warm February weather.
It's the kind of environment local soccer fans are hoping will one day become a permanent fixture — a Major League Soccer franchise that Las Vegas can call its own. But for the immediate future, the league's presence will be relegated to the Colorado Rapids playing a preseason match at Sam Boyd. Until the city can produce a soccer-specific stadium, MLS is unlikely to put down permanent roots here.
Tim Hinchey, the Rapids' president, said prior to his team's 2-1 loss to Chivas USA in the Las Vegas ProSoccer Challenge that the city remains on MLS' radar.
"They're watching what's going on here and whenever there's discussion about expansion, Vegas is in that discussion," he said. "But the league is waiting to see what happens with the stadium here. Until that gets resolved, it's hard to put a franchise here, because the league is very serious about wanting soccer-specific stadiums."
The league has plans for expansion and hopes to grow to 24 teams by 2020. MLS, which has 19 franchises going into the 2014 season, will expand to New York City and Orlando, Fla., in 2015. It recently announced plans to return to Miami where David Beckham is leading the ownership group. Atlanta is also being targeted in the next couple of years. That would expand the league to 23 teams. As for the 24th franchise, the competition is fierce. If Las Vegas were to become a serious player, it would be battling St. Louis, Detroit, Phoenix, Minneapolis, Sacramento and San Antonio for that last spot.
But if the UNLV Now on-campus stadium project were to come to fruition, there is a plan to convert Sam Boyd Stadium into an MLS-specific facility. Plans call for knocking out the first four rows of seats on each side of the stadium to widen the field. It also includes a permanent grass field, improved locker rooms and scoreboard, upgrades to the parking lots, replacing some of the bleacher seats with individual chair seating, a canopy over the east side of the stands to block out the sun and other capital improvements to the facility.
Thomas &Mack Center director Mike Newcomb, who oversees Sam Boyd Stadium, said the conversion could be done for as little as $30 million. But he said $100 million is a more realistic number to do what is truly necessary to make it a first-class MLS facility.
"For a $100 million, you could have an amazing (MLS) stadium," Newcomb said.
Until that day comes, if ever, the Rapids will represent MLS in Las Vegas. The team has a relationship with the Downtown Las Vegas Soccer Club, which is hosting this weekend's Mayor's Cup youth tournament. Hinchey said it was great for the team to get out of the cold weather in Denver and train at UNLV all week.
In Sunday's game, which drew 9,071 fans, Deshorn Brown put Colorado on top 1-0 with a nifty left-footed goal in the 16th minute from the left side that just went inside the far post. But Chivas equalized on an Erick Torres penalty kick in the 19th minute. It stayed 1-1 until the 82nd minute when the Rapids were whistled for another foul in the penalty area and Adolfo Bautista converted the penalty kick to put Chivas ahead.
"You have a terrific fan base here (in Las Vegas)," said Hinchey, who said there's talk with USA Rugby Sevens, which promoted Sunday's preseason game, to add a second match in 2015. "There's a passion for the game and I would love to see the city get its own team someday. If there's a suitable stadium, that changes the picture here."
Contact reporter Steve Carp at 702-387-2913 or scarp@reviewjournal.com. Follow him on Twitter @stevecarprj.