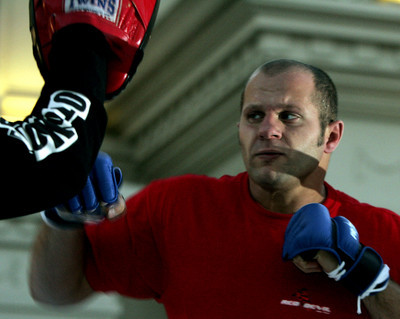 After a cancellation, a venue change and a new business partner, Affliction MMA has finally scheduled an 11-fight card Jan. 24 at Anaheim, Calif., more than six months after its debut event there.
Affliction's second card, in which Fedor Emelianenko will defend his World Alliance of Mixed Martial Arts heavyweight title against Andrei Arlovski, had been scheduled Oct. 11 in Las Vegas.
That event, with Arlovski slated to fight Josh Barnett, was postponed and the organization announced it was forming a partnership with Golden Boy Promotions.
The restructured venture has assembled a card around the new marquee main event at the Honda Center, formerly the Arrowhead Pond.
Barnett will face Gilbert Yvel in another heavyweight bout that should determine the next opponent for either Emelianenko or Arlovski.
Also on the card, Matt Lindland will face Vitor Belfort in a battle of veteran middleweights and two former Ultimate Fighting Championship light heavyweights meet when "Babalu" Sobral takes on Rameau Thierry Sokoudjou.
While the main card airs on pay-per-view, the undercard will be on HDNet. That portion will feature Las Vegan Jay Hieron fighting unbeaten welterweight Jason High.
So far, Golden Boy doesn't seem to be doing its new partner any favors. One of its biggest stars likely will draw some attention from the Affliction card as Shane Mosley fights Antonio Margarito just up the road at Staples Center on the same night.
It will be part of a big fight weekend in southern California. World Extreme Cagefighting is having a Jan. 25 card at the San Diego Sports Arena, headlined by a lightweight title fight between Jamie Varner and Donald Cerrone.
It will be the second title defense for Varner, who first earned the belt with a third-round knockout of Rob McCullough in February.
Also, Urijah Faber will fight Jens Pulver for the second time in eight months. Faber, the No. 1 featherweight in the world until he lost the WEC title to Mike Brown in November, earned a five-round decision over the former UFC lightweight champion in June.
• FIGHT NIGHT — The UFC will hold a Fight Night card in Tampa, Fla. on Feb. 7, a week after B.J. Penn and Georges St. Pierre meet in Las Vegas.
Lightweights Joe Lauzon and Hermes Franca will face off to headline the card.
Las Vegans Mac Danzig and Amir Sadollah also will be featured at the event, which will air on Spike (Cable 29).
• CLEAN TESTS — Nine fighters from the Dec. 3 WEC card at the Hard Rock Hotel were subjected to drug tests by the Nevada Athletic Commission. All tests came back clean.
The group included main event fighters Miguel Torres and Manny Tapia. Torres stopped Tapia in the second round to retain the WEC bantamweight title.
The NAC also tested 12 athletes from the Dec. 13 UFC card at the Palms, but the results of those tests are not yet available.
Contact reporter Adam Hill at ahill@ reviewjournal.com or 702-224-5509.