Aldo pulls out of UFC 189 title defense because of rib injury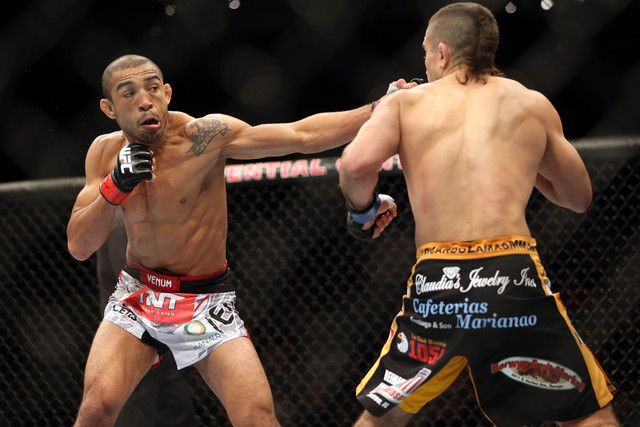 Ultimate Fighting Championship president Dana White's contingency plan has become a reality.
Featherweight champion Jose Aldo has officially pulled out of a scheduled title defense against Conor McGregor because of a rib injury, leaving Chad Mendes to step in to face McGregor for the interim title at UFC 189 on July 11 at the MGM Grand.
White announced the development on ESPN's "SportsCenter" on Tuesday night.
"I was on the plane flying home (from New York), and (Aldo's coach) Andre (Pederneiras) hit me up on the plane. He just said Jose's in a lot of pain, and he's not going to be able to make it," White told the Review-Journal. "What are you going to do? Conor wants to fight. He doesn't want to wait. When you have a guy that wants to fight that bad, you make an interim title. Aldo's pulled out of five title fights. To put the title on hold again just didn't make sense.
"Conor wants to fight, and Chad Mendes wants to fight, so they'll fight."
Aldo suffered the injury while sparring last week. There were conflicting reports about the severity of the injury.
He had hoped to fight through the injury, but the UFC announced that Mendes would be on standby in case Aldo couldn't compete.
McGregor appeared with White on "SportsCenter." He used the opportunity to reiterate his belief that Aldo just doesn't want to lose his belt.
"If a man is scared for his life, we cannot force him to step inside and face me," McGregor said. "I feel he is afraid. The doctors have cleared him to fight, it's a bruise, but he has still pulled out. So rightfully so, the belt should be taken from him, and we should contest for the interim belt, or, in my opinion, the real belt."
McGregor will have less than two weeks to prepare for Mendes, who unquestionably will be the most skilled wrestler he has faced in the UFC. Mendes opened as a minus-130 favorite offshore and was quickly bet to a plus-105 underdog.
If there has been one criticism of McGregor's rapid ascension through the 145-pound ranks, it has been that he has fought mostly opponents who prefer to exchange in standup battles, at which McGregor is most comfortable.
McGregor said the prospect of taking on a wrestler doesn't faze him.
"I am confident going in against any man on the roster (because) I feel I am No. 1 on the roster. That is why an opponent change does not matter," he said. "Essentially the opponent is an illusion in there. It's you versus you, so it doesn't matter who is across from me July 11. I will charge forward, I will put the pressure on, and I will get the victory."
White believes a McGregor victory could make an eventual fight against Aldo even more intriguing.
"Everybody's been saying, 'Conor can't wrestle, he can't do this or that.' Conor's willing to fight anyone, anytime, anywhere, man, even on a week's notice," White said. "Mendes and Aldo just went five hard rounds together in one of the best fights I've ever seen. These guys are going to throw down. The other thing this does, if Conor wins this fight, all those people who say he can't deal with a wrestler, that will be the end of that."
McGregor predicted the same outcome for his fight against Mendes as he has been calling for against Aldo.
"I'm gonna demolish him. I'm gonna rip his head off," McGregor said. "I feel the two of them are similar. I feel four minutes of the first round. Like I said, the opponent is an illusion. The shots I have visualized landing on Jose, I visualize landing on Chad also. I feel the outcome will be the same. Four minutes of the first round, Chad will be unconscious."
There was some controversy when Mendes was named as the potential replacement instead of Frankie Edgar. White said that while both fighters were under consideration, he was comfortable selecting Mendes.
"Chad Mendes is the No. 1 (contender). He just lost to Aldo in one of the greatest fights I've ever seen," White said. "It makes all the sense in the world for him to be the guy."
White also said there was never any doubt that the interim title fight would remain the main event on the card over a welterweight title fight between Rory MacDonald and Robbie Lawler.
"Why would he not stay in the main event? He's still on the card," White said. "Conor was headlining the card, and he's still in a title fight."
White saved his sharpest criticism for the sparring partner that injured Aldo last week.
"The problem is you have a guy hitting him with a spinning heel kick two weeks before his fight. What is that (expletive)? That's a finishing move," White said. "If you're going to do that and that's what you're working on, put a body protector on Aldo. You can throw all the crazy (expletive) you want if you have the right protection. And then the guy goes out and starts doing interviews about it.
"It's insane."
While the live event is sold out, the change in opponent is expected to impact pay-per-view buys. The UFC poured an unprecedented amount of time and money into promoting what was anticipated to be the biggest featherweight fight in mixed martial arts history.
White refused to admit disappointment with the change, but he did lament the one fateful moment that altered UFC 189.
"It's the business. We did everything right leading up to it, promoting it and everything else, and these things happen," he said. "But that shouldn't happen. He shouldn't have been hit with that kick. The guy shouldn't have been throwing that two weeks out.
"I don't know, man."
Should Mendes win, it would set up a third fight with Aldo. While that would mean the promotional efforts thrown behind a potential fight between Aldo and McGregor would go for naught, White indicated it would be fine with him.
"That could have been a rematch after the last fight, it was so good," he said.
Contact reporter Adam Hill at ahill@reviewjournal.com or 702-224-5509. Follow him on Twitter: @adamhilllvrj.