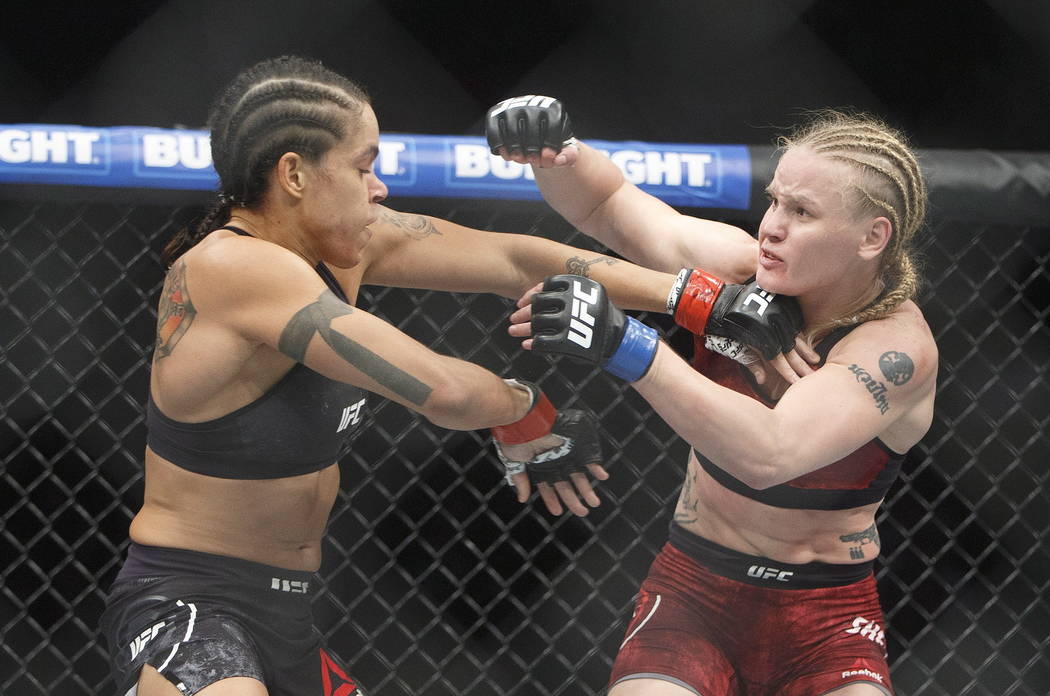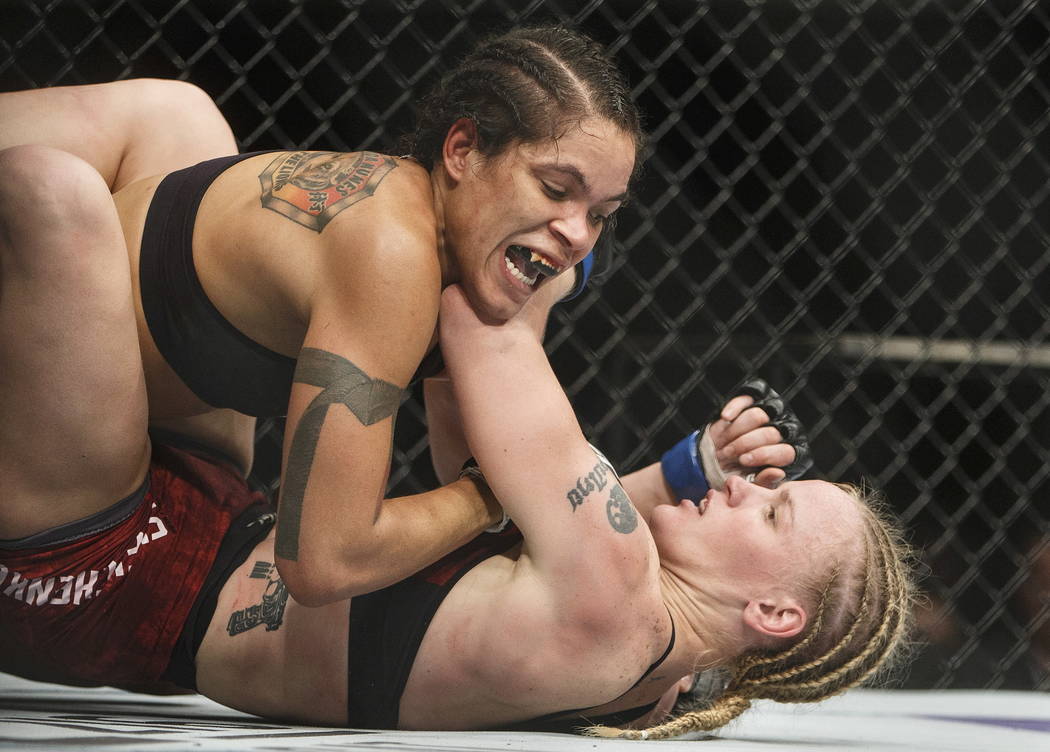 Top UFC women's bantamweight contender Valentina Shevchenko really wants a rematch after narrowly coming up short in a title bout against champion Amanda Nunes in the main event of UFC 215 on Saturday night in Edmonton, Alberta.
Nunes just wants to get healthy.
The champion said she will finally take the time to address the sinus issues that prompted her to pull out of a scheduled contest against Shevchenko in July.
Nunes said she opted for a quick fix instead of a long-term solution so she could get back in the cage as soon as possible, partly to silence critics who insisted her withdrawal was more about holding onto the title than any real medical issue.
Now that she has defeated Shevchenko for a second time, she is ready to move on from the rivalry and take on a new challenger.
But not until at least 2018. Nunes said she will address her chronic breathing issues, which will likely involve surgery now that the fight is behind her and she was able to retain the belt by split decision.
"This is the first thing," she said at the post-fight news conference. "It's still very bad. I'm still very congested.
"I think I'm going to take some time off because this is my breathing, and I have to take care of it. Sometimes, I can't sleep at night. I think I'm going to take a break, and next year, I will come back."
First things first, Nunes will return to South Florida to assess any possible damage to her new home and car. The impending arrival of Hurricane Irma served as yet another distraction to her headlining bout on Saturday night.
"You work so hard to get (to a point of owning property), and I'm here (in Canada) and I can't do anything about it," she said.
As for the fight, Nunes didn't understand the controversy. Nunes conceded Shevchenko probably won the fourth round, but believes she did more than enough to win.
The challenger lashed out at the judges in the cage after the decision was announced. Shevchenko wasn't finished when the news conference began.
"I respect the opinion of the judges, but I can't agree with their decision," said Shevchenko, who believes she was the clear winner of rounds two through four.
She also believes she should have been awarded the fifth because though Nunes got a takedown, Shevchenko was landing punches from her back while Nunes failed to improve position.
Shevchenko said she would consider an appeal, but knows it would almost certainly be immediately dismissed unless there was a valid reason beyond just disagreement. Instead, she hopes for a trilogy bout at some point.
McGregor return delayed?
MMA fans hoping to see Conor McGregor back in the cage before the end of the year may have to temper their expectations.
The UFC lightweight champion turned professional boxer has been spotted enjoying some of his reported nine-figure payday from last month's bout against Floyd Mayweather on a yacht in Ibiza.
There has been some speculation, including an optimistic take from UFC president Dana White, that McGregor might take a UFC fight before the end of the year.
McGregor's longtime coach doesn't think that's likely.
"As for what's next, we're currently taking a bit of down time after a fairly exhausting few months," John Kavanagh wrote in a column for Irish website 'The 42.' "I've said for a long time that the Nate Diaz trilogy fight at lightweight is what I'd personally like to see next. That still needs to be put to bed.
"It's probably a little late in the day to realistically expect another fight before the end of the year, because even after this hiatus is over, a lot goes into the planning and execution of a training camp at our level. I find it hard to envisage another fight in 2017. Then again, knowing Conor, I could get a text message tonight telling me otherwise. He's difficult to predict, which is one of the many reasons why he's so fascinating."
Kavanagh also dismissed as uninteresting the possibliltiy of McGregor's next MMA bout coming against the winner of October's interim lightweight title bout between Tony Ferguson and Las Vegan Kevin Lee.
Contact Adam Hill at ahill@reviewjournal.com or 702-277-8028. Follow @adamhilllvrj on Twitter.
Schedule
• Saturday: UFC Fight Night 116 (FS1), Pittsburgh
• Sept. 23: UFC Fight Night 117 (FXX), Saitama, Japan
• Sept. 23: Bellator 183 (Spike TV), San Jose, California
• Oct. 6: Bellator 184 (Spike TV), Thackerville, Oklahoma
• Oct. 7: UFC 216 (FS1/PPV), T-Mobile Arena, Las Vegas