Bantamweight titles to be decided at UFC 207
October 24, 2016 - 3:39 pm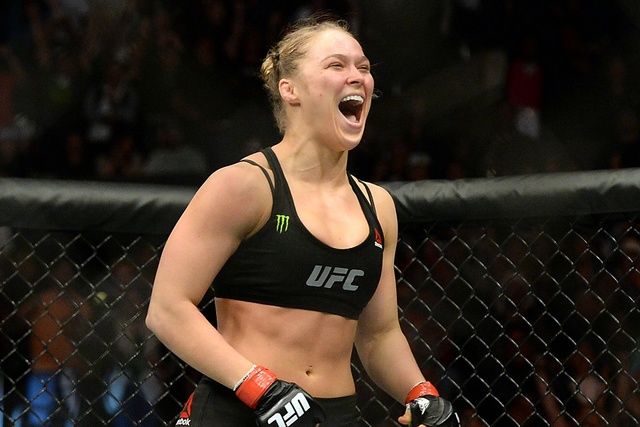 Both bantamweight titles will be on the line at UFC 207.
Dominick Cruz is slated to defend his bantamweight belt against Cody Garbrandt on the Dec. 30 card at T-Mobile Arena.
UFC officials confirmed an ESPN report Monday.
The title fight is added to a card that will be headlined by former women's bantamweight champ Ronda Rousey returning from a year layoff to challenge Amanda Nunes.
Cruz, 31, won back the bantamweight title with a split-decision victory over T.J. Dillashaw in January. He previously held the belt, only to be stripped of it in early 2014 during a stretch where a series of injuries caused Cruz to miss nearly three years.
He made a comeback in late 2014 and scored an impressive knockout of Takeya Mizugaki, only to get injured again and was unable to compete for more than a year.
Cruz reclaimed the title with the win over Dillashaw and defended it with a unanimous decision victory over Urijah Faber in June. He has not lost since the lone defeat of his career in 2007 when he was submitted by Faber.
The fight against Garbrandt will be his third of 2016.
Garbrandt, who trains with Cruz's longtime rival Faber, has been on a tear. He has knocked out all three of his opponents this year in the first round.
The 25-year-old slugger is 10-0 as a professional and has won five times in the UFC.
Garbrandt already has a win at T-Mobile Arena, where he knocked out Mizugaki at UFC 202 in August.
After that fight, Garbrandt called out the champion, who was in the arena working as an analyst for Fox Sports 1.
They have gone back and forth in the media over the last several months.
"Let the youngster enjoy his hype train fresh off his win," Cruz told "The MMA Hour" in August. "Let his people keep on building that false sense of confidence that they are all instilling into his psyche over this period, it's good for him.
"I kill hype for a living."
The bout joins the matchup between Rousey and Nunes at the top of the card.
A heavyweight bout between former champions Cain Velasquez and Fabricio Werdum has also been added to the card.
Werdum took the belt from Velasquez by third-round submission in June 2015. That fight is best remembered for the ordinarily well-conditioned Velasquez appearing exhausted early in the fight in the altitude of Mexico City.
The rematch will take place much closer to sea level in Las Vegas, which sits at an elevation of about 2,000 feet.
Werdum lost the belt to Miocic in May, but rebounded to score a unanimous decision victory over Travis Browne in September.
Velasquez has fought just once since losing the title, knocking out Browne in the first round at UFC 200 in July at T-Mobile Arena.
The pay-per-view event is set for a Friday night in order to avoid New Year's Eve.
LUNDVALL'S NAC TERM ENDS
Pat Lundvall confirmed to the Review-Journal she will not be reappointed to the Nevada Athletic Commission when her third term ends Oct. 31.
"I considered every minute of it a privilege and an honor," she wrote in an email.
Lundvall was first appointed to the commission by Gov. Jim Gibbons in 2007. She was the first woman to serve as chair in 2009.
Gov. Brian Sandoval will appoint a new commissioner in her place. Lundvall, a partner at the McDonald Carano Wilson law firm, is currently one of three commissioners from Las Vegas. The other two represent Reno.
The next NAC meeting is scheduled for Nov. 10.
FABER TO RETIRE
UFC veteran Urijah Faber announced Monday he would retire following a Dec. 17 fight against Brad Pickett in his hometown of Sacramento, California.
"It just feels right to do it in (Sacramento) in this new arena," the former WEC featherweight champion said on "The MMA Hour." "It just feels like the right time and the right place.
"I've been waiting for this new arena to be built, I was waiting for that Dominick Cruz opportunity, and I feel like this is going to be an epic event and I can't wait to do it in front of the people I love."
UFC on Fox 17 will take place in the new Golden 1 Center. Faber, 37, lost a unanimous decision to Cruz for the bantamweight title in June.
It was the fourth time Faber had come up short in a UFC title fight.
Faber, a UC Davis alum who runs Team Alpha Male in Sacramento, is 33-10 in a professional career that started in 2003.
Contact Adam Hill at ahill@reviewjournal.com or 702-277-8028. Follow @adamhilllvrj on Twitter.
RELATED
Ronda Rousey to return at UFC 207 on Dec. 30 in Las Vegas
UPCOMING EVENTS
Bellator 163 (Spike TV)
Nov. 4, Uncasville, Connecticut
UFC Fight Night 98 (FS1)
Nov. 5, Mexico City
Bellator 164 (Spike TV)
Nov. 10, Tel Aviv, Israel
UFC 205 (FS1/PPV)
Nov. 12, New York