Bellator: New York main card matchups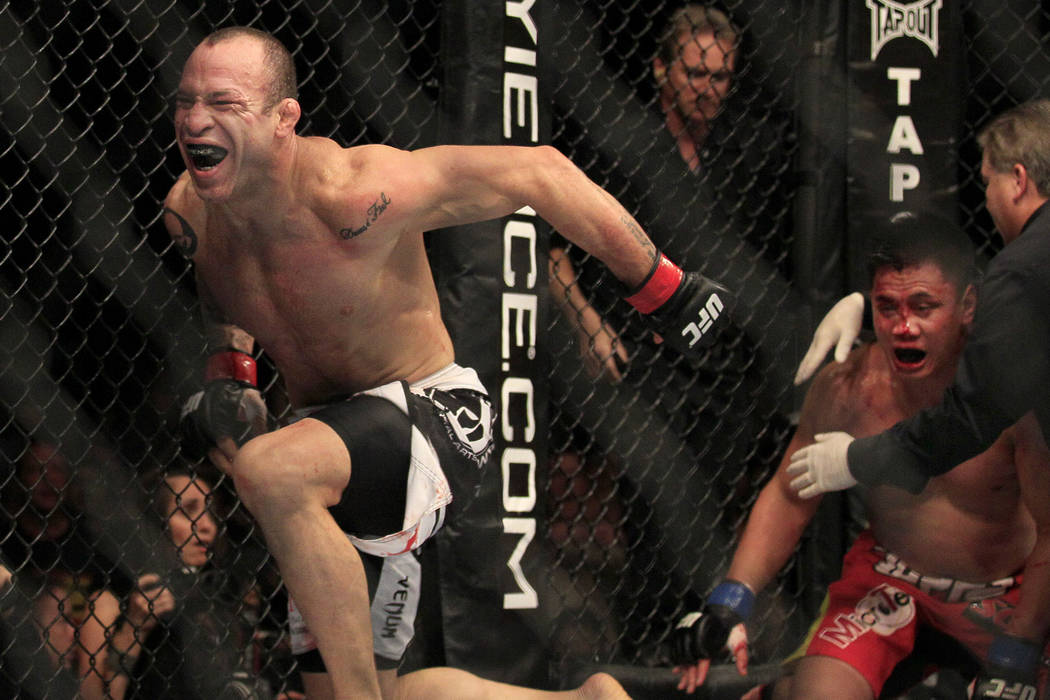 A breakdown of the fights on the main card of Saturday's Bellator: New York pay-per-view card at Madison Square Garden, with picks from the Review-Journal's Adam Hill and Heidi Fang:
Chael Sonnen (28-15) vs. Wanderlei Silva (35-12)
Class: Light heavyweight
Line: Sonnen minus-150
Storyline: These guys don't like each other. While they've seen better days, this could end up being quite fun. Silva hasn't fought since 2013 and didn't have the best cardio even at his peak. Sonnen returned after more than three years out of action and looked terrible in losing to Tito Ortiz in January. "The Axe Murderer" isn't exactly known for his patience, so expect Sonnen to have to withstand an early blitz from Silva. That strategy is only expected to be intensified by the hatred Silva has expressed toward Sonnen. Silva might only have about a minute of true fury in him, though that could be enough. Sonnen has to be favored if the fight gets out of the first round, but that's no sure thing. Don't expect a technically sound masterpiece in this old-school main event.
Hill's pick: Silva by first-round knockout
Fang's pick: Sonnen by decision
Fedor Emelianenko (34-4) vs. Matt Mitrione (11-5)
Class: Heavyweight
Line: Mitrione minus-135
Storyline: Emelianenko is widely considered the best heavyweight in the history of mixed martial arts. In a division where consecutive wins are difficult to come by because of the unpredictable nature of the fights, he ran through the elite names of his time and did it in impressive fashion. He won 27 straight fights, a feat that probably never will be duplicated in the division. But that streak, which mostly happened in Japan, ended in 2009. He signed with Strikeforce in the U.S. and lost three straight bouts in 2010 and 2011. Emelianenko returned to his native Russia and has won his past five between there and Japan, sandwiched around a retirement. Success in America has still evaded him, however, and he's giving it one more shot at age 40. He was supposed to face Mitrione in February, but the former NFL player developed kidney stones on the day of the fight and it was postponed. Mitrione is faster and more athletic than Emelianenko. He has been susceptible to bad losses, but this is such a big opportunity for Mitrione to leave his mark on the sport.
Hill's pick: Mitrione by second-round knockout
Fang's pick: Mitrione by third-round knockout
Douglas Lima (28-6) vs. Lorenz Larkin (18-5)
Class: For Lima's welterweight title
Line: Larkin minus-180
Storyline: Top contender Rory MacDonald, who will face the winner, believes this is an even fight. Lima is 7-1 with six knockouts in his past eight fights and is on his second title reign. Larkin, a UFC veteran and Strikeforce veteran, gets an immediate title shot after signing a free-agent deal with Bellator in March. He won four of his final five fights in the UFC, with the loss by split decision to Albert Tumenov in 2016. That run of success began when Larkin dropped from middleweight to welterweight, and he has looked like a completely different fighter. The kickboxing specialist appears to have found his division and has evolved his all-around game enough to finally become a champion.
Hill's pick: Larkin by decision
Fang's pick: Larkin by decision
Michael Chandler (16-3) vs. Brent Primus (7-0)
Class: For Chandler's lightweight title
Line: Chandler minus-750
Storyline: Primus is unbeaten in his career, with five wins in Bellator. He's also allowed only two opponents out of the first round and is a solid all-around performer. A closer look at the resume starts to raise some red flags. Primus squeaked through his past two fights with split-decision wins, and it would take a hardcore fan to name one of his seven opponents. He also has been out of action for 16 months. That's troubling as he meets one of the top all-around fighters in the organization. Chandler is on his second reign as lightweight champ and coming off a win over former UFC champion Benson Henderson. This is a bit of a mismatch.
Hill's pick: Chandler by second-round knockout
Fang's pick: Chandler by fourth-round knockout
Aaron Pico (0-0) vs. Zach Freeman (8-2)
Class: Lightweight
Line: not available
Storyline: Pico might be the most-hyped prospect to make his professional MMA debut. That's why it's happening as the first fight on Bellator's second pay-per-view card. There is good reason for all the excitement. The 20-year-old is an incredibly accomplished amateur wrestler, having medaled twice at the junior world championships. He came within one match of becoming the first American teenager to qualify for the Olympics in freestyle wrestling in 40 years at the Olympic Trials in 2016. He's also a former national junior golden gloves champion. Freeman doesn't have the pedigree but is experienced.
Hill's pick: Pico by second-round knockout
Fang's pick: Pico by first-round submission