Bisping meets Miller in UFC "The Ultimate Fighter" finale
December 2, 2011 - 4:23 pm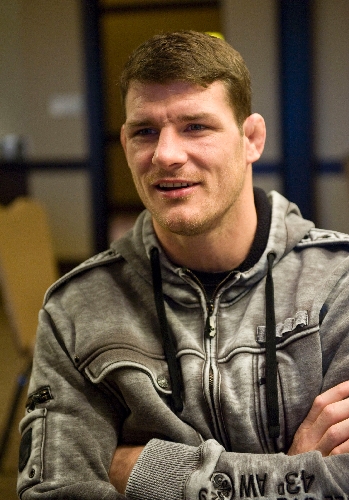 Even if perennial contender Michael Bisping never wins an Ultimate Fighting Championship belt, he will be able to look at his career as a success.
All he wanted out of it was to make enough money to go to college and learn a trade.
"The fact is I used to work dead-end jobs, terrible jobs for very, very little money," the middleweight said. "I far surpassed (my goal). The Bisping family is doing pretty well, so I wouldn't look at (my career) as a failure if I don't get a belt."
Still, Bisping would like to at least get the title shot that has eluded him for so long. He just doesn't think a win tonight over Jason "Mayhem" Miller, his opposing coach on Season 14 of "The Ultimate Fighter," will get him that opportunity.
"I mean, I want it, of course. I feel I'm one of the best in my division, but I just don't think Miller has the name recognition," Bisping said. "I think I would deserve the shot just for the time I've been around and the cumulative wins, but I don't think I will get it after this fight. But who knows?"
The 32-year-old Englishman seeks his fourth straight win when he takes on Miller at the Palms on the season-finale card. He appears to be on the verge of a title opportunity, a position Bisping has been in before.
After winning the third season as a light heavyweight contestant on "TUF," Bisping won his next three UFC fights before losing a controversial split decision to Rashad Evans and dropping to middleweight.
He won three in a row again, but was brutally knocked out by Dan Henderson at UFC 100 in a No. 1 contender bout. Bisping lost another controversial decision to Wanderlei Silva two fights later, followed by his current three-fight winning streak.
"I've really only got one definitive loss on my record, but they came at crucial times. I was always on the cusp of a title shot," he said. "If you lose a fight, you kind of go to the back of the line."
While he doubts a win over Miller will be enough for an immediate opportunity at a championship fight, he hopes to at least get another No. 1 contender bout with a victory.
"I'm way better than when I had a No. 1 contender fight before. Even if I would have won that, I would have lost the title fight anyway. I probably wasn't ready, and getting knocked out the way I did was a testament to that," he said. "I feel I've matured as a fighter, and I'm back better and stronger and hopefully my time will come soon."
At the least, he won't have to worry about going back to school, and that's a good thing because he has no idea what trade he wanted to learn.
"I took an advanced electrical engineering course, which I had no interest in whatsoever, and ended up dropping out because it just bored the living daylights out of me," Bisping said. "Even though I had that plan, I didn't know what it was going to be."
The card also will feature the championship fights to determine the featherweight and bantamweight champions for Season 14.
Diego Brandao, a member of Team Bisping on the show, will try to continue his dominance when he meets Dennis Bermudez for the season's featherweight title.
Brandao won all three of his fights on the show by first-round knockout, including two in the first minute. He said he cried when he watched his first knockout on TV, but he thinks he has just scratched the surface of his potential.
"I'm too young to say I've made it yet," he said. "I feel like I'm going to be a great fighter because I'm just blessed."
T.J. Dillashaw will take on John Dodson for the season's bantamweight title.
The card, which airs tape-delayed on Spike (Cable 29) at 8 p.m., also features Season 13 champion Tony Ferguson fighting veteran Yves Edwards in a lightweight bout.
Contact reporter Adam Hill at ahill@reviewjournal.com or 702-224-5509. Follow him on Twitter: @adamhilllvrj.