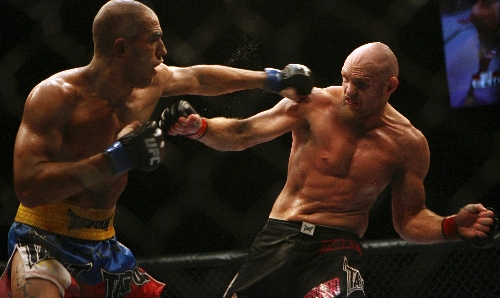 Once among the most promising prospects to enter the Ultimate Fighting Championship, Brandon Vera again vows to finally live up to his potential.
The 33-year-old light heavyweight says he's serious this time, having been given another chance with the UFC after his release by the organization in January — a consequence that turned out to be temporary.
Calling it the ultimate slap in the face, Vera (11-5, 7-5 UFC) was released after his third straight defeat, in which he was dominated by Thiago Silva on Jan. 1 at the MGM Grand.
However, the UFC reinstated Vera after the Nevada Athletic Commission announced that Silva's drug test was inconsistent with human urine and Silva later admitted using steroids.
Before getting that reprieve, Vera said the notification by phone of his release by the UFC made him realize he was taking his career for granted.
"There's that one girl in middle school that broke your heart, and you never got to see her again. You can't even find her on Facebook," he said. "Well, my girlfriend broke up with me in middle school, and she just called me back, and I'm going to run with it now. I'm going to see if we can turn this into a relationship and do what the (expletive) I was supposed to be doing since day one."
Vera concedes this isn't the first time he has promised to regain his focus. Leading up to the Silva fight, he spoke about how he realized his potential had only taken him so far and he knew he needed to work harder if he wanted to accomplish his goal of winning a UFC title.
Vera insists this time it's different.
"I have a second shot at life. I've been training now like I did before I got in the UFC. Since I got to the UFC, I've been walking around with a big head and taking (expletive) for granted," he said. "I wasn't in love with the sport anymore. I wasn't going to fights. I would only watch when my friends were fighting on TV. I love the sport again."
While Vera, who once vowed to win titles in two weight classes, would be the first to say he hasn't come close to fulfilling expectations, he has made an impression on the sport.
His gym, Alliance Training Center outside San Diego, has produced UFC champion Dominick Cruz and fast-rising contender Phil Davis. The success of Vera's protégés has put even more pressure on him.
"All the guys at the gym are doing well. Everybody's doing what they're supposed to be doing, except me," he said. "It's embarrassing because those guys used to look up to me."
At least he doesn't have to deal with three straight losses on his record. The Silva fight was changed to a no contest as part of the NAC's ruling.
Regardless of what substance Silva was taking, Vera says he failed to do his job; Silva was able to continually take him down and hold him there.
"It's just me and him in there. No matter if somebody's Superman or if I break my legs during the fight, it doesn't matter. I'm not supposed to lose," he said. "I'm supposed to go in there and win, and that night, for one reason or another, I broke mentally and I really don't know why I couldn't get up."
Vera has no idea who he will fight next, but said it doesn't matter.
"My goals now are still the same, become a champion, and I can do it," he said. "There's going to be peaks and valleys over the long haul, but I'm excited to finish off this storybook."
Contact reporter Adam Hill at ahill@reviewjournal.com or 702-224-5509.