Brazilian to take shot at another UFC heavy
August 24, 2007 - 9:00 pm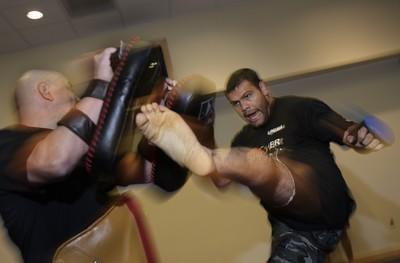 Just days before stepping into the spotlight of an Ultimate Fighting Championship main event for the first time in his career, Gabriel Gonzaga is feeling the pressure.
He appears not to be fazed by the high expectations that have been placed on him since his upset of Mirko Cro Cop in April. And the opportunity to face one of the biggest stars in the sport for the heavyweight title doesn't seem to bother him either.
Instead, Gonzaga is made uncomfortable by the microphones and tape recorders of the assembled media asking him questions in English during his open workout in preparation for Saturday night's title fight against Randy Couture at Mandalay Bay.
"The pressure is to speak English for all the interviews," Gonzaga said, drawing a laugh.
The 28-year-old Brazilian still is learning the language, but he answered all of the questions posed to him.
On Saturday night, he will try to answer the most important question of all when he steps into the ring with Couture, a Las Vegas resident.
Neither fighter was supposed to be in this position.
Couture, 44, came out of retirement and moved back up to heavyweight to take the title from Tim Sylvia in March.
He spent the early part of his career as a heavyweight but had competed at light heavyweight in his last seven fights before temporarily leaving the sport.
Though he was impressive as a stand-up fighter, Couture mainly used his superior takedowns and wrestling ability to control Sylvia for five rounds and win in a surprisingly easy decision.
Gonzaga is much more comfortable on the ground than Sylvia and figures to pose a bigger matchup problem for the champion.
Couture believes his advantage this time will come more from the mental game.
"I think that there is a lot of hype for this fight, and people have a lot of expectations on him, and that can sometimes be tough to deal with if you haven't been in that situation before," he said. "So, I think those are things that it will be interesting to see how he deals with in this fight."
Most observers saw Gonzaga as a sacrificial lamb against Cro Cop. It was thought the UFC was using the bout as a showcase for Cro Cop to set up a megafight with Couture.
Gonzaga put a halt to those plans, and his opponent's night, with a huge kick to Cro Cop's head that sent the Croatian to the mat in a heap of limbs and put himself in position to earn the title instead.
The win set up Gonzaga with a great opportunity, but he knows it won't mean much on Saturday night.
"I don't think about my last fight. I took one week, not to celebrate, but to rest after that fight," Gonzaga said. "I got to spend a little bit of time with my wife and my family, then got back into regular training.
"I have all my focus on this fight."
• NOTES — A knee injury in training will force former UFC star Jens Pulver out of his scheduled World Extreme Cagefighting debut, which was to take place on the Sept. 5 card at the Hard Rock Hotel.