Brian Ortega anxious for slower schedule after winning title
Top featherweight contender Brian Ortega will step into the cage for the fourth time in a calendar year Saturday night when he challenges Max Holloway for the title on the UFC 226 card at T-Mobile Arena.
It's a bit more busy than Ortega would prefer to be in his career.
"I'd rather take the larger fights (than fight so often)," Ortega said. "Larger fights mean more. Two good large fights a year is good enough for me."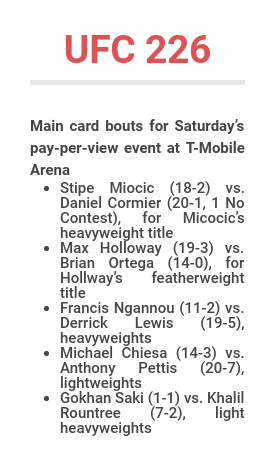 He'll compete on one of the biggest stages of the year as UFC 226 marks the culmination of International Fight Week in Las Vegas, which officially kicks off Wednesday with open workouts on the casino floor at MGM Grand.
Thursday night features a news conference and the UFC Hall of Fame Induction Ceremony at Palms, followed by Friday's "The Ultimate Fighter" Finale card at the same property.
Ortega's busy schedule has paid off. The undefeated 27-year-old has finished all three opponents he has taken on over the last 12 months and will be a champion with one more win Saturday.
Then he may look to slow things down a bit.
"Training full on year round is great and I love to stay in shape and always being ready, but I feel sometimes I don't have a life," he said. "All I do is just live in the gym. If I got it my way I'd work hard, get two crazy fights in a year and then just relax a little bit."
UFC 226 also features a heavyweight title bout between champion Stipe Miocic and light heavyweight champ Daniel Cormier.
More MMA: Follow all of our MMA and UFC coverage online at CoveringTheCage.com and @CoveringTheCage on Twitter.
Contact Adam Hill at ahill@reviewjournal.com or 702-277-8028. Follow @AdamHillLVRJ on Twitter.
International Fight Week Schedule
Free and open to the public unless noted
Wednesday
Open workouts, 1 p.m., MGM Grand
Official pool party, 2 p.m., Hard Rock Hotel
Thursday
UFC 226 press conference, 3 p.m., The Pearl at the Palms
"The Ultimate Fighter" Finale weigh-ins, 4 p.m., The Pearl at the Palms
UFC Hall of Fame induction ceremony, 7 p.m., The Pearl at the Palms (ticketed event)
Friday
UFC Fan Experience, 9 a.m.-5 p.m., Downtown Las Vegas Events Center
UFC 226 weigh-ins, 3 p.m., T-Mobile Arena
"The Ultimate Fighter" Finale, 4 p.m., The Pearl at the Palms (ticketed event)
Saturday
UFC Fan Experience, Noon-8 p.m., Downtown Las Vegas Events Center
UFC 226, 3 p.m., T-Mobile Arena (ticketed event)
UFC 226 after party, 10 p.m., Hakassan at MGM Grand
Sunday
Official pool party, 11 a.m., Hard Rock Hotel