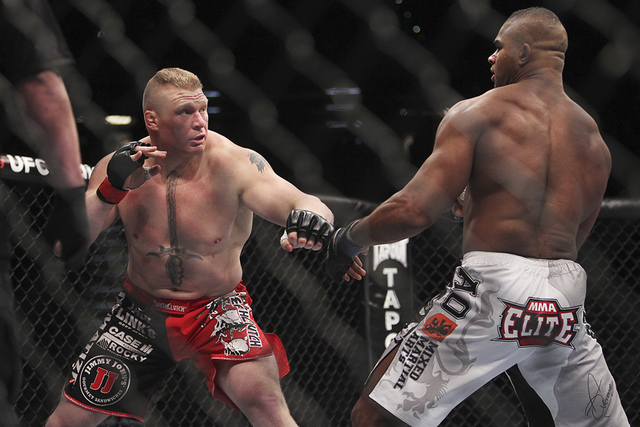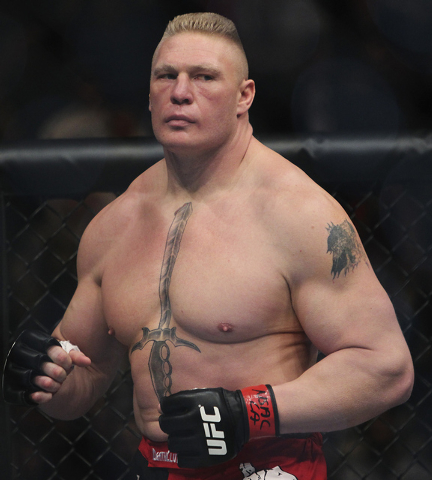 Brock Lesnar is done fighting for real.
During an appearance on ESPN's "SportsCenter" on Tuesday that briefly got emotional, the former Ultimate Fighting Championship heavyweight champion said he has signed a new deal with World Wrestling Entertainment.
The announcement ended months of speculation that Lesnar, 37, would return to the UFC after his current deal with the professional wrestling organization expires on Monday, the day after WrestleMania 31 — WWE's biggest event of the year — in Santa Clara, Calif. Lesnar will fight Roman Reigns on the card.
"It was a very hard decision for me," said Lesnar, arguably the UFC's most marketable fighter ever.
"It's hard to talk about it. The fighter inside me wants to compete. I'm an older caveman now, so I make wiser caveman decisions. So I'm here to say that my legacy in the octagon is over; however, my legacy this Sunday at WrestleMania will not be my last."
Lesnar, an NCAA champion wrestler, left the WWE to pursue a career in mixed martial arts in 2007. He entered the UFC after one pro fight and later defeated Randy Couture in 2008 to win the heavyweight belt in his fourth fight.
He successfully defended the belt twice before losing it to current champion Cain Velasquez in 2010. Lesnar then lost his next fight to Alistair Overeem on Dec. 30, 2011, and decided to return to pro wrestling.
He said he had been weighing his options in trying to decide between lucrative offers from both companies. Lesnar told The Associated Press that UFC executives tried to sweeten the deal when he told them of his decision.
"(The decision) took me a year," he said on "SportsCenter." "For the last 2½ months, I've been training to get back into the octagon and felt physically great, but something lacked mentally, and that's not good. I had many sleepless nights on what to do, and at the end of the day, it weighed heavily on my heart. I was born to be an entertainer, and I have fun doing it. I could go back to the octagon, but what am I going to gain? I was the UFC heavyweight champion of the world."
Lesnar finishes his career with a 5-3 record, including 4-3 in the UFC.
UFC president Dana White often has referred to Lesnar as the biggest pay-per-view draw in the organization's history.
"I'm very happy for Brock," White said in a text message. "It was fun having him here and amazing what he accomplished at the UFC. He was always a stand-up guy with us. And I think he made the right decision."
In other UFC news, bantamweight champion T.J. Dillashaw suffered a broken rib in training and pulled out of his main event bout against former champion Renan Barao at UFC 186 on April 25 in Montreal.
A flyweight title fight between champion Demetrious Johnson and Kyogi Horiguchi now will serve as the main event.
Contact reporter Adam Hill at ahill@reviewjournal.com or 702-224-5509. Follow him on Twitter: @adamhilllvrj.