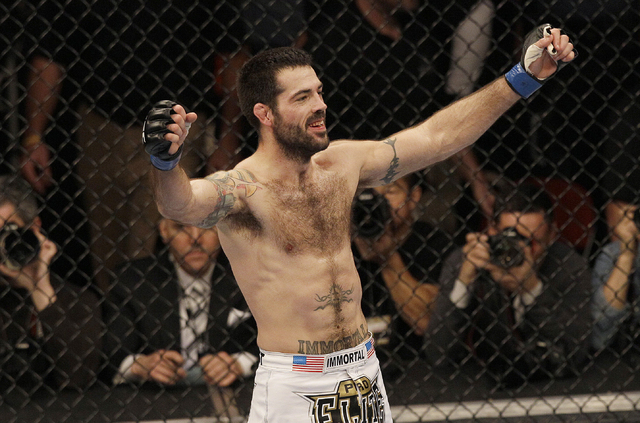 There are two sides to every great sporting event.
Winners are able to bask in the glory of emerging victorious and carry the momentum forward. Losers often are forced to analyze what went wrong and reflect on the missed opportunity.
That was certainly the case after Saturday night's Ultimate Fighting Championship welterweight bout between Matt Brown and Erick Silva.
Brown survived serious adversity early to rally for a third-round knockout win in front of his hometown crowd in Cincinnati, while Silva was left to wonder what exactly went wrong after he was so close to finishing Brown on several occasions in the opening three minutes.
"I would like to thank the people that supported me and watched the fight, I know I let them down," Silva said, according to a translation of a series of posts on his Twitter account. "I have no excuses. I know that I'm behind these tough guys, but I will always accept fighting regardless of the opponent or my possible win or loss.
"I know that many will criticize, but I'll not give up and I'll be back soon. Thank you all."
Silva almost stopped Brown with punches after dropping him with a body kick in the opening seconds, then spent more than a minute trying to secure a choke.
The efforts to end the fight appeared to exhaust Silva, once a top prospect who has now rotated wins and losses over his last eight fights.
When Brown finally got to his feet late in the first round, he consistently pummeled Silva before finally stopping him with a series of brutal elbows in the third round.
He played to the hometown fans afterward, imploring them to let UFC president Dana White know they'd like to see Brown get a title shot after his seventh straight win.
Brown wasn't overly thrilled with his performance, though.
"I just did what I do," he said after securing two $50,000 bonuses for fight of the night and performance of the night. "I didn't even think it was that good of a fight. I didn't feel my best at all. It's my first main event, in my home state, close to my hometown. The pressure got to me a little bit. But once I started feeling the groove in the fight, I started pulling things together."
He's not likely to get the next title shot, but Saturday's performance is the type that will certainly help build his case.
It will undoubtedly send Silva back to the drawing board.
■ ALVAREZ OUT — An injury to Bellator lightweight champion Eddie Alvarez has forced him to withdraw from Saturday's scheduled main event title defense against Michael Chandler.
Alvarez suffered a concussion during training, striking a major blow to the organization's first-ever pay-per-view event.
Chandler will now face Will Brooks for the interim lightweight title. The bout has been moved out of the main event spot. The light heavyweight tournament championship bout between Muhammed "King Mo" Lawal and former UFC champion Quinton "Rampage" Jackson will now serve as the headliner.
Bellator attempted to put on its first pay-per-view event in November, but had to move the event to Spike TV when a planned fight between Jackson and another former UFC champion, Tito Ortiz, fell apart due to an injury to Ortiz.
This time, the organization decided to keep the event on pay per view.
"I'm obviously disappointed," Bellator CEO Bjorn Rebney said on a conference call. "But we still have a huge card ahead of us with an amazing amount of value. It's remaining on (pay per view) because it's a PPV-worthy card, and it's a must-see event.
"We used to have an utterly spectacular show, and now we have a spectacular show."
Ortiz will return to action on the card against Alexander Shlemenko in a light heavyweight bout. Ortiz last fought in July 2012 and was 1-7-1 in his last nine UFC bouts.
The event takes place in Southaven, Miss., with the live pay-per-view broadcast beginning at 7 p.m.
The live portion of the preliminary card will air on Spike TV (Cable 29) at 5.
■ STRUVE SET TO RETURN — UFC heavyweight Stefan Struve, recently cleared after a heart ailment threatened his career, has a date set for his return.
Struve will face Matt Mitrione at UFC 175 at Mandalay Bay on July 5. The 6-foot-11-inch Struve, 26, last fought in March 2013.
"Finally I can say this: I'M BACK," Struve posted on his Twitter account, along with a link to the announcement of his return fight.
■ MALDONADO IN FOR DOS SANTOS — Brazilian light heavyweight Fabio Maldonado agreed to move up to heavyweight to fight Stipe Miocic in the main event of the upcoming "The Ultimate Fighter" Brazil finale card on May 31 in Sao Paulo.
Miocic needed a new opponent after former champion Junior dos Santos was forced to pull out due to injury.
Contact reporter Adam Hill at ahill@reviewjournal.com or 702-224-5509. Follow him on Twitter: @adamhilllvrj.