Cain Velasquez out of UFC 196 title fight with back injury
January 25, 2016 - 1:39 pm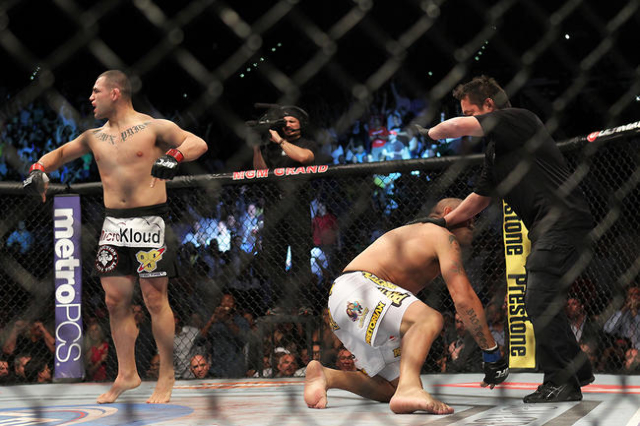 Another injury has cost former Ultimate Fighting Championship heavyweight champ Cain Velasquez a chance to reclaim his title and caused a dramatic change to next week's UFC 196 card.
Velasquez suffered a back injury and will be unable to challenge Fabricio Werdum for the belt in the main event at MGM Grand on Feb. 6.
Stipe Miocic will step in for Velasquez to challenge Wedum for the title.
"Gotta grab opportunity when it comes knocking," Miocic posted Sunday evening on Twitter. "#LetsGo."
Velasquez has a lengthy injury history, most notably missing a year with a torn rotator cuff after winning the title in 2010 and sitting out more than 18 months in 2012 and 2013 due to a right knee injury.
He posted a message to his fans on Facebook late Sunday.
"I can't begin to tell you how disappointed I am and how I feel I'm letting you all down. I've heard and read all of your messages of support since my last fight and during this camp and for that I thank you," he wrote. "Training camp has been difficult for the last few weeks, but sometimes no matter how much the heart and mind want to fight through an injury, healing has its own timeline. We thought we'd get through it, but we had to face the truth that it wasn't going to be OK in time to fight. All of us fighters have all fought injured at one time or another, but I can't ignore this injury, as my doctor has indicated that not addressing the problems with my sciatic nerve could have longer-term consequences."
Velasquez went on to state he believes addressing the issue now will allow him to compete for a long time and that he feels his fans deserve to see him compete at 100 percent.
He also apologized to Werdum, who took the belt from Velasquez in June with a third-round submission.
"Fabricio, I hope that you accept my sincere apology. I understand how you may think this is an excuse. From one professional to another, I can tell you I was committed and looking forward to competing with you again," Velasquez wrote. "I greatly respect you as a fighter and man, and we will meet soon. I will get this taken care of as soon as possible. I will heal and will come back and show you the Cain Velasquez you all deserve to see."
Miocic is coming off a first-round knockout of Andrei Arlovski on Jan. 2.
UFC 196 also includes a welterweight contender bout between Stephen Thompson and former champ Johny Hendricks and a heavyweight bout between Roy Nelson and Jared Rosholt.
Contact reporter Adam Hill at ahill@reviewjournal.com or 702-224-5509. Follow him on Twitter: @adamhilllvrj