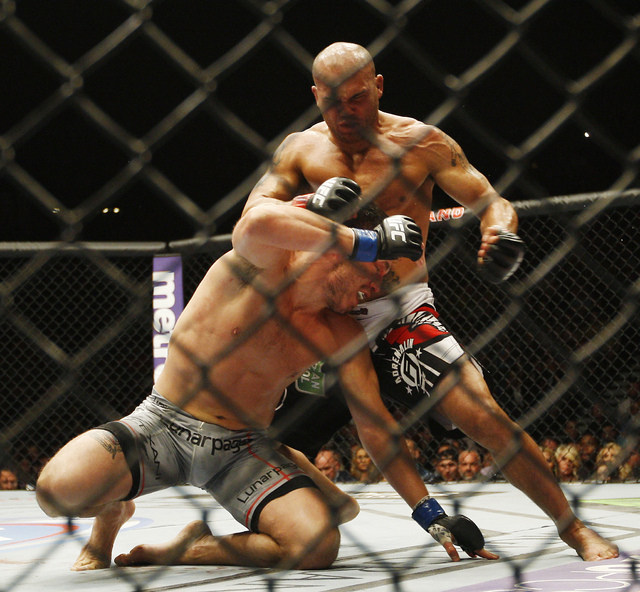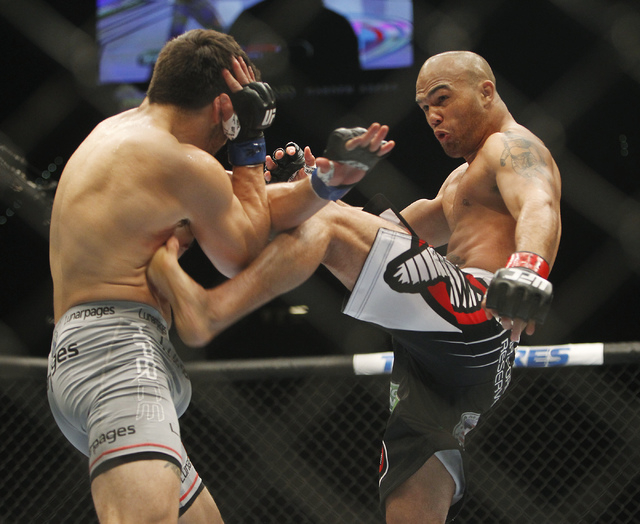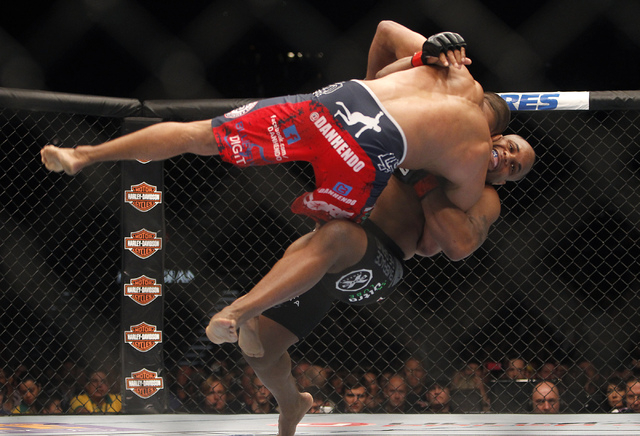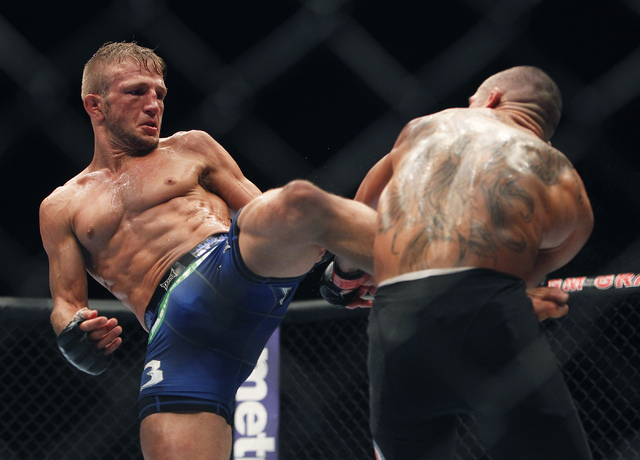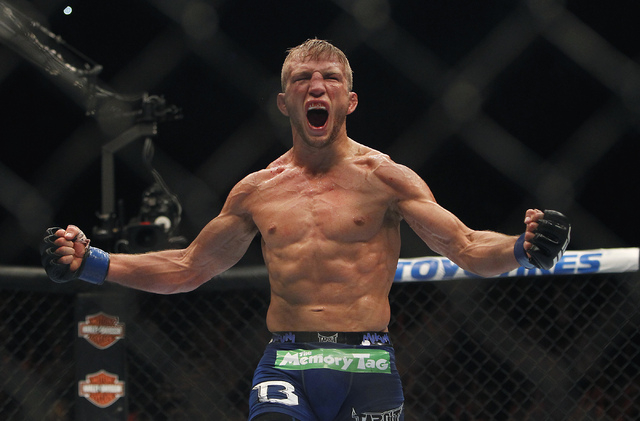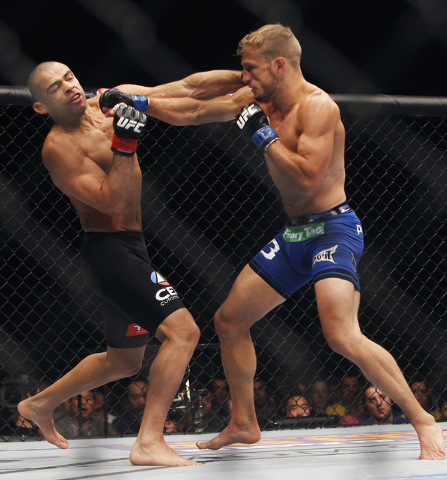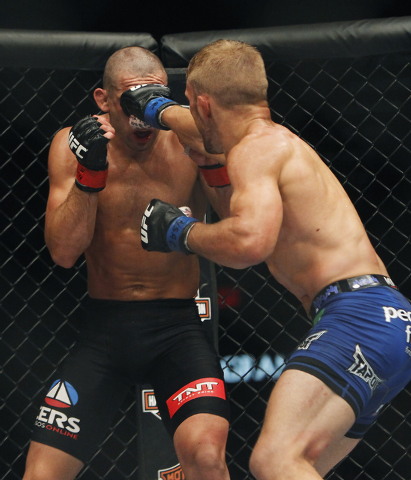 Saturday night was supposed to be an opportunity for Renan Barao to show the mixed martial arts world he was not only the best bantamweight in the Ultimate Fighting Championship, but also perhaps the best fighter in the organization.
Nobody told T.J. Dillashaw.
The challenger battered Barao for five rounds, ultimately ending his 32-fight winning streak and taking the bantamweight title with a fifth-round knockout in the main event of UFC 173 at the MGM Grand Garden.
In a light heavyweight bout, Daniel Cormier absolutely mauled Dan Henderson before putting him to sleep with a rear-naked choke in the third round.
Dillashaw stole the show in the main event, becoming the first fighter from the famed Team Alpha Male Camp in Sacramento, Calif., to win a UFC belt.
"I've dreamed it for so long," Dillashaw said. "It's unbelievable, man. All you have to do is believe, baby. Believe it and you can get here."
He landed a huge right hand to floor Barao in the first round, nearly finishing the fight with a choke. Dillashaw, a former college wrestler, then found a groove with his boxing in the second round and never relented.
"Barao's the best in the world in my eyes. I've been looking up to the guy. That's what brought it out of me," Dillashaw said. "I knew I had to bring my 'A' game to beat the best in the world, and that happened, baby."
It was Barao's first loss since his MMA debut in 2005.
"It was a really tough fight. I have to congratulate him," Barao said. "Tonight was his night."
Cormier improved to 15-0 and made his case to be next in line for a light heavyweight title shot after Jon Jones defends the belt against Alexander Gustafsson, likely in Las Vegas on Aug. 30.
The outcome was never in doubt from the opening minutes. Cormier threw Henderson to the ground and held him there for much of the first round, doing damage with elbows and short punches. The second round was almost a carbon copy.
Things only got worse for Henderson in the third. Cormier lifted him up and forcefully slammed the two-time Olympic wrestler to the ground. He followed with punches and then almost mercifully locked in a choke to stop the onslaught.
Henderson didn't tap, but the fight was stopped when he went unconscious.
Robbie Lawler bounced back from a disappointing loss in a welterweight title bout in March with a third-round knockout of Jake Ellenberger.
Lawler lost a narrow decision to Johny Hendricks for the belt two months ago and requested a quick turnaround in hopes of moving on from the loss.
He controlled the fight from start to finish, as Ellenberger couldn't mount any sort of attack. The fight finally ended after Lawler dropped Ellenberger to all fours with a shot and followed with a series of short punches.
James Krause defeated Jamie Varner by technical knockout when Varner couldn't continue after the first round because of a broken left ankle.
Varner appeared to suffer the injury early in the round but made it through the first five minutes. He went to the ground at the end of the round only to have difficulty getting back to his feet.
The referee stopped the fight after consulting with Varner, his corner and the ringside doctor.
"You never want to see an opponent get hurt out there, but I especially didn't want to see Varner get injured," Krause said. "I'm a big fan, and I looked up to him. I know that we could've given the fans a great three-round fight if we had the opportunity."
Bantamweight Takeya Mizugaki won his fifth straight fight and staked his claim as a possible future contender for Dillashaw's 135-pound belt with a unanimous decision over Francisco Rivera in the opening bout of the main card.
Mizugaki was his typical self in constantly pressuring Rivera, refusing to allow him to get into an offensive rhythm.
Lightweight Tony Ferguson highlighted the undercard with a first-round knockout of Katsunori Kikuno. Ferguson, who won Season 13 of "The Ultimate Fighter," got Kikuno backpedaling around the cage with several hard punches before finishing him with a right hand late in the first round.
Two other TUF champions also recorded victories.
Lightweight Michael Chiesa (Season 15) and bantamweight Chris Holdsworth (Season 18) each won by unanimous decision. Chiesa defeated Francisco Trinaldo and Holdsworth beat Chico Camus.
Lightweight Mitch Clarke defeated Al Iaquinta with a D'arce choke early in the second round.
Vinc Pichel, Sam Sicilia and Li Jingliang won decisions on the untelevised portion of the preliminary card.
Jingliang's victory came by split decision over David Michaud in a welterweight bout. Pichel defeated Las Vegan Anthony Njokuani in a lightweight fight.
Contact reporter Adam Hill at ahill@reviewjournal.com or 702-224-5509. Follow him on Twitter: @adamhilllvrj.