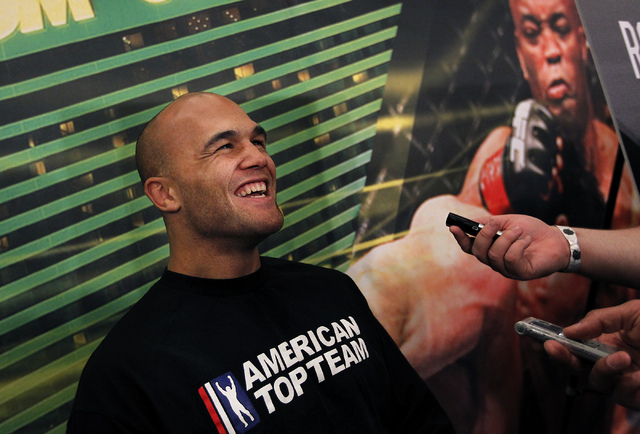 After Robbie Lawler and Johny Hendricks battled toe-to-toe for 25 minutes to determine who would win the vacant Ultimate Fighting Championship welterweight title in March, the focus turned to the judges who would determine the champion.
Lawler didn't even need to hear the announcement.
"When it came down to it, I had the mindset going into it that I was going to knock him out and that's how I was going to become champion," Lawler said Thursday. "When you go out there and your job is to stop him and finish the fight and you don't do it, what are you supposed to think? I felt like I lost. My mindset was, 'I don't care about the scores. I'm going to go out there and beat his ass and stop him,' and I didn't do it."
Lawler appeared to do more overall damage than Hendricks in the back-and-forth brawl, but Hendricks' early success and a takedown in the final minute of the decisive fifth round proved to be the difference.
Lawler, 32, had fallen just short of winning the UFC title. He went on vacation and thought for about a week about what had gone wrong.
Then it was time to move on. Lawler said his mindset changed about 10 days after the fight.
"I just started to think, 'OK, where do I go from here? Who am I going to go beat next?' That was the process," Lawler said. "I had to get to the point of, 'What did you do wrong? How can you fix those things and use it to get better?' That's just the name of this game."
He made a phone call to the UFC on a Thursday and said he was ready to take a fight and could be ready by Memorial Day Weekend.
The next day he received a call back with an offer to fight Jake Ellenberger on the UFC 173 card Saturday at the MGM Grand Garden. He quickly accepted.
Lawler said there was no real thought to asking for a rematch with Hendricks, who is out with an injury, or demanding a fight against someone in the top three (Ellenberger is the No. 5 contender) that could essentially guarantee him another title shot with a win.
"Jake Ellenberger is the guy I'm fighting on Saturday, so there should be no reason to think about who I should fight or what if this guy or what if Martians come down?" Lawler said. "Just concentrate on Jake, and everything else will take care of itself."
Ellenberger is coming off a loss in July to Rory MacDonald. He was cage-side to watch Lawler lose the decision to Hendricks in March. Ellenberger knows he can capitalize on some of the cache Lawler earned coming so close to being crowned champion.
"I can't take anything away from what he's done or what he did in that last fight," Ellenberger said. "But for me, this is the best I've ever been, so he's going to have to fight me at my best and earn it if he wants to beat me."
Lawler has no problem earning his victories. He has 18 knockouts in 22 career wins. That also was the plan against Hendricks, but Lawler never could land the finishing shot.
Despite his concession that he knew he had lost to Hendricks, hearing the decision read aloud was still a bitter pill to swallow.
"Hell, no, it didn't make it easier to deal with," he said with a laugh. "It sucked."
He watched a replay of the fight once, and that was only because his coach insisted.
Lawler said he didn't view the film with regret at how close he came to winning the belt. He said he put everything he had into training and the fight, and there was nothing else he could control that night.
Lawler also said he didn't watch it with the intent of seeing if he disagreed with the decision.
"I wouldn't think that because I didn't have the belt around my waist. It would be weird to think that," Lawler said. "My job is to either stop the guy or make those three judges think I won the fight. I didn't do either of those things, so I can't really think that I won it.
"I definitely did a lot of damage and beat his ass pretty well, but I don't have the belt and he does."
The journey toward getting another shot begins Saturday. Lawler and Ellenberger are known to stand in the pocket and look for a knockout, but both said it's unrealistic to just expect a firefight.
Ellenberger called the fight "very unpredictable."
Lawler said the perception that he enjoys trading punches is foolish.
"I don't think I've ever been willing to just take one to give one," he said. "Sometimes it works out that way, but that's just not my style. I'm out there trying to hit him and not get hit at all."
The bout is part of the pay-per-view card beginning at 7 p.m.
Contact reporter Adam Hill at ahill@reviewjournal.com or 702-224-5509. Follow him on Twitter: @adamhilllvrj.