Coaching gig gives Mir chance at Ultimate goal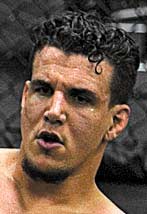 Frank Mir took one more step on his comeback path Monday. He hopes this is the one that helps him finally fulfill his goal.
The Las Vegas native and former Ultimate Fighting Championship heavyweight champion will coach one of the teams on season eight of "The Ultimate Fighter" on Spike TV. His rival coach will be Antonio Rodrigo Nogueira, UFC's interim champion.
The announcement means that after the upcoming season, which begins shooting this month and airs starting in September, Mir will finally get to compete for the belt that was stripped from him in 2005. He was unable to defend it then because of injuries sustained in a motorcycle accident.
"(A title shot) is what I've been struggling to get to since the accident," Mir said. "It's what helped me get through the hardships when I was struggling to come back."
Before fighting Nogueira for the belt, probably on New Year's weekend, Mir will be working with 16 young fighters who share the same dream. The season will again feature fighters from two weight classes — light heavyweights and lightweights.
"I just want to be able to help the fighters as much as possible. I have a big ego and I want to prove I can coach and do a good job at it," Mir said.
Mir was last in action when he submitted Brock Lesnar in 1:30 on Feb. 2, the same night Nogueira won the interim title by knocking out Tim Sylvia.
By the time Mir fights Nogueira, their bout could be for the outright belt because current champ Randy Couture is in litigation to get out of his contract with the UFC.
• LEBEN OUT OF UFC 85 — Chris Leben agreed to take on Michael Bisping in London on June 5 to help offset the loss of Chuck Liddell from the card.
But in order to obtain the necessary travel documents, Leben had to take care of a legal issue in Oregon. He left training camp in Hawaii for a Clackamas County jailhouse, where he expected to serve about a week while awaiting a hearing on a DUI warrant.
However, when he finally got his hearing, a judge sentenced the UFC star to 35 days in jail and effectively put a stop to the scheduled fight.
Leben will not be released until May 27, and would not have had sufficient time to train for the bout.
Bisping will now take on Jason Day on the London card.
• SPEER TO WEC — "The Ultimate Fighter" season six runner-up Tommy Speer joined a growing list of fighters who have been released from their contracts with the UFC in recent weeks.
The welterweight didn't have to go to far to find new employment, quickly signing with World Extreme Cagefighting, also owned by UFC owner Zuffa LLC.
Speer lost the season six final to Mac Danzig, then was knocked out in 51 seconds by Anthony Johnson on April 2.
The latest wave of roster cuts also included Din Thomas and Kuniyoshi Hironaka.
Contact reporter Adam Hill at ahill@ reviewjournal.com or 702-224-5509.