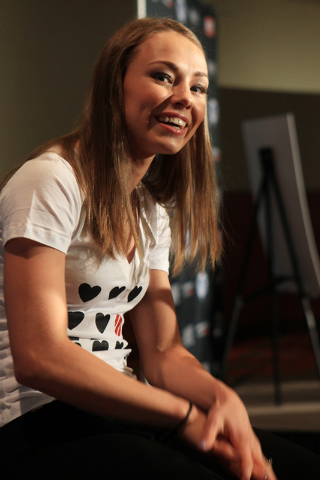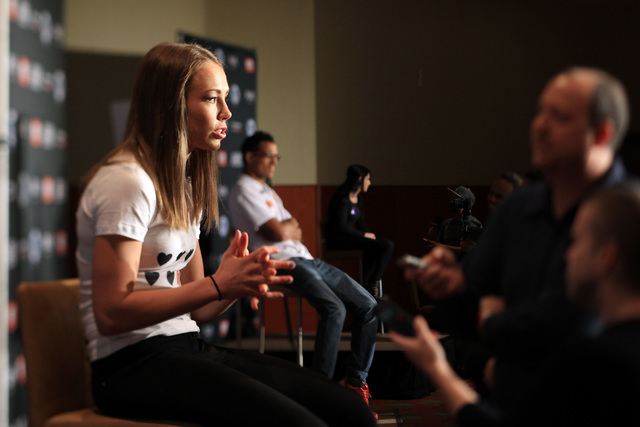 When the Ultimate Fighting Championship announced the formation of a women's strawweight division early this year, the name Rose Namajunas often came up as someone who eventually could win the belt.
The future could be now.
Namajunas, 22, worked her way through the televised tournament of "The Ultimate Fighter" to reach the final, where she will fight Carla Esparza tonight in the live finale at the Palms to determine the first UFC women's strawweight champion.
Despite her age and the fact she entered the show with just three professional fights, Namajunas never questioned her chances of emerging from the competition with the belt.
"I went in thinking I was No. 1, and I just had to prove it," she said.
Her confidence extends far beyond the cage.
Namajunas hasn't flinched a bit at the expectations that have been placed on her despite her youth and relative inexperience.
UFC president Dana White essentially called her the next Ronda Rousey, and Namajunas welcomed the comparison.
"It's fair, absolutely, in terms of the potential star power I have," she said. "As long as I keep doing what I'm doing and just keep carrying myself in a way where I just remain true to myself, I feel I will be one of the biggest stars in MMA."
Perhaps it was that confidence that helped Namajunas perform as well as she did on the show. She advanced to the final with three straight submission victories, including two in the first round.
Her confidence didn't even waver after suffering a loss in her third pro fight, the last time she competed before filming the show.
She said the loss was one of the reasons she might have been underrated entering the tournament.
"People are so quick to knock you down as soon as you take one loss, and I was going into the house off a loss. It was certainly understandable," she said. "For me, it wasn't my concern. It gave me time to step back and just work on some things. It made it kind of cool to come out and just show the new me."
Her fiancee, former UFC heavyweight Pat Barry, figured all along she would be a difficult matchup for anyone in the competition.
"Rose was one of the youngest and least experienced fighters on the show, but I knew what Rose was capable of, and I knew that nobody was ready for Rose coming in there," Barry said. "Even without knowing who the other 15 girls in the house were, I knew whoever showed up was in trouble because they'd be sleeping on her.
"She's that good. She's that creative. She's (expletive) amazing."
Esparza's advancement to the final was much more expected. While Namajunas was the No. 7 seed, Esparza earned the top spot because she was the reigning strawweight champion in Invicta Fighting Championships, the all-female organization that had the premier strawweight division in the world before the UFC's formation of the 115-pound class.
Esparza, 26, hopes to make that top seed hold up with a victory tonight.
"I've been in the game a bit, fighting pro for five years," she said. "I think it's my time, but nothing is handed to you. We have to get in there and fight for it. (Rose is) phenomenal. I definitely think she has it in her to be the champion.
"She's only getting better, and she's so young. I definitely could see a title in her future."
Esparza just wants to make sure that doesn't happen tonight.
Even though she's the lower-seeded fighter, Namajunas has been saddled with hugely inflated expectations now that her dominant performances in the first three rounds have aired on TV.
She said that she expects to have pressure throughout her career since she believes all of her fights will be in the spotlight.
"There's going to be pressure no matter what, but I'd rather have all the pressure all at once right away than just having it build slowly every fight," she said. "I'd rather take it all on right now so I'm better prepared for it when I have more experience."
The fight headlines the main card of "The Ultimate Fighter 20 Finale," which airs on Fox Sports 1 (Cable 329) at 6 p.m.
The preliminary card airs live on Fox Sports 1 at 4 p.m. The card begins at 3 with two bouts that will stream online on the UFC's Fight Pass platform.
Contact reporter Adam Hill at ahill@reviewjournal.com or 702-224-5509. Follow him on Twitter: @adamhilllvrj.