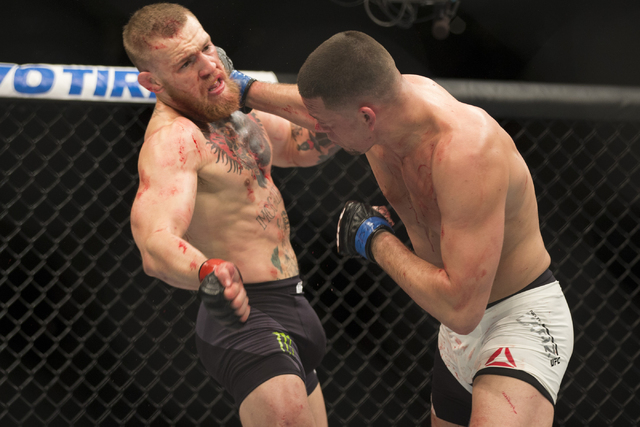 Conor McGregor's removal from UFC 200 appears to be a settled issue.
Ultimate Fighting Championship officials last week announced a replacement main event, as interim light heavyweight champion Jon Jones will meet champ Daniel Cormier in a title unification bout. UFC president Dana White repeatedly has said McGregor will not be on the milestone card July 9 at T-Mobile Arena.
But McGregor still isn't willing to accept his banishment from the event.
While the featherweight was removed from his rematch against Nate Diaz for failing to show up in Las Vegas for promotional activities, he certainly has been active on social media.
"Nobody gives a (expletive) about these other fights until this one is settled," McGregor posted on Instagram with a clip of highlights from the first bout, which Diaz won by submission in the second round March 5 at the MGM Grand Garden. "Cut the (expletive). Run it back. #RealFight"
McGregor continued his crusade with several replies to fans Monday on Twitter.
I do not. I had the May/Pac record primed, ready to place MMA at the undisputed top. But it was not to be. #Press https://t.co/rmCxw6DX7y

— Conor McGregor (@TheNotoriousMMA) May 2, 2016
He told one fan he thinks UFC 200 could have eclipsed the pay-per-view numbers produced by Floyd Mayweather Jr. and Manny Pacquiao last year had McGregor stayed on the card. He responded to another fan who asked if McGregor had surpassed Brock Lesnar as the biggest draw in UFC history.
It is not safe to say. It is fact to say.
I hold PPV, Gate, TV, Fightpass and Embedded record.
Even Title fight KO. https://t.co/nqwoQSap9A

— Conor McGregor (@TheNotoriousMMA) May 2, 2016
"It is not safe to say. It is fact to say," the 27-year-old Irishman responded. "I hold PPV, Gate, TV, Fightpass and Embedded record. Even Title fight KO."
McGregor also had several responses for fans who pointed out he had lost to Diaz, promising a much better performance in the rematch.
Diaz finally had enough Monday afternoon as he briefly addressed the situation.
"#whitebelt," Diaz posted, in reference to McGregor's rudimentary grappling skills.
— Nathan Diaz (@NateDiaz209) May 2, 2016
Diaz was offered a replacement opponent for UFC 200, but said he's only interested in fighting McGregor and instead will go on vacation.
White said McGregor could fight as soon as UFC 201, expected to be in August.
JOHNSON SENTENCED
Veteran fighter Lavar Johnson was sentenced to five years in prison last week for an August domestic violence incident involving his girlfriend.
Johnson was convicted of slamming his girlfriend of seven years against a wall, throwing her to the ground and striking her in the face with a knee and closed fist.
The 38-year-old heavyweight fought in several mixed martial arts organizations, including Bellator and the UFC. He was released from the UFC after a 2013 loss to Brendan Schaub, after which he also tested positive for elevated levels of testosterone.
Johnson's last fight was a submission loss to Cheick Kongo on a Bellator card in September 2014.
UFC DEBUTS IN NETHERLANDS
Dutch heavyweight Alistair Overeem will headline the UFC's first event in his native country Sunday when he meets former heavyweight champion Andrei Arlovski in the main event of UFC Fight Night 87 in Rotterdam.
Overeem has won three straight fights, including a second-round knockout of former champ Junior dos Santos in December.
Another Netherlands native, Stefan Struve, will face Antonio "Bigfoot" Silva in a heavyweight bout.
The card will air at 11 a.m. on Fox Sports 1.
Contact reporter Adam Hill at ahill@reviewjournal.com or 702-224-5509. Follow him on Twitter: @adamhilllvrj