Conor McGregor garners attention outside Orlando ring as well
December 20, 2015 - 3:38 pm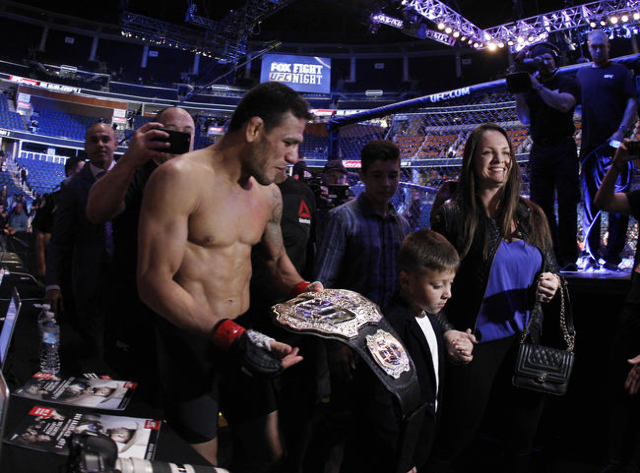 ORLANDO, Fla. — For someone that was nowhere near Saturday night's Ultimate Fighting Championship event at Amway Center, there sure was a great deal of attention focused on Conor McGregor.
The newly crowned featherweight champion has reached a level of popularity that a matchup with him not only means a big payday on a major pay-per-view card, but also serves as a springboard going forward.
Perhaps that explains why just about every fighter in either the featherweight or lightweight division who was victorious on Saturday night immediately began lobbying for a shot at McGregor.
McGregor, who joyfully expounded on the how good it is for business to have options after winning the belt with a 13-second knockout of Jose Aldo last week in Las Vegas, took note of all the callouts on social media early Sunday.
"Line them up on their knees with their hands out," McGregor posted on Instagram with what appeared to be a new Rolls Royce in the background. "I want them to beg me."
McGregor can certainly choose to stay at 145 pounds and defend the belt against either Frankie Edgar or in a rematch against Aldo. But his stated goal is to be a two-division champion and the UFC would almost certainly give him an immediate title shot if he does choose to move up to 155 pounds.
That would mean a fight with Rafael dos Anjos, who defended the title with a 66-second knockout of Donald "Cowboy" Cerrone on Saturday.
Dos Anjos was the least antagonistic in his challenge to McGregor, but got the point across.
"I'm looking forward to coming back as soon as possible," dos Anjos said following his first title defense, which came nine months after he won the belt. "Conor McGregor has said he wants to come to my division, and I think it will not be a smart decision for him. But if he wants to come I have to overcome him.
"If he comes I will be here."
Another lightweight was far more forceful. Nate Diaz delivered his best performance in years, incorporating his taunting and trash-talking to force Michael Johnson into an entertaining brawl before winning a unanimous decision.
He may have been even better after the fight, though Fox viewers didn't get to see it. Diaz unleashed a profanity-laced tirade that drove the sensors crazy.
But it also may have been effective. Diaz went from off the radar to contender with his performance in the cage. He may have made himself a lot of money with the work he did at the news conference, though.
"This guy Conor McGregor is coming out and doing all this big stuff, and everybody's calling him out left and right," Diaz said. "I'm not like these guys, begging for a fight. But we're talking about big fights. He wants a big fight? We could fight, and that's a big fight. That's the kind of (expletive) I'm talking about. Real fights, not funny fake fights."
Diaz said one of the things that has led to his inconsistency in the cage has been a lack of motivation. He insists a matchup with McGregor would be the cure.
"I've been fighting in the UFC since I was 21. I'm 30 now, so nine years in the UFC. I have a lot of fights. I'm sick of fighting people just to fight. I want a good fight. I want fights that matter and make sense. When you're fighting just to fight, there's no motivation. I want big fights.
"If we're going to see a fight that people want to see, it's going to be with Conor McGregor. And we can do that (expletive) tonight, whenever, next week. So that's my motivation."
The McGregor callouts got so prevalent even Charles Oliveira, a 145-pounder who missed weight for the third time in eight fights, threw his hat in the ring after submitting Myles Jury in the first-round of a preliminary card bout.
"I'm coming for you, Conor," he said. "I'm going to get you."
Someone is going to get that fight and it will make them a lot of money. The only question remains is who holds the winning lottery ticket.
Now it's on UFC officials to draw the number.
Contact reporter Adam Hill at ahill@reviewjournal.com or 702-224-5509. Follow him on Twitter: @adamhilllvrj