Conor McGregor gets reduced sanction for water bottle throwing incident
March 22, 2017 - 12:18 pm
Updated March 22, 2017 - 4:10 pm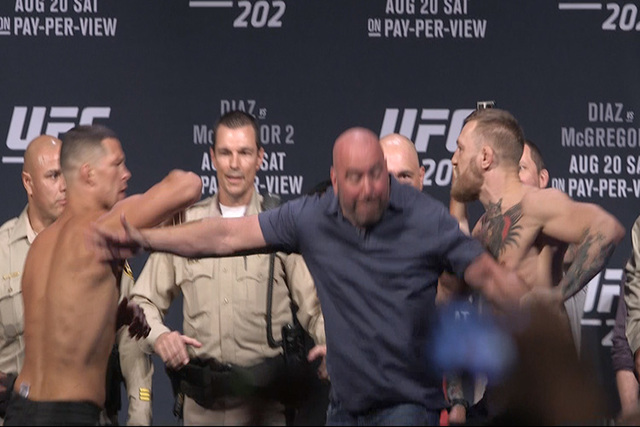 UFC star Conor McGregor scored a victory Wednesday without stepping foot in the cage.
The Nevada Athletic Commission unanimously approved a settlement agreement during a meeting at the Sawyer Building to dramatically reduce the sanction against McGregor for his role in a news conference melee in August at the MGM Grand.
McGregor now will be fined $25,000 and required to perform 25 hours of community service. He had been leveled with a $75,000 fine and 50 hours of community service at his disciplinary hearing in October, along with a requirement he spend at least $75,000 on the production of an anti-bullying video.
Once McGregor pays his fine, he will be eligible to apply for a boxing license in Nevada. He had applied in late 2016, but was denied because of the outstanding penalty.
That would clear one hurdle in a potential megafight between McGregor and undefeated boxer Floyd Mayweather Jr., though several others would remain.
The penalty was the result of a prefight scuffle between McGregor's camp and that of Nate Diaz before a rematch between the two at UFC 202 at T-Mobile Arena.
Diaz was fined $50,000 and ordered to perform 50 hours of community service for his role in the incident, which saw both fighters throwing unopened cans of energy drinks and bottles of water at each other. Commission chairman Anthony Marnell said Diaz has paid his fine but expects his case also to be reheard. The difference then could be refunded.
Marnell said McGregor requested a meeting earlier this year through the state attorney general's office to discuss the severity of the original penalty.
"Our door is open to any fighter," said Marnell, who originally voted for the harsher penalty. "He came here, and we had a very productive meeting. I think there were things that I looked at that we could've done better, and he pointed out some things on his part he could've done better. I think a rehearing was the exact correct action here based on how the last decision was made."
The commission first had to vote on whether to reopen the case. Once that was done unanimously, a discussion took place on how the original penalty was decided and whether it should be amended.
NAC executive director Bob Bennett presented the settlement agreement that had been reached during the meeting with McGregor and his representatives. The commission quickly approved the new terms.
"I thought the meeting (with McGregor) was outstanding," Bennett said. "We had a mutually beneficial conversation. He clearly understood what our interests and concerns are as the fight capital of the world. It was very constructive and professional. I believe it was a win-win situation led by the chairman.
"I think it's a great day for the commission. We try to be fair, reasonably firm and consistent. We take a lot of pride in what we do. We're in the fight business, and we want to make sure the fighters know when they come here they're going to be treated fairly and professionally."
McGregor made a disclosed purse of $3 million for the fight. Diaz received $2 million.
Follow all of our MMA and UFC coverage online at CoveringTheCage.com and @CoveringTheCage on Twitter.
Contact Adam Hill at ahill@reviewjournal.com or 702-277-8028. Follow @adamhilllvrj on Twitter.
RELATED
Floyd Mayweather Jr.-Conor McGregor boxing match probably would get NAC's approval
UFC star Conor McGregor set to challenge Nevada Athletic Commission sanction in court
Conor McGregor gets fine, community service for chaotic UFC 202 press conference