Conor McGregor in police custody after incident in New York — VIDEO
Updated April 5, 2018 - 9:36 pm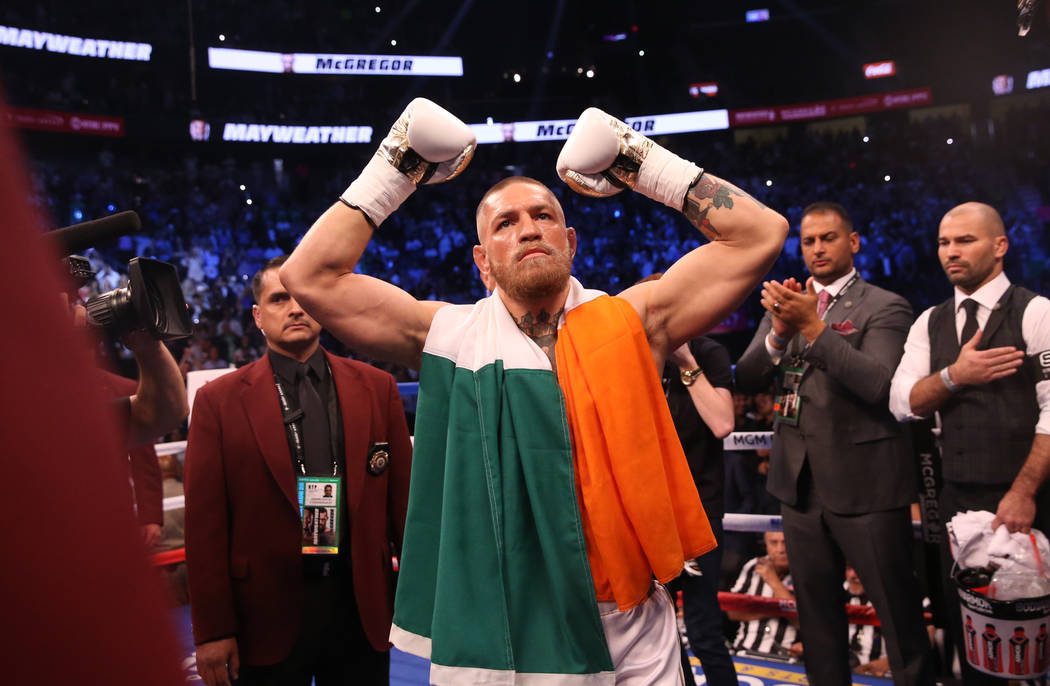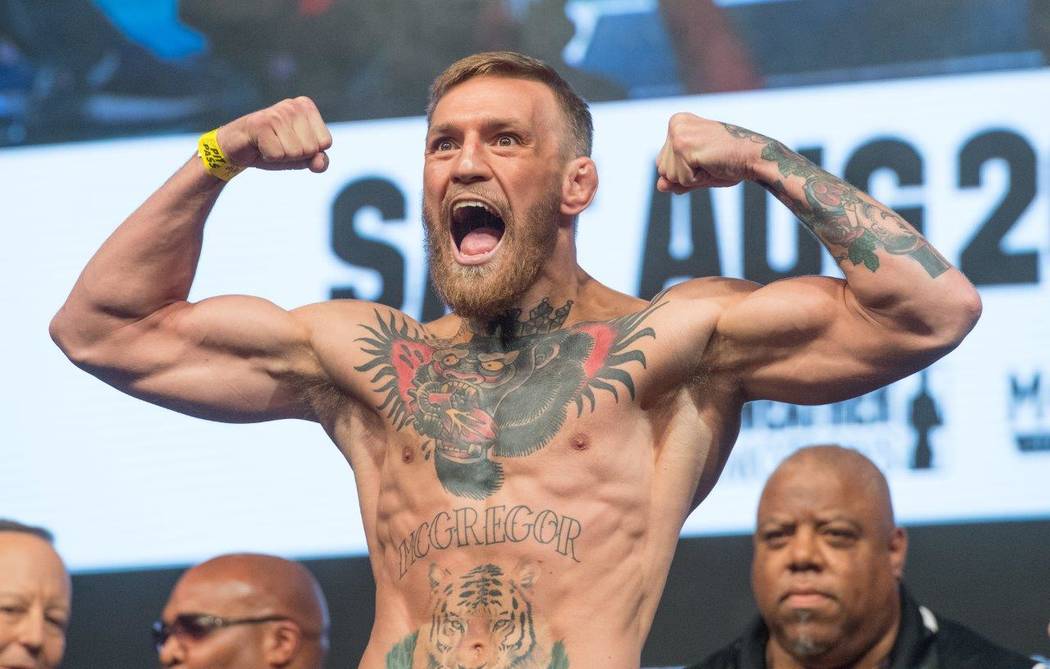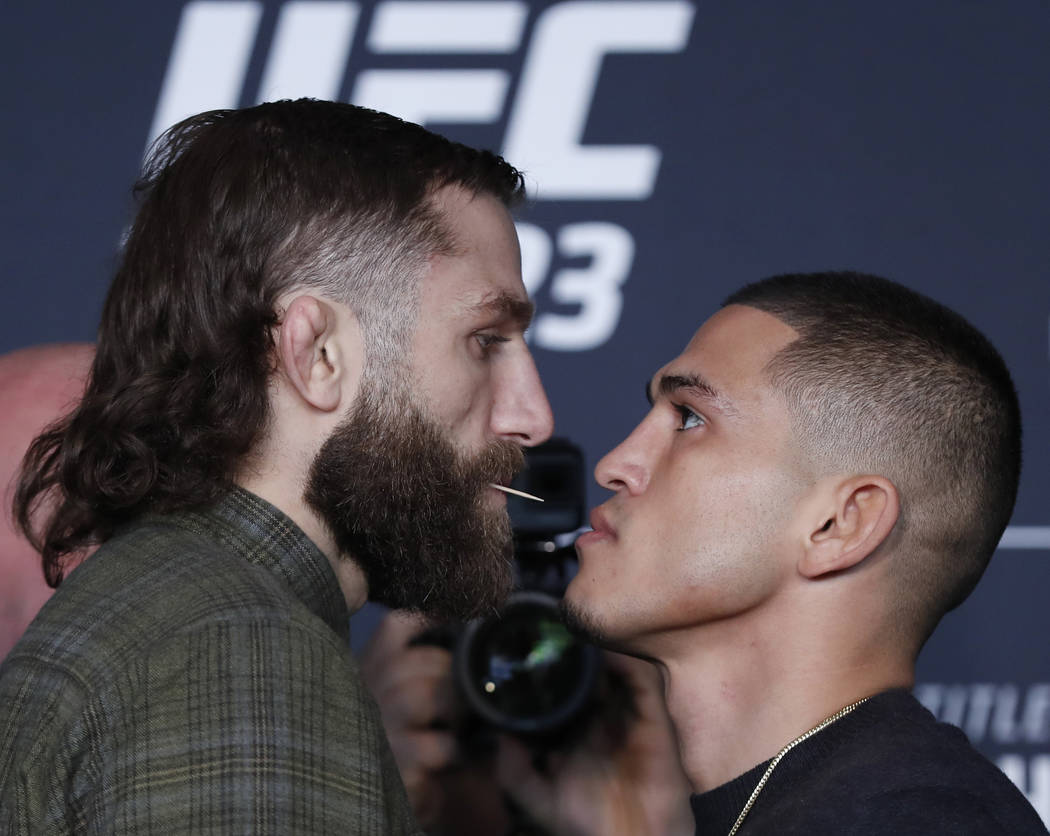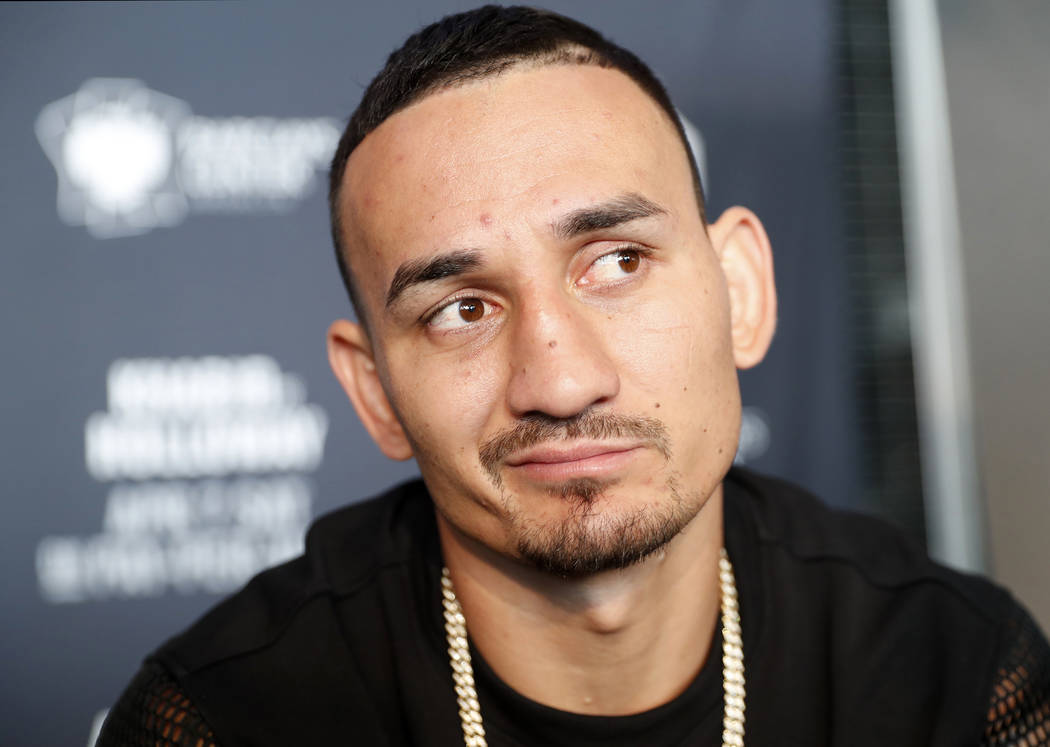 BROOKLYN, N.Y. — UFC superstar Conor McGregor was in custody late Thursday after an ugly incident at a media event inside the Barclays Center that led to the cancellation of three fights at UFC 223.
A spokesperson for the New York Police Department confirmed that McGregor had turned himself in. No charges have been filed relating to the incident, which might have long-lasting effects on McGregor's career.
"Obviously, we're completely disgusted with him right now," UFC president Dana White said while McGregor was still wanted for questioning. "What happened today was criminal, disgusting, despicable. It makes me sick."
McGregor and his entourage pulled up to the arena door at the Barclays Center in a black SUV and were let in to the closed event by a reporter representing McGregor's website, The Mac Life.
The group was allegedly in search of Khabib Nurmagomedov, who is fighting Max Holloway in the main event of UFC 223 on Saturday. Nurmagomedov had confronted McGregor's friend Artem Lobov at the Marriott hotel Monday in an altercation captured on video.
In videos posted on social media, McGregor's group can be seen throwing chairs and security barricades in the bowels of the arena.
One video, acquired by TMZ, shows McGregor hurling a dolly through the window of a bus taking fighters back to their hotel.
Lightweight Michael Chiesa suffered several facial lacerations from the broken glass and was evaluated at a local hospital. It was determined he would be unable to fight former champion Anthony Pettis on Saturday.
Flyweight contender Ray Borg was also on the bus near the shattered window. He thought he had escaped unscathed, but his eye began to swell as the day progressed because of what sources close to the organization think was related to shrapnel. Borg's fight against Brandon Moreno also was canceled.
At least one UFC employee also was injured in the ambush, suffering a broken knuckle.
"This is the most disgusting thing that's ever happened in the history of the company," White said. "You've got some beef. You don't come into Barclays Center and attack people on a bus that are fighting the next day. The worst part is the women that were on the bus. They're fighters, but these goons are throwing bike racks and chairs through the window of the bus and didn't care who they hit or who they hurt."
White said he wasn't sure whether McGregor will fight again in the Las Vegas-based organization.
"After this disgusting, despicable move, I think everybody's relationship with Conor is going to be not so great," he said. "Even the police officer who came to me about this said he was a big fan of his and not anymore. This is the kind of bad decision you make that turns a lot of people off."
White said his focus is ensuring the fighters on the card are healthy and putting on a major event with two title fights.
Nurmagomedov will fight Max Holloway for the lightweight belt that was stripped from McGregor for inactivity. He has not fought in the UFC since November 2016.
Dana White on Conor: "I don't know if he's on drugs or what his deal is, but to come and do this and act like this? You're talking about a guy who just had a baby and this is how you're acting?" #ufc223

— Adam Hill (@AdamHillLVRJ) April 5, 2018
White pointed out that McGregor could have been in position for a huge opportunity.
"Listen, you don't like Khabib, and you don't like what happened or whatever? Then fight him," White said. "Come in here and do it legally. This fight is happening on Saturday, and you could have come right in and done the deal right after. You could have done whatever you wanted to him within the limits of fighting. But you grab 30 (expletive) friends and come down here and do what you did today? It's disgusting.
"I don't know if he's on drugs or what his deal is, but to come and do this and act like this? You're talking about a guy who just had a baby, and this is how you're acting?"
A representative for McGregor did not respond to a message from the Las Vegas Review-Journal.
UFC officials released an official statement Thursday night.
"NYPD was immediately alerted and is currently in the process of investigating the situation," it read in part. "The UFC is working very closely with the New York Athletic Commission, Barclays Center security and law enforcement authorities to ensure the highest standard of proper safety precautions are implemented to protect the fans and athletes. The organization deems today's disruption completely unacceptable and is currently working on the consequences that will follow."
Lobov's fight with Alex Caceres also was canceled because of Lobov's role in the incident. He was part of McGregor's entourage, which White estimated at 20 people.
Rose Namajunas, who will defend her women's strawweight title in a rematch against former champ Joanna Jedrzejczyk, was in the bus and almost struck. White said she was upset and decided to walk almost a mile back to the hotel to calm down. She still is expected to fight.
White said he expects several lawsuits as a result of the incident.
"You can imagine he's going to be sued beyond belief," he said. "This was a real bad career move for him."
Contact Adam Hill at ahill@reviewjournal.com or 702-277-8028. Follow @AdamHillLVRJ on Twitter.