Conor McGregor refuses to gloat over UFC 200 mess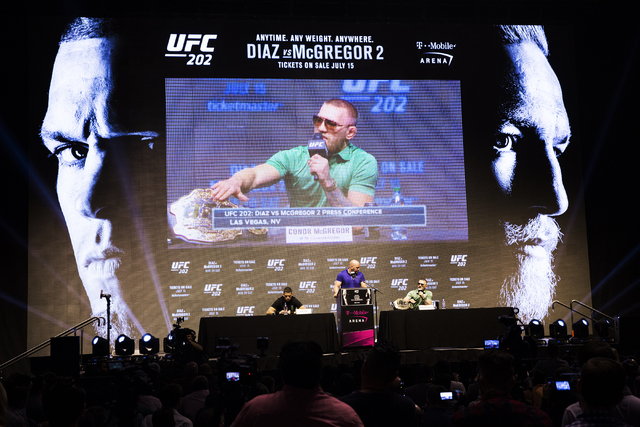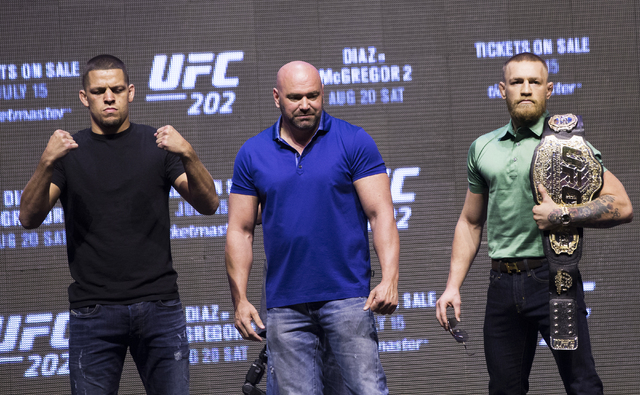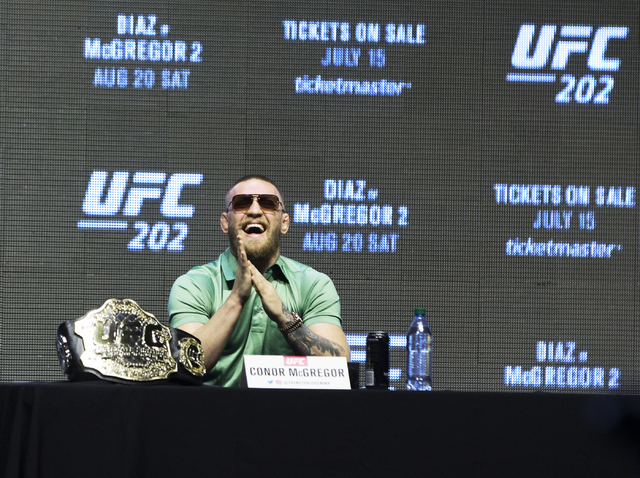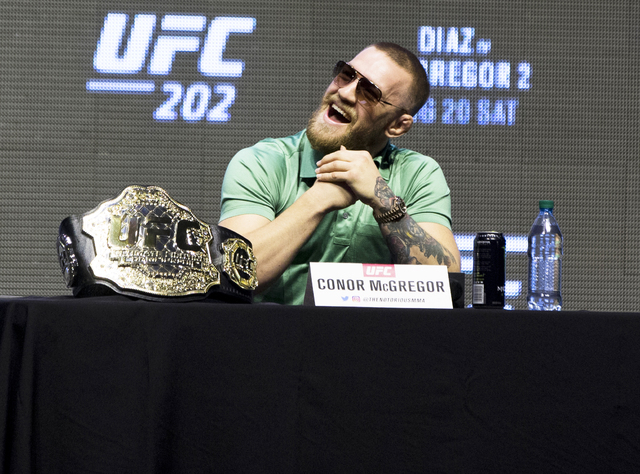 UFC superstar Conor McGregor had the perfect opportunity to gloat when he hit the stage Thursday afternoon for a news conference inside T-Mobile Arena to promote his UFC 202 rematch against Nate Diaz on Aug. 20.
But the braggadocious featherweight champion chose not to swing at a ball that was all teed up.
The bout between McGregor and Diaz was originally scheduled to headline UFC 200 on Saturday at T-Mobile Arena, but it was pulled when McGregor refused to participate in promotional activities in April.
The light heavyweight title bout between Jon Jones and Daniel Cormier that replaced it on the card was scrapped Wednesday night after Jones was flagged for a potential anti-doping violation.
"I could sit up here and say, 'Well, well, well,'" McGregor said. "But I am a successful human being, and successful human beings do not celebrate the adversity and misfortune of others.
"But all I missed was a press conference. It is what it is. Aug. 20 is my date."
McGregor indicated he would be willing to fight Saturday, but that won't happen.
"I'm here and I'm in shape," he said. "All they've got to do is ask."
McGregor has moved past the UFC 200 fiasco and discussed his future during the news conference.
The Irishman said he eventually will return to the featherweight division to defend his title. Jose Aldo and Frankie Edgar are fighting for the interim featherweight crown Saturday.
"I'll reclaim this," said McGregor, pointing to his belt. "Let all those featherweights know who are praying that I don't come back. Make no mistake, I'm the undisputed 145-pound champion, and that is my division. A division that I have destroyed."
Before McGregor goes down in weight, he said he has other business to correct, referring to his rematch with Diaz.
McGregor had big plans before Diaz handed him his first UFC loss in March. McGregor was looking to become the first UFC fighter to hold belts in two weight classes at the same time, as he was scheduled to fight Rafael dos Anjos for the lightweight title at UFC 196.
But Dos Anjos backed out two weeks before the fight because of injury. That's when Diaz came into the picture.
Diaz asked for the fight to be at the welterweight limit of 170 pounds, fearing he wouldn't be able to make weight at 155 on short notice. The confident McGregor obliged for the welterweight fight.
Now McGregor is set on replaying that scenario. The only difference is the rematch will be at T-Mobile Arena instead of the MGM Grand Garden.
McGregor, who goes by "The Notorious," hopes to win the rematch and then fight Diaz for the third time.
"I feel we will enter into a trilogy fight," McGregor said. "Why not? It was a great fight last time. I really enjoyed it. I'll correct that win."
McGregor wasn't as witty as he usually is during news conferences. He had a few one-liners and was fashionably late again, but his mood has changed since the loss.
"I'm preparing for a big, ugly Mexican southpaw," McGregor said. "I'll take this man out."
Contact reporter Adam Hill at ahill@reviewjournal.com or 702-224-5509. Follow him on Twitter: @adamhilllvrj