Conor McGregor wants piece of UFC pie after delivering goods in NYC
November 14, 2016 - 1:03 am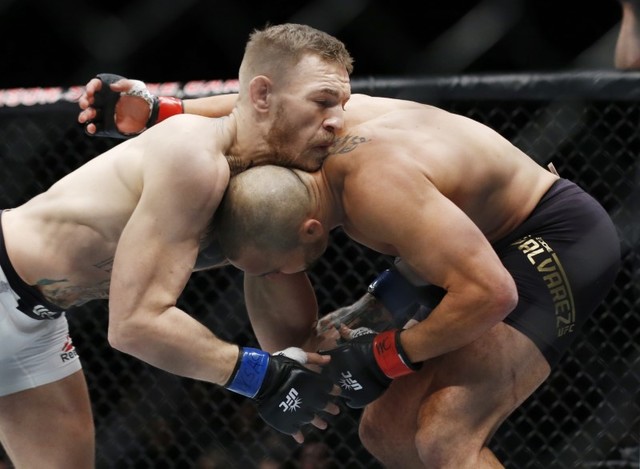 NEW YORK — UFC superstar Conor McGregor has conquered two UFC weight divisions, collecting his second championship belt with a dismantling of lightweight champion Eddie Alvarez in the main event of UFC 205 on Saturday night at Madison Square Garden.
Now he's coming for the whole company.
McGregor knows full well his success at the box office is a major reason the company fetched a reported $4.2 billion in a sale to Hollywood conglomerate WME-IMG this year, and he's ready to collect his share.
"Nobody has talked to me since the sale as a businessman," McGregor said in the wee hours of Sunday morning with both championship belts laid out on the table in front of him. "They've come to say 'hello' and things like that. But, I've earned something. I mean, who owns the company now? People have shares in the company, celebrities. Conan O'Brien owns the UFC nowadays, so where is my share? Where is my equity? If I'm the one that's bringing this. I mean, they've got to come talk to me now, that's all I know.
"If you want me to stick around and you want me to keep doing what I'm doing, let's talk. But I want ownership, I want equal share, I want what I deserve, I want what I've earned."
There's no denying McGregor's value to the company.
UFC 205, the organization's first card in New York, due to a nasty political process that kept the events banned in the state until this year, was a smash hit.
It drew 20,427 fans to Madison Square Garden and a UFC live-gate record of $17.7 million.
Those numbers are staggering.
"Jesus is going to have to fight the devil to break that record, man," said UFC president Dana White, who expects UFC 205 to be the biggest pay-per-view event of all time.
The previous record? A reported 1.65 million buys for McGregor's last fight against Nate Diaz in August.
"Conor is special," White said. "I've never dealt with anyone like this kid on so many levels."
McGregor announced after the fight that his longtime girlfriend is expecting their first child in early 2017.
Perhaps it's his impending fatherhood that has McGregor thinking about a long-term plan for his future. It could also be that he has now accomplished exactly what his stated goal was when he entered the UFC.
McGregor has always said he would be the first fighter to hold titles in two weight classes concurrently. By adding the lightweight belt to the featherweight one he already had, McGregor has done that.
"It feels great, but it feels familiar," he said. "I saw it so clearly, so consistently until it's here in reality. I'm very confident in my abilities in predicting what I'm going to do, and I back it up with work ethic and I back it up with hours upon hours of time and dedication. I'm very happy, satisfied and grateful. But I'm not surprised. I knew it was going to happen."
McGregor wasn't quite ready to make his next prediction. He wants to take some time for his pregnant girlfriend and the birth of their future child. Obviously, there is a conversation to be had with the UFC's new owners, as well.
There is also a potential battle with White, who has insisted McGregor will have to give up one of the belts should he win two so as not to tie up two divisions.
McGregor says that won't happen. So, it would stand to reason he should be defending one of them in the near future.
Or not.
"Maybe the third one will be next," he said, indicating he may pursue the welterweight title. "There's options. I'm happy with that. Options are always a good thing."
New York isn't so bad, either. UFC officials were thrilled with the success of the event, particularly after the lengthy political battle to make it happen.
McGregor also took to the city.
"This is some place, New York," he said. "The city is buzzing and the fight fans were amazing. I was treated like a king everywhere I went, and the shopping is unbelievable. You can do damage at them boutiques."
McGregor can afford it, and if he has his way, one day he may just buy the whole store.
Contact Adam Hill at ahill@reviewjournal.com or 702-277-8028. Follow @adamhilllvrj on Twitter.