Conor McGregor's embarrassing UFC 229 performance lost amid chaos
October 7, 2018 - 3:16 pm
Updated October 7, 2018 - 6:57 pm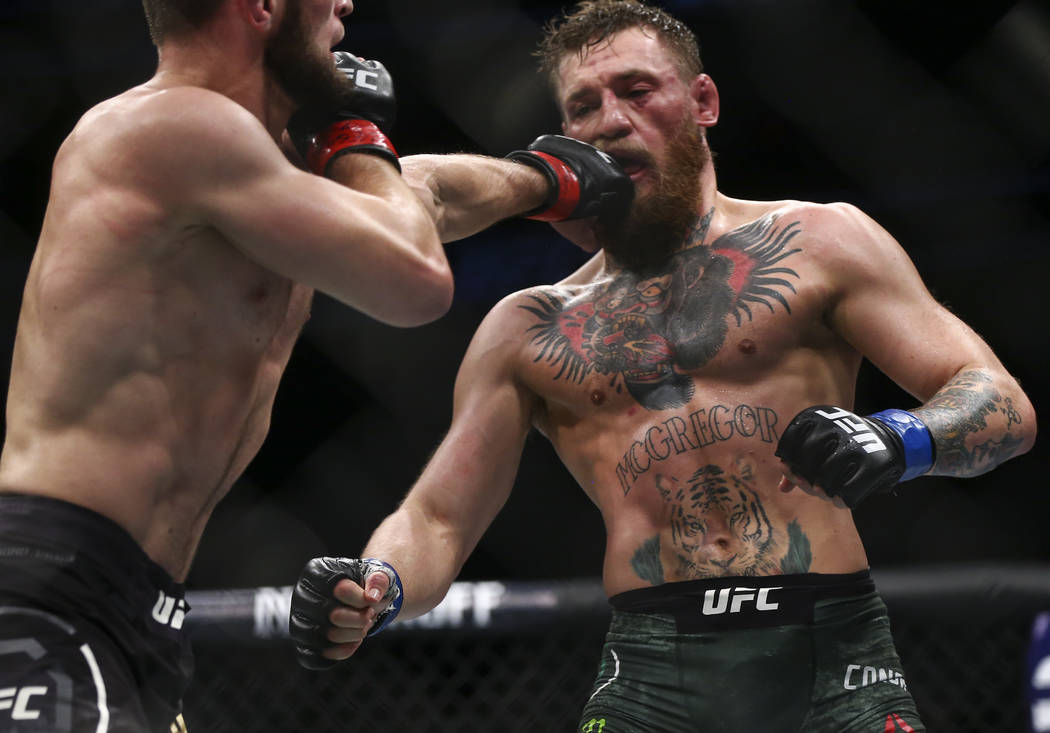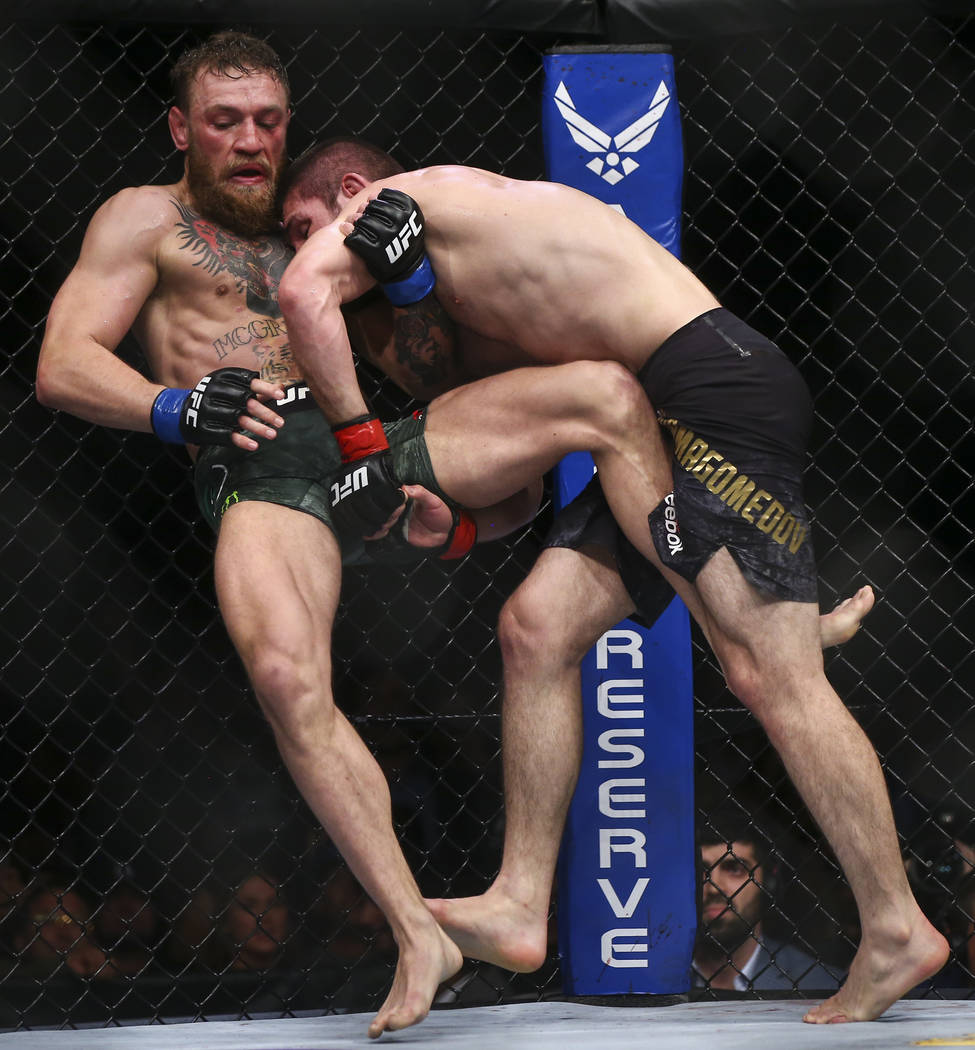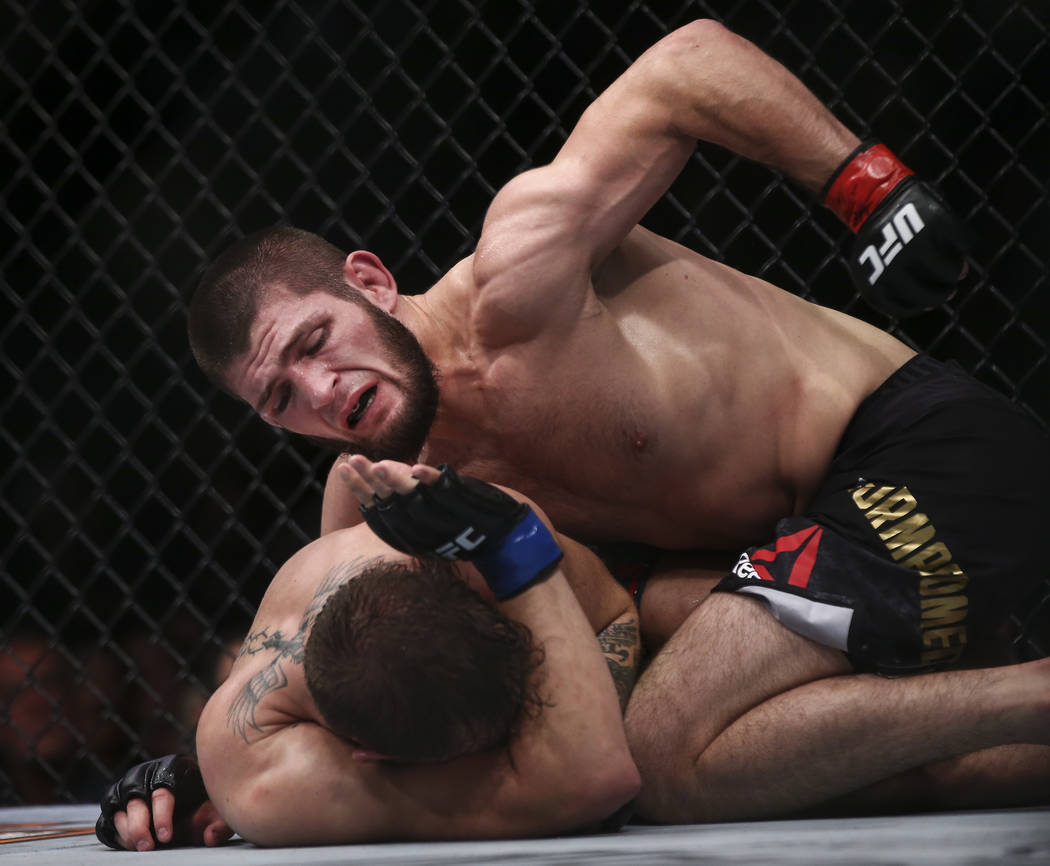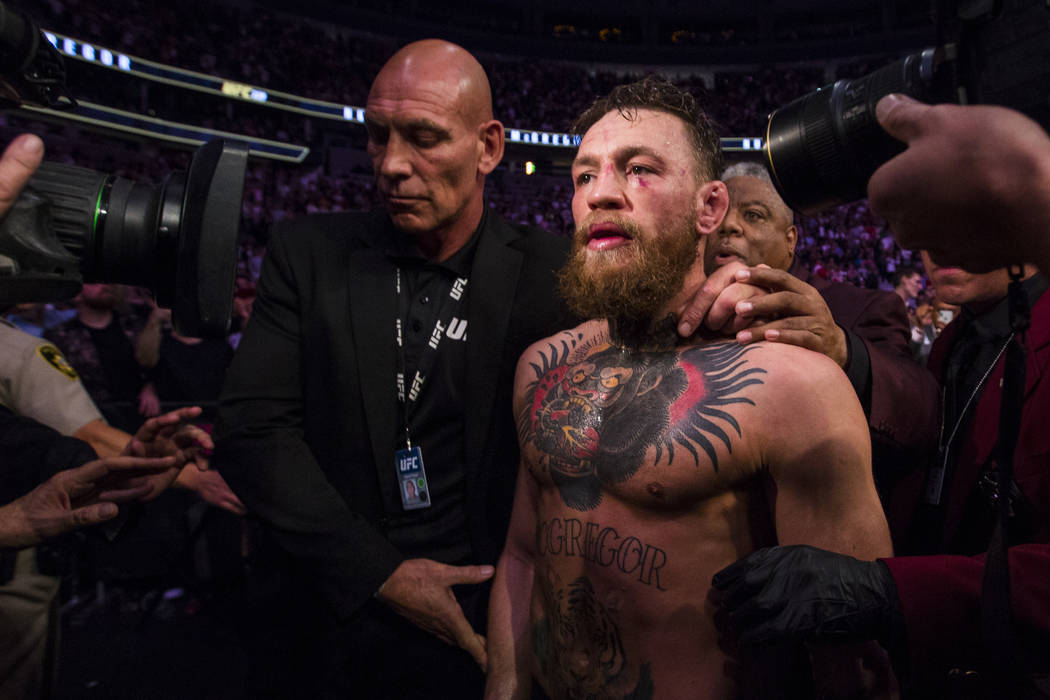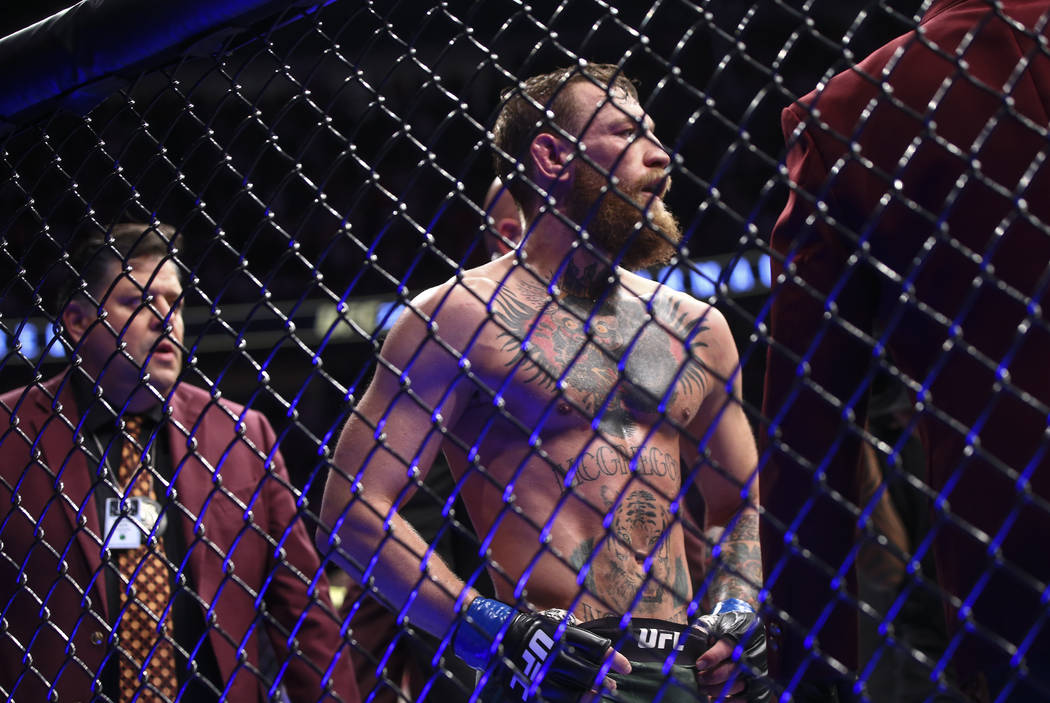 There's a freeze frame going around social media of an enraged Khabib Nurmagomedov in midair with his knees to his chest as he's about to drop a double boot on a stupefied Dillon Danis ducking for cover.
Nurmagomedov had finally snapped. Instead of just accepting the defeat, Conor McGregor's jiu-jitsu coach decided to keep poking the man who wrestled bears as a kid.
It's OK to play the tough guy role until the end, but you better be ready for the backlash.
It was a dumb move by Nurmagomedov to jump out of the octagon Saturday night to chase the trash-talking Danis after he had just dismantled the UFC's biggest star for the majority of four rounds to retain his lightweight title.
The confrontation led to a massive brawl between the two camps inside the octagon and out of it, with fans at T-Mobile Arena pushing their way through the barricade and attempting to join the fray.
Nurmagomedov should expect to receive a hefty fine and a possible suspension from the Nevada Athletic Commission for putting spectators in danger. But you can only push a man so far.
For months, Nurmagomedov heard McGregor and his camp hurl personal attacks. It's common for fighters to exchange oral jabs to sell a bout, but there's a line.
"I know this is not my best side," Nurmagomedov said at the news conference. "I don't understand how people can talk about (how) I jumped the cage, but what (about) him (McGregor)? He talked about my religion, he talked about my country, he talked about my father."
Even after he forced McGregor to embarrassingly tap out, Nurmagomedov still had to hear one of McGregor's guys shout insults in his direction. That's when the superior grappler from Russia reached the point of no return.
But the one positive from Danis running his mouth was that it took the focus away from McGregor's dismal performance.
The Irishman appeared out of shape in his return to the UFC after a two-year layoff. He was winded by the second round and never hurt Nurmagomedov with his left hand. Heck, he hardly threw the hand that turned him into a wealthy man.
It got so bad for McGregor (21-4) that Nurmagomedov (27-0) allowed the former two-division champion to stand and strike in the third round.
Nurmagomedov knew he had McGregor beat after two rounds and was OK with letting his perfect streak of never losing a round in the UFC end so he could toy with his opponent and beat him at his own game.
In the second round, Nurmagomedov tagged McGregor with a right hand to drop him momentarily.
Either McGregor didn't learn anything from going 10 rounds with boxer Floyd Mayweather or he had lost his hunger from making nearly $100 million from the lucrative 2017 boxing match.
UFC president Dana White and his organization waited 23 months for their cash cow to return to the cage. But he was no longer the brash, powerful southpaw striker with a lot to prove.
As Nurmagomedov pointed out this month: McGregor was the unbalanced "drunk" who needed to be ignored in a corner until he returned to normal.
But the UFC rushed McGregor back, even after he threw a dolly into a bus to injure a handful of their fighters.
White said he was disappointed about Saturday's outcome. But he let this bad blood boil over for record box office numbers and will probably jump at an opportunity to get these guys back in the octagon for a rematch.
Good knock. Looking forward to the rematch.

— Conor McGregor (@TheNotoriousMMA) October 7, 2018
"Good knock. Looking forward to the rematch," McGregor tweeted Sunday morning.
Now McGregor's star power has taken a hit and who knows if he'll ever be the same again. Ronda Rousey wasn't the same when she made her long-awaited comeback from her first career defeat, only to be knocked out in the first round by Amanda Nunes in December 2016.
Rousey hasn't made a second return and is now using her arm bar on wrestlers in the WWE.
Maybe this is the wakeup call McGregor needed, but he might be better off taking a tuneup bout after his possible suspension.
The smart move would have been to take a tuneup before facing Nurmagomedov.
It was obvious that this was a bad matchup for McGregor, but he viewed himself as indestructible. McGregor found out he wasn't when he was laying next to the cage after being choked by Nurmagomedov.
But he accepted the defeat. His teammate didn't know when to stop and it led to another tiresome fracas involving McGregor that could bring serious consequences.
More MMA: Follow all of our MMA and UFC coverage online at CoveringTheCage.com and @RJ_Sports on Twitter.
Contact Gilbert Manzano at gmanzano@reviewjournal.com. Follow @GManzano24 on Twitter.