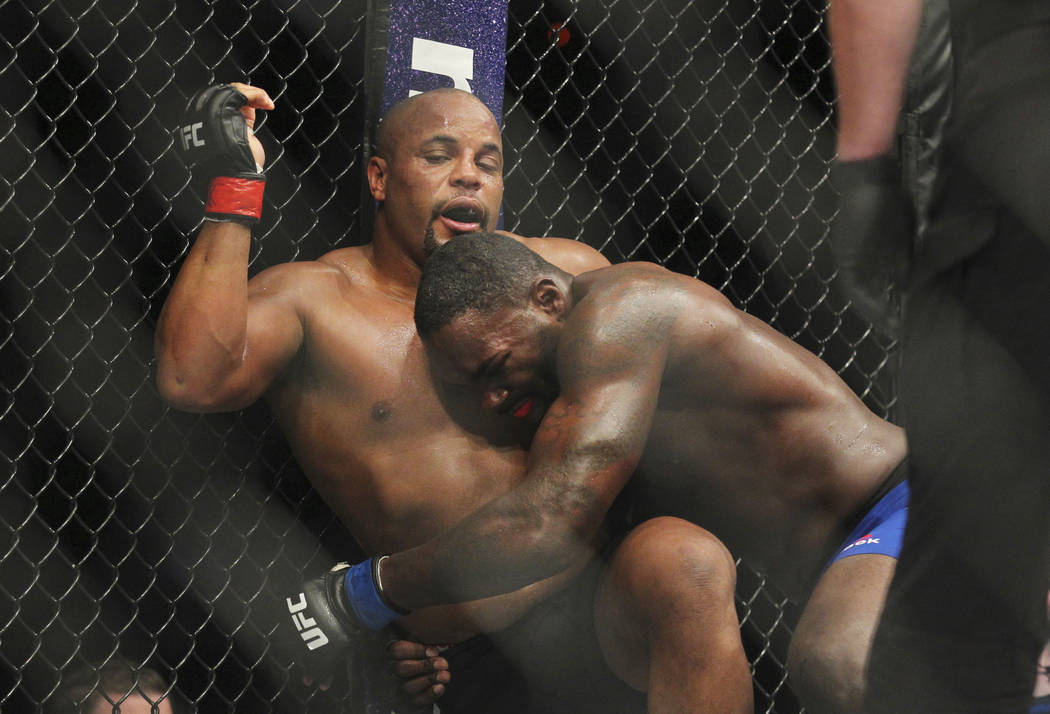 BUFFALO, N.Y. — UFC light heavyweight champion Daniel Cormier really, really wants to beat Jon Jones someday.
However, he has come to realize he can be content if it never happens.
Cormier successfully defended his belt for the second time on Saturday night in the main event of UFC 210 at KeyBank Center by submitting top contender Anthony Johnson with his nemesis Jones looking on from the front row.
The enigmatic Jones handed Cormier the only loss of his career in January 2015 but was forced to relinquish the belt months later after he was charged in a hit-and-run accident.
They have been scheduled to meet on several other occasions only to have the bout fall apart for various reasons, most recently and notably when Jones was pulled from the main event of UFC 200 in July for a violation of the anti-doping policy. He claims the positive test for an estrogen blocker was due to his use of an over-the-counter sex pill provided by a teammate, but the transgression was just another in a long line of issues that have kept the man Cormier considers the most talented fighter of all-time from truly living up to his potential.
The rivalry between them is real from the off-color trash talk captured behind the scenes on a press tour to an infamous nightclub confrontation and a brawl in the lobby of the MGM Grand.
But Cormier said he is driven by competition, not animosity.
"I've won championships in every organization I've fought for in this sport," the former Olympic wrestler said. "The only thing I have not done is beat that man. So as a competitor, I have the drive within me to beat the best. I have to beat the man that beat me. On the one night we competed, Jon Jones got the best of me. I'm not going to sit here and say he didn't. That's why. It's not because I hate him. It's because he beat me and, competitively, I've got to get it back."
But there was a time Cormier felt he wouldn't be satisfied unless that happened. Two years as UFC champion seems to have helped him find a contentment that makes any Jones rematch nothing more than a desire rather than a mission.
"At this point it doesn't (drive me like that)," Cormier said. "I could be done today, and I would be fine with everything that I've accomplished. I don't feel that I should let this young man have so much control over me and my legacy. He beat me, so what? He won the fight. I would love to fight him again and beat him, but if I did not fight him, especially for things that I cannot control, I would be fine.
"I could actually walk away today and be completely proud of my career in mixed martial arts — 19-1, UFC champion, Strikeforce champion, King of the Cage champion, regional circuit champion. All after the age of 30. I would be fine.
"I've made a lot of money. I'm getting married in May and I have beautiful children. I'm a guy that had nothing. I had nothing. I'll be fine. Jon Jones doesn't control my future."
Yet Jones becomes eligible in early July, just days before UFC 213 in Las Vegas looms as one of the organization's biggest events of the year. While it appears unlikely the fight will happen on that date because of the timing of Jones' eligibility and Cormier's Memorial Day Weekend wedding, it's very possible Jones and Cormier will be matched up in late summer or early fall.
Cormier said he has earned the right to decide if and when the fight gets booked.
"It's up to me, not him," Cormier said. "I'm not going to just jump at the first opportunity because he's available again. It's going to happen when I decide I'm ready to fight."
Cormier could also fight Jimi Manuwa, but it seems unlikely given the anticipation of a rematch between Jones and Cormier.
Jones made sure his presence was felt in the front row on Saturday night and gestured toward the cage after Cormier's win. He also stoked the flames during a news conference Friday when he alleged Cormier cheated during weigh-ins and referred to his apparent leaning on a towel to trick the scale by 1.2 pounds "one of the dirtiest things (he had) ever seen in sports."
Cormier laughed it off.
"It's like you sit there, and you take a table, and you put a bunch of kitchen appliances," Cormier said. "Then at the end of one side there's a pot. Then on the other side there's a kettle. Then that pot starts yelling, 'You're dirty' while he's sitting there with a steroid needle. That's my opinion on that. You sit over there, pot, with your Cialis or whatever that (expletive) is called. Get over there, sit over there pot-in-the-kitchen.
"Cialis boy."
It's that kind of vitriol that almost ensures Jones and Cormier will soon fight and Manuwa will be left looking for a different opponent. That apparently won't be Johnson, who oddly announced his retirement Saturday to pursue a new venture he wouldn't discuss.
"I hope he does not retire," Cormier said. "I really hope he does not give it up. He has so much more to offer the sport."
So does Cormier, with or without Jones.
Contact Adam Hill at ahill@reviewjournal.com or 702-277-8028. Follow @adamhilllvrj on Twitter.