Cruz feels at home as part of UFC stable
February 22, 2011 - 2:08 am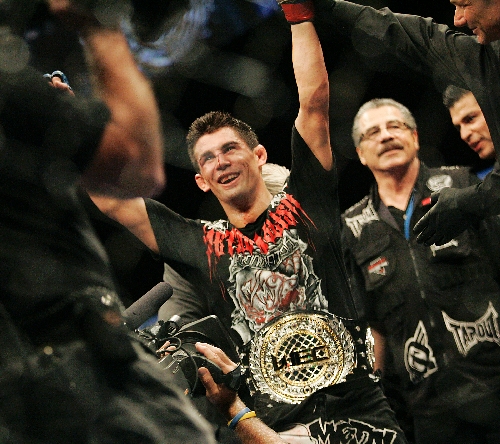 Dominick Cruz is still months away from making his Ultimate Fighting Championship debut, but the 25-year-old is already feeling comfortable in his role as the organization's bantamweight champion.
Cruz became the UFC champion by defending his World Extreme Cagefighting belt with a decision over Scott Jorgensen on Dec. 16, in the organization's final card before merging with the UFC.
He won the fight despite an injured left hand that required surgery in January. He will not be able to defend the UFC title for the first time until at least the summer, but he already feels very much a part of the organization.
"I love the UFC and what it has done for me, and I feel like I was already fighting the best opponents in the world in my division, hands down. I've been in the UFC as far as I'm concerned," said Cruz, who was in Las Vegas to promote the UFC's new line of performance apparel.
"What changes for me is the media and the quality guys that I get to be on the roster with, and it just gives me a little bit more notoriety."
It will also give him more room to operate. The UFC cage is larger than the one used in the WEC, and Cruz, known for his nonstop movement and stellar endurance, said he thinks it will be an edge.
"I think it's absolutely going to benefit me fighting in the bigger cage. I feel like I've been doing everything I can to fill all the holes in my game to make sure I'm hard to deal with," he said. "The bigger cage just makes it even harder to take me down and get a hold of me, so I'm excited for it."
It will be awhile until he can put the theory to the test. Cruz probably won't throw punches with the left hand for a couple of months.
"I'm working out, but I'm not using my left hand, so I'm sparring one-handed and working on my movement and still just trying to do what I can with what I have," he said. "I'm still getting the work that I crave, but I just have to be careful."
Cruz will probably return against the winner of a March clash between former champions Urijah Faber and Eddie Wineland. He said either fighter would be a challenge, but he has some unfinished business with Faber, who handed Cruz the only loss of his career in 2007.
"I've wanted to fight him since I lost," Cruz said. "Everybody dreams for a chance to get a rematch against someone they've lost to. That's the first thing you think about when you get beat, it's just part of being a fighter.
"But at the same time, I want to fight the best guys in the world, and Wineland has a real good chance of going in there and beating Urijah, so we'll see what happens.
■ ORTIZ OUT — Former UFC light heavyweight champion Tito Ortiz suffered a bad cut over his eyebrow after taking a head-butt during a training session and has pulled out of a scheduled main event bout against Antonio Rogerio Nogueira at UFC Fight Night 24 in Seattle on March 26.
Ortiz posted on Twitter that the cut required 22 stitches.
Unbeaten prospect Phil Davis, a former NCAA wrestling champion, was tabbed to fill in for Ortiz, who is 0-4-1 in his last five fights and has not won a bout since 2006.
■ UFC 127 — Jon Fitch will meet BJ Penn in the main event of UFC 127, which will air live from Sydney, Australia, on pay per view at 7 p.m. Saturday.
The winner of the Penn-Fitch bout will be the top contender in the welterweight division, according to UFC president Dana White, though the title picture could be a bit cloudy with the potential of Georges St. Pierre abandoning the belt for a move to middleweight with a win over Jake Shields in April.
Also on Saturday's card, Michael Bisping will meet Jorge Rivera in a middleweight bout and lightweights George Sotiropoulos and Dennis Siver square off.
■ LESNAR BOOK — Former UFC heavyweight champion Brock Lesnar announced last year he was working on his autobiography.
The book now has an official title and release date.
"Death Clutch: My Story of Determination, Domination, and Survival," will be available May 24.
Contact reporter Adam Hill at ahill@reviewjournal.com or 702-224-5509.