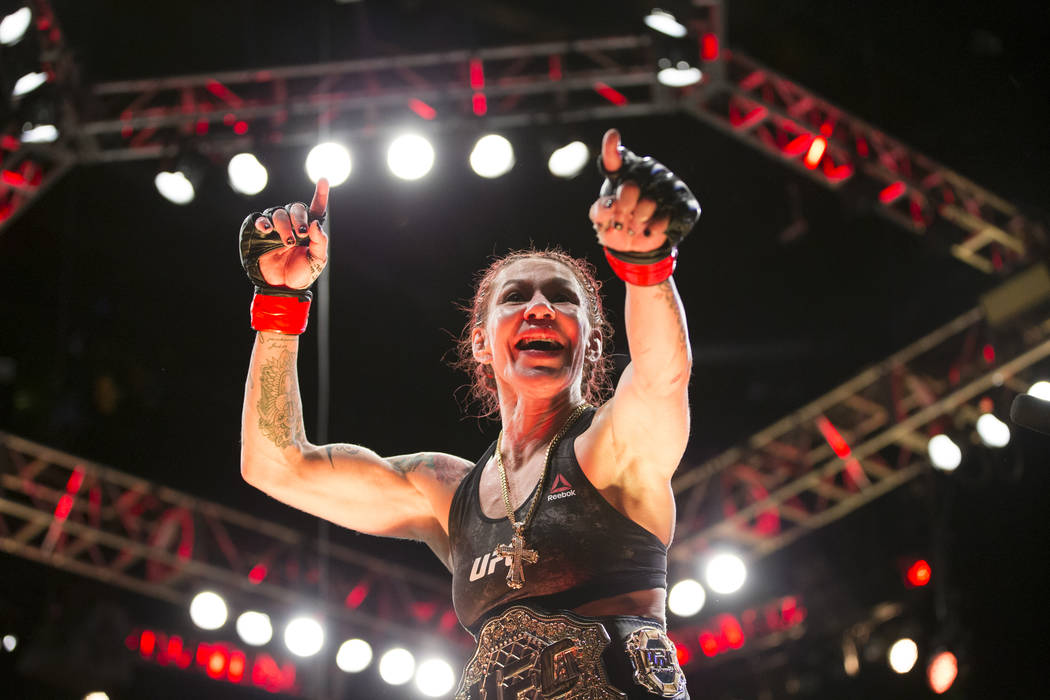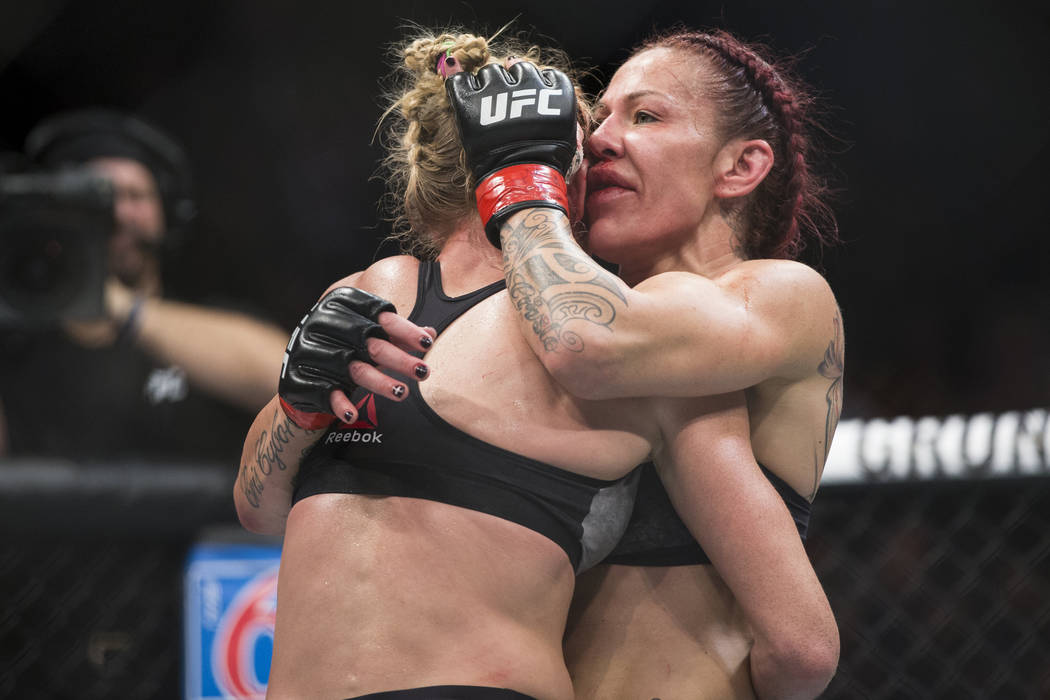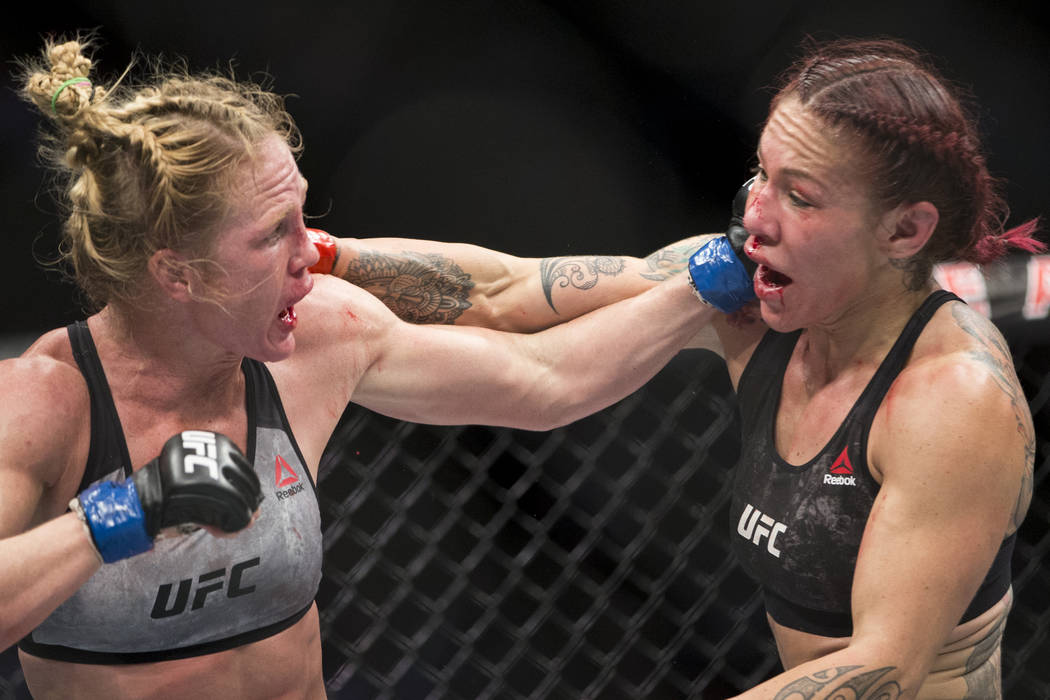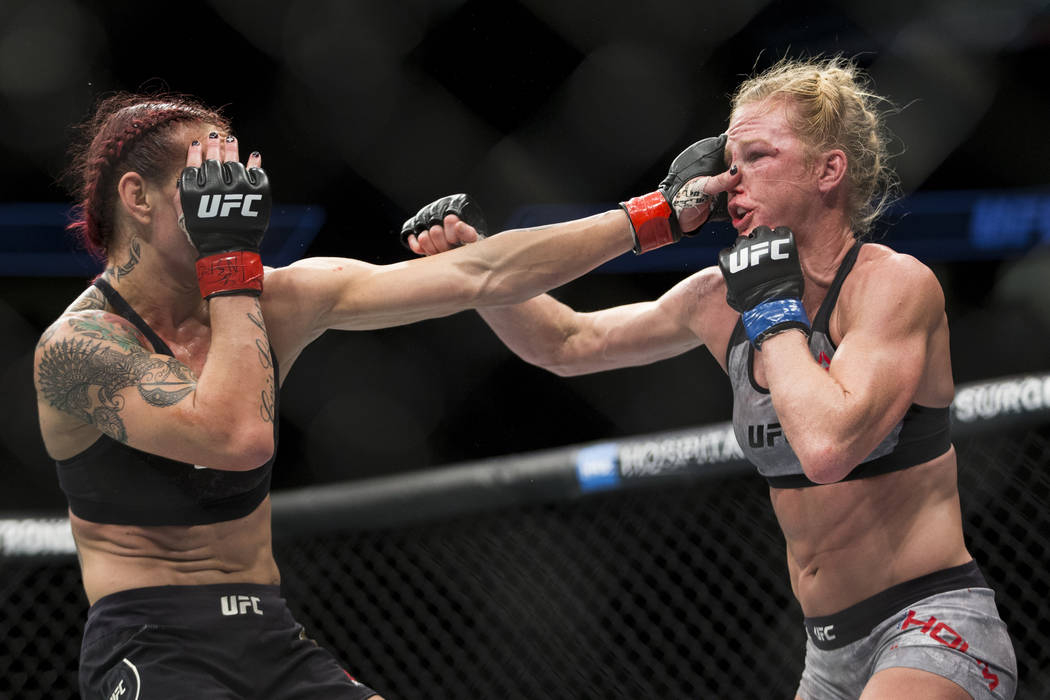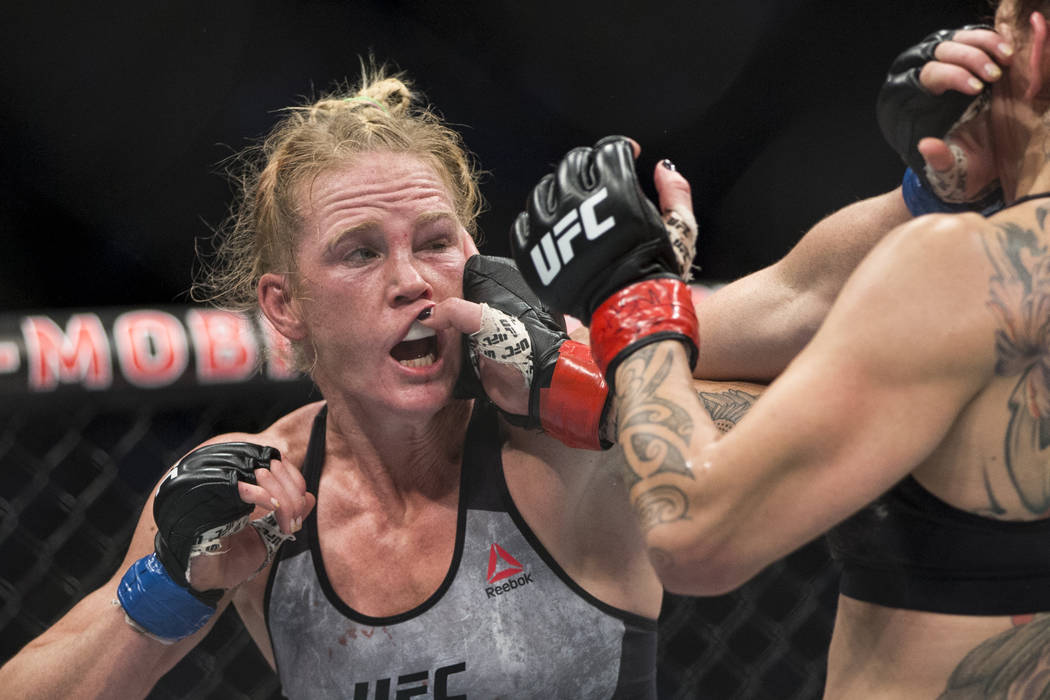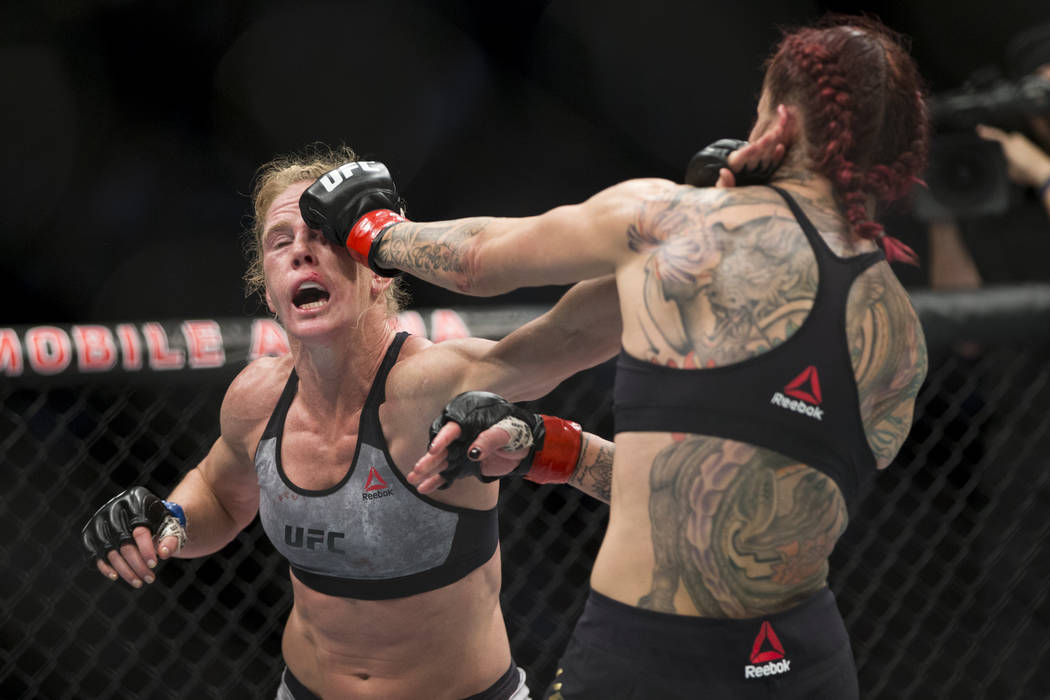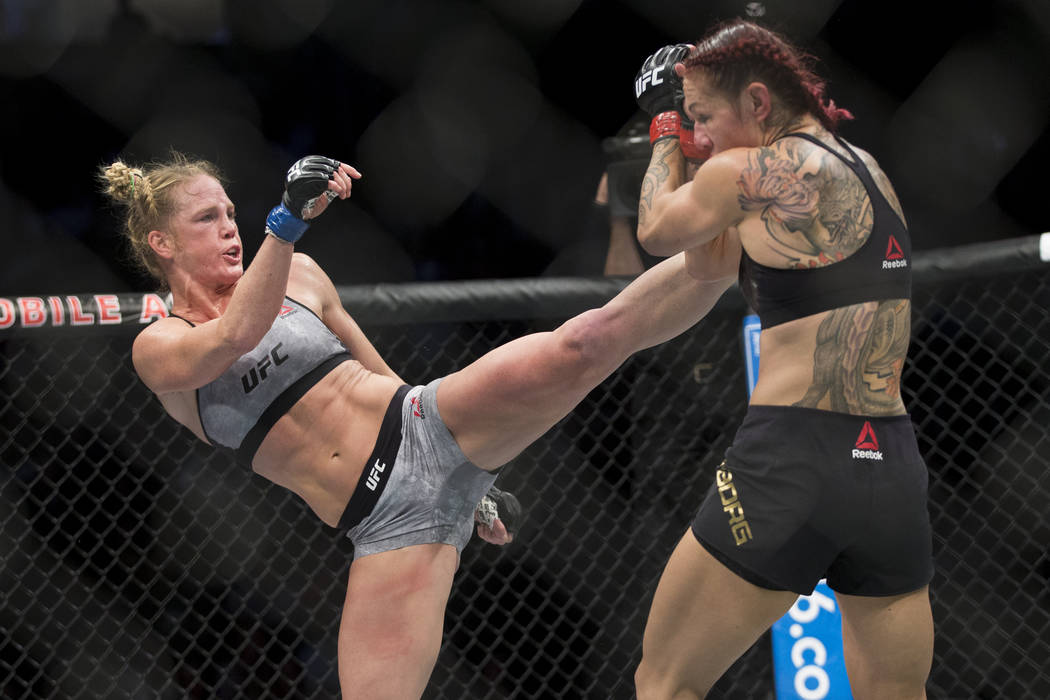 UFC women's featherweight champion Cris "Cyborg" Justino was put to the test by former bantamweight champion Holly Holm in the main event of UFC 219 at T-Mobile Arena on Saturday night.
She passed with flying colors, retaining the belt with a unanimous decision by winning 49-46, 48-47 and 48-47 on the judges' scorecards.
The Review-Journal also scored the bout 48-47 for Justino.
Justino stood up to the challenge from Holm, answering some of the biggest questions that have faced her over the course of a winning streak that extended to 19 fights with Saturday night's win.
Not only did she show her conditioning could hold up over five rounds, but Justino proved she could battle through adversity when she doesn't physically overwhelm her opponent.
"Everyone questioned my cardio," Justino said after being taken the distance for the first time since 2008. "For the first time, my nose was bleeding. I was happy to have a fight like this, thank you to Holly Holm. She is an amazing fighter and I had a great time fighting her tonight."
Justino showed a cerebral side to her game to go along with her trademark aggression and power.
Holm, a former world champion boxer, is typically most dangerous as a counter-striker. Justino stayed patient, particularly in the middle rounds, and picked her spots well to attack.
"I'm really happy," she said. "I worked very hard with my team and I stayed patient. I'm very happy with my performance."
Holm appeared to be trying to wear Justino down by clinching against the cage whenever the distance was closed and making Justino come forward to strike so Holm could counter. The gameplan was nearly successful.
Holm did enough to win the first two rounds on two of the scorecards and both of those judges had the fight tied through four rounds.
Justino needed to win the final round to seal the deal and she was able to do so with several damaging right hands.
She had Holm's left eye swollen almost completely shut early in the fight and took advantage of the reduced field of vision.
Justino credited her coaches for making sure she was ready to go 25 minutes. She said they changed up her camp and weight cut to ensure her body was more able to hold up should Holm take her the distance.
The 32-year-old Brazilian, who now lives and trains in Southern California, said the battle enabled her to show some of what she has been working on in the gym the last several years that hasn't been needed in the cage because of all the quick knockout wins.
"I'm getting better because I train really hard," she said. "I think tonight really showed everything I've worked on. All those other girls got knocked out early and I didn't really get to show everything that I could do."
It was also a big win for her legacy.
By getting by the fighter who ended Ronda Rousey's historic bantamweight title reign, Justino may have solidified her case as the best female fighter in history.
"I never think like that," she said. "I let my fans think about those things. I just have to keep working and keep training because all these girls are trying to beat me."
Exactly who those next challengers will be is a mystery. Bantamweight champion Amanda Nunes has expressed interest in moving up, but Justino has been hesitant to fight fellow Brazilians.
Justino believes Invicta FC champion Megan Anderson would be a worthy adversary, but Anderson had to pull out of a scheduled fight between them in July for what she called personal reasons and hasn't competed since January.
Justino said she may need a little time off anyway.
"My hand really hurts now because Holly's head is very hard," she joked.
Holm has now lost four of her last five fights since the knockout win over Rousey in November 2015.
More MMA: Follow all of our MMA and UFC coverage online at CoveringTheCage.com and @CoveringTheCage on Twitter.
Contact Adam Hill at ahill@reviewjournal.com or 702-277-8028. Follow @AdamHillLVRJ on Twitter.