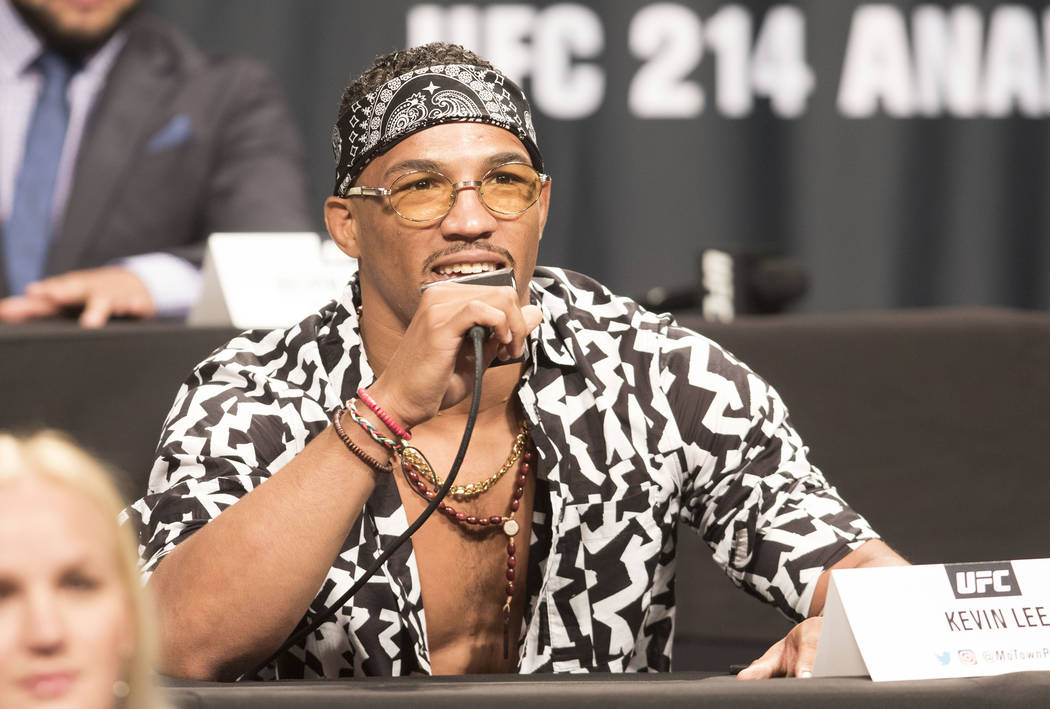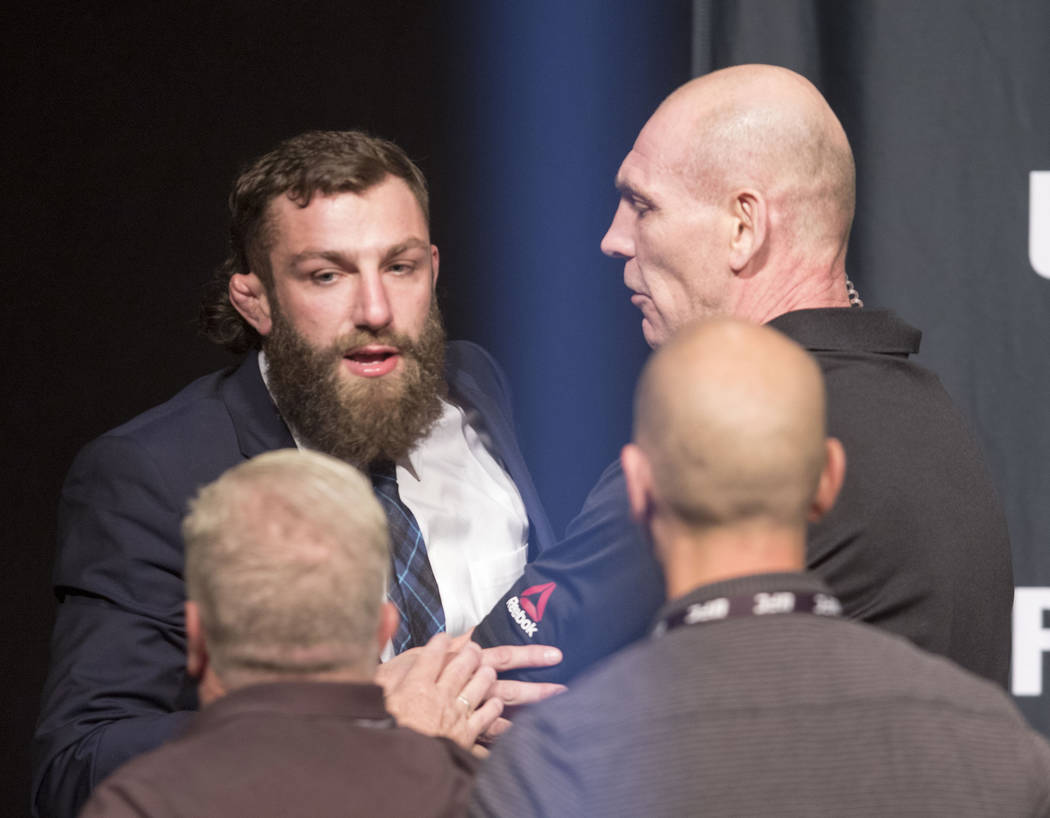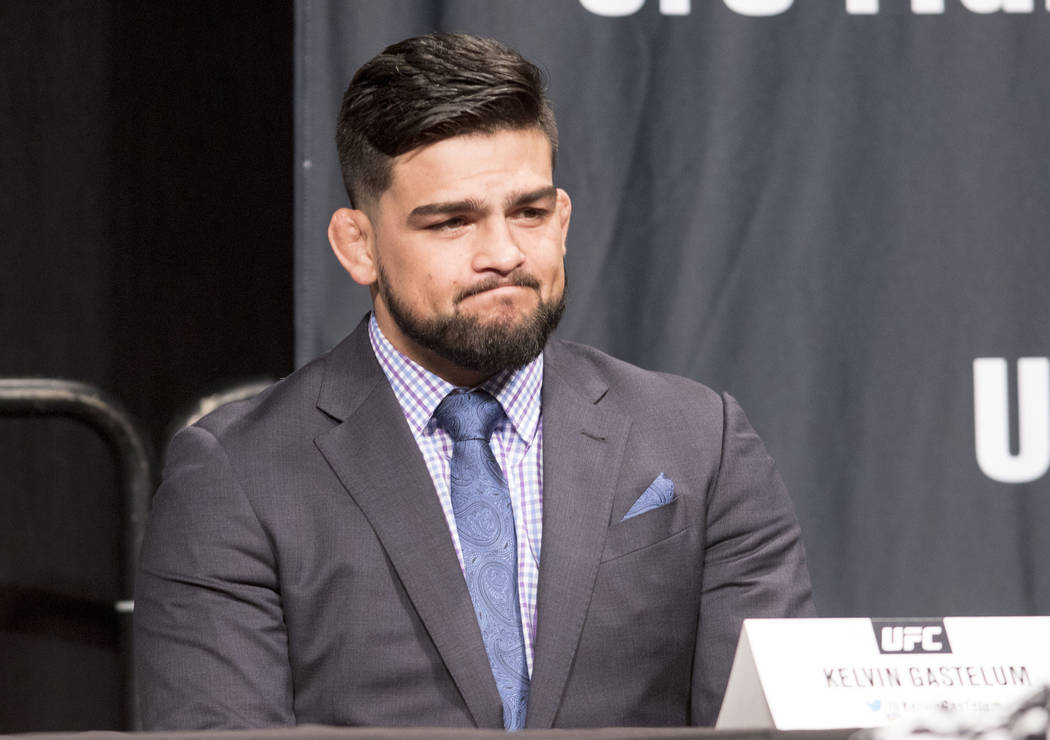 DALLAS — Jon Jones and Daniel Cormier finally have a date to renew their bitter rivalry in the cage.
They've never needed anything on paper to despise one another, a reality proven once again Friday during a news conference to officially announce they will meet for Cormier's light heavyweight title at UFC 214 on July 29 in Anaheim, California.
Cormier and Jones were joined on stage at the American Airlines Center by headlining fighters from the rest of the organization's cards for the next several months as the UFC formally unveiled its summer schedule.
The festivities hadn't even begun when Jones and Cormier first got into it. Las Vegan Kevin Lee, who will fight Michael Chiesa at UFC Fight Night 112 in Oklahoma City on June 25, posted a picture on social media of Cormier throwing a water bottle at Jones backstage after a verbal altercation.
It was a sign of things to come.
Jones and Cormier traded verbal barbs throughout the event, with Cormier repeatedly inquiring about whether Jones would even show up for the fight after several incidents outside the cage have derailed his career.
"Is this guy going to mess this up again doing steroids, snorting cocaine or (patronizing) prostitutes?" Cormier asked.
Jones was removed from their last scheduled bout just days before the fight when he was flagged for a violation of the UFC's anti-doping policy. He also tested positive for cocaine during an out-of-competition test before he defeated Cormier in their first meeting, something Jones reminded Cormier of on Friday.
"I beat you after a weekend of cocaine," Jones retorted.
Most of their exchanges involved a whole lot of yelling and cursing over one another. They weren't alone in having their emotions bubble over.
Lee appeared to land a solid right hand on Chiesa, who had charged at him from across the stage for what he viewed as a disrespectful comment about his mother.
Cooler heads prevailed for the rest of the fighters on stage as three new matchups were announced besides the rematch between Cormier and Jones.
Women's bantamweight champion Amanda Nunes will put her belt on the line against Valentina Shevchenko at UFC 213 on July 8 at T-Mobile Arena. Undefeated former World Series of Fighting lightweight champion Justin Gaethje will make his UFC debut the previous night against Michael Johnson in the main event of The Ultimate Fighter 25 Finale card in the same venue.
While UFC 213 picked up one title bout, it may have lost another. Bantamweight champion Cody Garbrandt announced on Twitter he would not attend the news conference because he is traveling to Germany to have another treatment on his injured back.
The revelation calls into question his ability to defend the belt against T.J. Dillashaw on that card.
Former middleweight champion Chris Weidman will headline the UFC's first card on his native Long Island when he takes on Kelvin Gastelum in the main event of UFC on Fox 25 on July 22 at Nassau Coliseum in New York.
Weidman has lost three straight fights, including a controversial defeat against Gegard Mousasi in April.
The fight between Jones and Cormier is the standout of the summer schedule.
While they have been linked together as the top 205-pound fighters in the world for several years, they have faced each other just once in the cage. Jones retained his title with a unanimous-decision win over Cormier in January 2015. He was stripped of the belt a few months later and suspended after he was charged in a hit-and-run accident.
Cormier won the vacant title that May and hasn't relinquished the belt. They have been scheduled to meet several times, but the rematch has yet to occur.
When Jones returned from his suspension for the hit-and-run, Cormier had to pull out of their bout due to an injury. Jones was then yanked from a scheduled meeting just days before the historic UFC 200 event in July 2016 after it was revealed he had failed an out-of-competition drug test. He received a one-year suspension from the United States Anti-Doping Agency for that infraction.
That sanction will expire in early July.
Jones and Cormier have had several nasty incidents outside the cage, including a brawl in the lobby of the MGM Grand following a news conference in 2014.
UFC president Dana White has said he doesn't trust Jones enough yet to put him in another main event, but is apparently changing course. He does have an insurance policy, however. White indicated he will book top contender Jimi Manuwa on the card to serve as a late replacement should Jones be unable to compete.
Follow all of our MMA and UFC coverage online at CoveringTheCage.com and @CoveringTheCage on Twitter.
Contact Adam Hill at ahill@reviewjournal.com or 702-277-8028. Follow @adamhilllvrj on Twitter.