Daniel Cormier goes big in quest to make history
Updated July 6, 2018 - 8:39 pm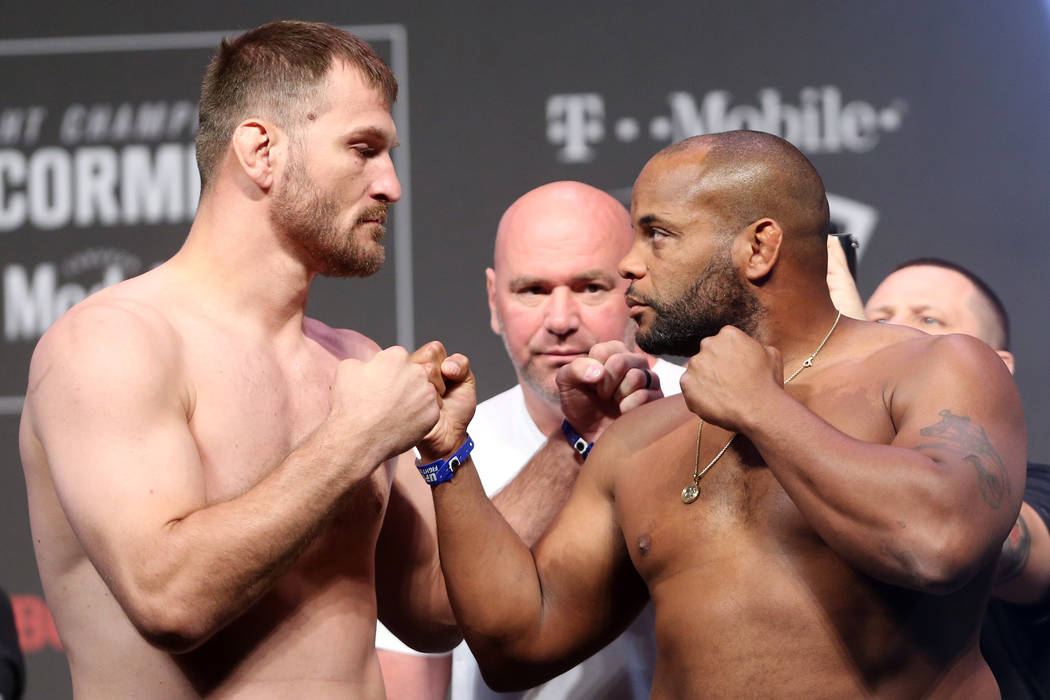 Daniel Cormier will step in the cage Saturday night for the main event of UFC 226 at T-Mobile Arena intent on a history-making win to cement his legacy.
Stipe Miocic is just trying to win a fight.
Cormier, the light heavyweight champion, is moving up to challenge the heavyweight champ for the possibility of following in the footsteps of Conor McGregor as the only fighters to simultaneously hold UFC belts in two weight classes.
"When this is all said and done, I will be remembered as the greatest of all time," Cormier said.
The bout will headline a pay-per-view card at 7 p.m. that also includes a heavyweight bout between contenders Derrick Lewis and Francis Ngannou. Two preliminary card bouts will stream on Fight Pass at 4 with Fox Sports 1 airing four bouts at 5 p.m.
A win over Miocic would go a long way toward proving Cormier's claim. He has an impeccable resume, both earlier in his career as a heavyweight and now as the light heavyweight champion, against everyone not named Jon Jones.
The only times Cormier has even looked vulnerable were the two times he lost to Jones, though one was overturned to a no-contest because of a positive drug test. That has tarnished the legacy of Jones and opened the door for Cormier to claim the moral high ground in the debate over the best fighter of all-time.
"I should be in the conversation," Cormier said. "Anytime a guy does performance-enhancing drugs, and on multiple occasions, they eliminate themselves. So as great as Anderson Silva was, he tested positive I think two times. Jones had tested positive two or three times. Those guys eliminate themselves. I want to be among the great, the Georges St. Pierres and the Demetrious Johnsons, the guys that have done things the correct way over the course of their entire career without that asterisk."
A win over Miocic, the first-ever UFC heavyweight champion to defend the belt successfully three times, would give Cormier a compelling case.
The elite college wrestler made two Olympic teams before transitioning to mixed martial arts and dominating the competition as a heavyweight. He won the Strikeforce Heavyweight Grand Prix in 2012 against some of the best competition in the world at the time and defeated Frank Mir and Roy Nelson in his first two UFC fights.
Cormier elected to drop to light heavyweight only because his friend Cain Velasquez held the UFC heavyweight belt at the time. Now he is ready to move back up to heavyweight for at least this fight, and he weighed in at 246 pounds, 3 more than Miocic.
"The heavyweights don't move like us," Cormier said. "They can't go as hard as me. I haven't lost a wrestling match at heavyweight. I haven't lost a fight at heavyweight. I haven't lost a round at heavyweight. And Stipe Miocic is the guy that's supposed to do it? Great guy. Firefighter, hero. But Saturday, I'm the new champion."
Miocic, a grown-up goofball far more likely to prank someone than talk trash, is unsurprisingly taking the massive superfight in stride.
"It's another fight for me," he said. "I'm excited. I love being champ. I worked way too hard for it to give it up now."
One thing Cormier said did seem to catch Miocic's attention. Cormier laid out his belief that the oddsmakers have the fight wrong making Miocic about a minus-240 favorite because while Cormier can win through his wrestling and submissions, or through the clinch or potentially even as a boxer, Miocic may need to rely solely on his power.
"That's fine," Miocic retorted. "I knock people out and I win. That's what I do. Guess what? He's getting knocked out too."
More MMA: Follow all of our MMA and UFC coverage online at CoveringTheCage.com and @CoveringTheCage on Twitter.
Contact Adam Hill at ahill@reviewjournal.com or 702-277-8028. Follow @AdamHillLVRJ on Twitter.