Daniel Cormier-Jon Jones title bout to headline UFC 200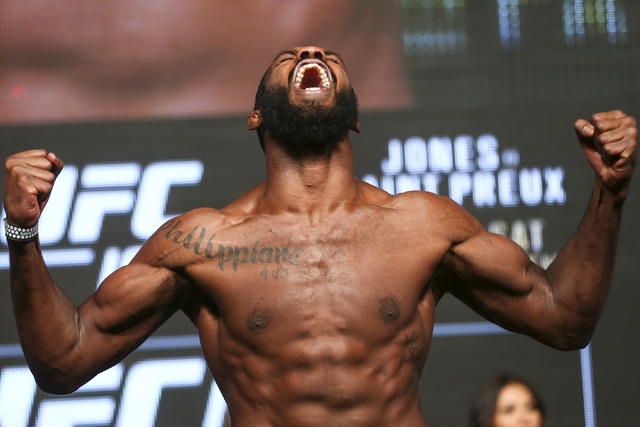 It was almost a bad case of deja vu for Ultimate Fighting Championship officials.
After Conor McGregor was pulled from the main event of UFC 200 for failing to meet press obligations last week, the organization planned to reveal the new main event for the historic card live on "Good Morning America" on Wednesday before a news conference at Madison Square Garden featuring all the principals.
There was just one problem.
Light heavyweight champion Daniel Cormier, who will fight interim champ Jon Jones in the reconfigured main event, had ensured his wife and son that he would attend his son's recital Wednesday at which he had a solo performance.
He informed UFC officials he couldn't break that promise and would be unable to fly to New York to participate in the promotional activities.
That's when UFC president Dana White sprung into action. He sent a camera crew to San Jose, California, to film the recital so Cormier could watch live from his phone in New York.
His fight with Jones was announced Wednesday morning, and a spirited news conference followed as the buildup to UFC 200 on July 9 at T-Mobile Arena officially kicked off.
McGregor had been scheduled to headline the historic event in a welterweight rematch with Nate Diaz, but McGregor was removed from the card because he would not travel to Las Vegas to participate in promotional activities last week.
White doesn't anticipate much of a negative impact from the change. He indicated ticket prices would remain the same, and said he thinks the event still will be successful.
"We expected it to be big, and it will be big," he said at the news conference. "We just added this fight to the card, and we're not done.We're in the fight business. Fights fall out, and things happen. That's the way it works. The Conor thing happened. It is what it is."
A renewal of the bitter rivalry between Jones and Cormier came together perfectly to replace McGregor-Diaz.
Jones won a unanimous decision over Cormier in January 2015 to retain the light heavyweight belt. He was stripped of the title he had held since 2011 three months later after he was charged for a hit-and-run accident in Albuquerque, New Mexico.
Cormier won the title in his absence, but was forced to pull out of a bout with Jones on Saturday at UFC 197 at the MGM Grand Garden because of a leg injury. Instead, in his first fight since defeating Cormier, Jones won a unanimous decision over Ovince Saint Preux to capture the interim belt.
As Jones left the cage, he spotted Cormier ringside and gave him the middle finger. It was the latest salvo between the world's two best light heavyweights.
They met again Wednesday at the news conference and immediately started trading insults.
"I saw you struggling with Ovince Saint Preux," Cormier said. "You show up looking like that, bum, I'm going to whoop that ass."
Jones had a quick retort.
"You call me a bum," he said. "I beat you four rounds out of five. You weren't even my toughest opponent."
Jones did praise Cormier for two "great" performances while Jones was out — a quick finish of Anthony Johnson to claim the vacant belt and his tough victory over Alexander Gustafsson.
"I don't question DC's ability to beat everyone else," Jones said. "He'll just never beat me."
Jones said his ideal plan would be to beat Cormier, then fight Johnson on the organization's first card at Madison Square Garden on Nov. 12.
Cormier has plans of his own.
"I'll tell you right now. Last time I didn't take him down as many times as I should have," he said. "They're gonna say fight, and I'm going right at him and take him down. I'm going to take him down and hold him there for 25 minutes."
That triggered a spirited debate about how many times Jones took down Cormier. Almost every comment by one of them elicited a quick response from the other, as it does whenever they are in the same room, which will happen often until July 9.
UFC 200 also will feature a women's bantamweight title bout between Amanda Nunes and champion Miesha Tate, and an interim featherweight title bout between Frankie Edgar and Jose Aldo.
Contact reporter Adam Hill at ahill@reviewjournal.com or 702-224-5509. Follow him on Twitter: @adamhilllvrj
RELATED
Conor McGregor tweets he's back on UFC 200 card; Dana White issues denial
Conor McGregor, Nate Diaz still train to meet in UFC 200 despite Dana White's edict
Jones 'signals' Cormier for rematch